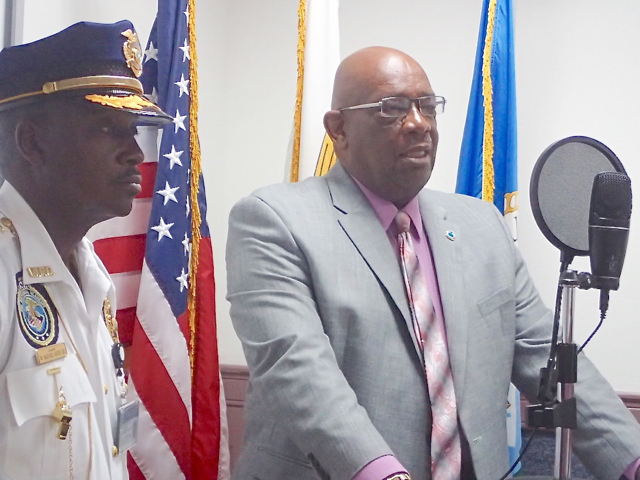 A graduating class of police cadets and help from a national crime prevention organization will help stem a wave of violent crime within the territory, Police Commissioner Delroy Richards said Monday at a news conference at the Patrick Sweeney Police Complex in Frederiksted.
So far, in 2016 there have been 36 homicides in the Virgin Islands – 13 on St. Croix and 23 on St. Thomas. In July alone, five were shot dead on St. Croix. In 2015, there were 40 homicides in the entire territory.
"We know the homicides are on everybody's minds – they're on mine too," Richards said Monday, while pointing out that "all other crime" in the territory has been reduced.
"What we have left is the level of violence to be controlled," the commissioner said.
Acting St. Croix Police Chief Winsbut McFarlande stood by Richard's side but did not speak at the press conference.
To help reduce violence, Richards said there is a new class of cadets ready to hit the streets and a homicide task force is at work profiling likely targets for retaliation by groups or gangs.
However, he explained, often an alternate target – unknown to the police – is chosen when the primary gang member cannot be isolated for a hit.
Currently, the VIPD uses two labs in addition to the FBI lab to analyze DNA collected at crime scenes to identify perpetrators. He said VIPD currently is waiting for three fugitives to be extradited for crimes within and outside the Virgin Islands.
A new program to combat violence should be up and running soon, according to Richards, with the National Network for Safe Communities, a project of New York's John Jay College of Criminal Justice. The violence intervention program partners with community members, law enforcement and social service providers to engage directly with criminal elements.
While he did not give a start date, Richards said a contract is being reviewed and should be signed soon with NNSC. A project manager has been selected and the University of the Virgin Islands, the V. I. Department of Human Services, the V.I. Labor Department and of course VIPD will work the program together.
According to literature from the Network for Safe Communities, "a credible moral message against violence," consequences of violence and a "genuine offer of help" for those who want it are communicated clearly with criminal elements. The purpose is to reduce peer dynamics by creating collective accountability and build internal social pressure that, in the end, deters violence. The program also offers an "honorable exit" from a criminal lifestyle.
The program is being used in Chicago, New Orleans, Baltimore and Oakland.
Richards said a street camera project, with private funding, is another program in the works to deter violent crime. VIPD staff is being trained on the technology and then cameras will be installed in "hot spots" of crime throughout the island of St. Croix and relay criminal activity to a central location. The commissioner did not have a beginning date for the project, but said it is a re-start of a program conceived several years ago through the St. Croix Foundation.
Richards reported that 100 firearms have been confiscated already this year in the territory. In many cases, guns are registered with the airlines, flown legally into the territory, but not registered with VIPD once they arrive. The airlines maintain their allegiance is to the customer, Richards said, and refuse to give information about the guns they transport into the territory. V.I. law requires the gun owner to report firearms to the police department, but that is difficult to enforce.
"If we rely on the honor system – that is why we have guns in the territory," the commissioner said.
Throughout the meeting, Richards stressed that the VIPD will do what it needs to do to keep citizens safe. He plans to hold monthly briefings for the media on both islands with updates by the police chiefs.
"We've got to make some semblance of order based on what's happening in this territory," he said, ending the news conference.