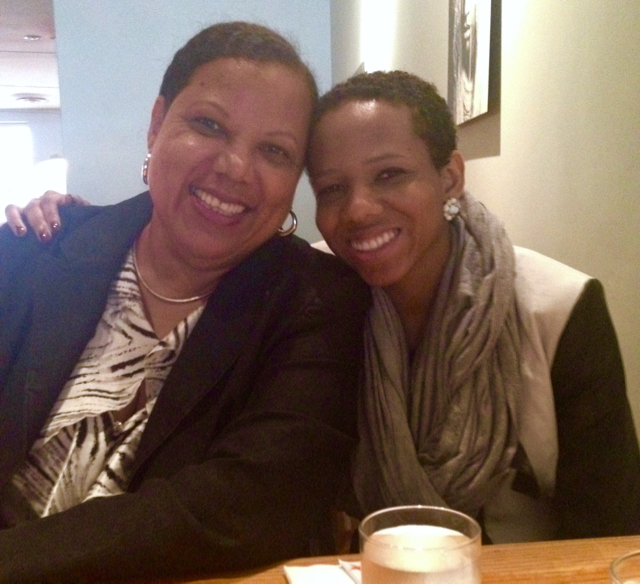 As crisp as laugher, and as deft as tide washing ashore, there's an unmistakable optimism in Barbara Callwood's voice, highlighted by an undertone of joyful confidence.
The accomplished and active educator stumbled a bit when faced with retirement, but she regained her footing and is off and running – at her own pace.
Born on Tortola, Callwood came to St. Thomas as an infant and, except for her college years, has spent her life on the island, where she attended public schools from her elementary years ( George Washington – later the Evelyn Marcelli School) to junior high school (Wayne Aspinall – now Addelita Cancryn) and finally Charlotte Amalie High School. She graduated from high school in 1974 and went on to Howard University.
She says she thought she wanted a career in health care, so she spent her first year in pre-med classes.
"It took me a year to realize it's not going to work for me," Callwood said, adding she asked herself "Why am I doing this? I don't think I like science."
What she did like was literature – both reading and writing. She kept journals full of her musings and spent a lot of her time writing stories and poems.
"It was a dream" to be an author. But her practical side prevailed.
"How're you going to make a living off of writing?" she asked herself. It was a rhetorical question and she responded by switching her major to English and Education.
Once she earned her degree, she returned to St. Thomas and began her lifelong career in education. She taught English for 15 years at Bertha C. Boschulte Junior High School, starting in 1978, the same year the school opened. Soon she was the English chair.
She began work on her master's degree at the University of the Virgin Islands while teaching at BCB. She had the opportunity to be part of "Project Lead," a training program for administrators sponsored by the Education Department.
As part of her training, she developed an unusual extracurricular program for BCB students. Because their school was in the "country," the vast majority of students depended on school buses for transportation, and the buses didn't run after school hours. So there was no way to offer enrichment courses after school.
Instead, Callwood worked out a schedule of such offerings as art classes, chess, sports, and music that were open to interested students to attend before lunch.
"I don't think it lasted after I left," she said. But later there was a push to get more buses and to have buses run for longer hours, so students did have options for after school activities.
She left in 1994, becoming an administrator at Lockhart Elementary School for five years.
Then she was made assistant principal for the 9th grade at CAHS. She also taught, and sponsored a number of student activities including band and the school newspaper. She remained there until 2011, when the government instituted a cost-saving attrition program that made retirement for those eligible an offer they couldn't refuse.
"Oh yeah, I would have stayed longer. There was no reason to go home at that point … (but) that was when they were pushing people out," Callwood said.
"It was like a shock to my system," she said. "I was really scared" of having nothing to do. "I think I went overboard when I first retired …I kind of jumped into a lot of activities."
In fact, she volunteered at CAHS for three years, taking on tasks she might well have been assigned had she still been on staff. She took charge of the school inventory, keeping records demanded by the federal government for equipment purchased with federal funds. She was in charge of the school improvement plan covering a wide range of topics including budgeting, academics and teacher training. And she worked with the accreditation team.
Meanwhile, she began working part-time in management positions at programs related to Education. She ran evening programs at the Skill Center; she became executive director at the School of Visual Arts and Careers, which offers after-school and weekend courses.
Gradually, she stopped volunteering at CAHS and a year ago, she left the Skill Center. She still maintains her position at the School for Visual Arts and Careers, but she has flexible hours.
"Now I'm trying to make time for myself," she said. And she's filling it with things she loves.
"I read! I read! Oh, it's wonderful!" she said, adding that she has stacks and stacks of books and lends them to friends and family.
"I'm a re-reader of books," she confided. "I have to have them. I have to have them around me." She also reads ebooks on her Kindle. "If a book is really great, I buy the hard copy too."
"I'm also in love now with audio books," she said, explaining that she listens to them while she takes her daily one-hour walk – either on the Waterfront or on the CAHS track. She doesn't allow herself to listen except when she's exercising. "That forces me to walk . .. I've lost about 40 pounds."
Callwood is also re-awakening her creative side. She took music lessons on clarinet and piano from the time she was 10 until she finished high school.
"I haven't touched either in 40 years," she said. But she recently obtained her senior citizens card – "I waited patiently" – and will soon begin studying piano at UVI, where seniors can take free classes.
She may try her hand at painting, inspired by students at the School for Visual Arts and Careers.
"I look at these kids, and they're so talented," she said. It makes her wonder "Can I do that?"
The biggest positive in Callwood's life is her daughter, Kheryn, who is a visual artist and a writer, has a masters degree in creative writing, and lives in New York.
"She just got her first book deal," Callwood said. "I'm very happy for her … She's kind of living the life I dreamed of."