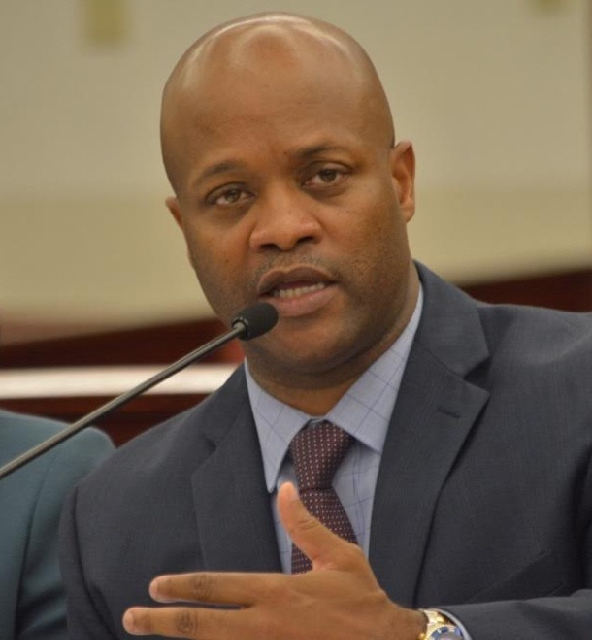 The recent downgrade of USVI matching fund bonds throws a "gaping hole" of about $55 million into the Fiscal Year 2017 budget being considered by the Legislature, Finance Commissioner and Public Finance Authority Executive Director Valdamier Collens told senators during budget hearings Wednesday.
When Gov. Kenneth Mapp presented his $1.16 billion FY 2017 budget [FY 2017 budget] to the Legislature in June, Budget Director Nellon Bowry said there was a $110 million shortfall between projected revenues and proposed expenses. Bowry said the government planned to bridge the gap with $55 million in new borrowing and $55 million in reduced annual debt payments from restructuring much of the government's debt at lower interest rates. (See: Mapp Hoping to Balance 2017 Budget with Borrowing, Increased Collections in Related Links below.)
On June 30, the credit rating agency Moody's Investor Services announced it had lowered the ratings on about $1.24 billion in Internal Revenue Matching Fund bonds secured by by federal alcohol excise tax revenues remitted to the territory by the federal government. Lowering the bond rating increases the cost of refinancing.
That $1.24 billion total includes $273 million in special debt secured solely by matching fund revenues, without further obligation from the V.I. Government, for capital expenses for Diageo and Cruzan Rum.
The territory also has about $739 million in general obligation debt, secured by the V.I. government, according to data supplied by Collens Wednesday.
"The 800-pound gorilla in the room is the downgrade. What effect will that have on the FY 2017 budget and debt restructuring?" asked Sen. Clifford Graham, chair of the Finance Committee.
"The downgrade by Moody's significantly affects the $55 million restructuring," Collens said.
Graham asked if the government has a plan to replace the $55 million in the FY 2017 budget or if the Legislature "has to fill that gaping hole."
"You have to fill that gaping hole and we have to work with you to fill that gaping hole I can assure you of that," Collens said.
He said the downgrade was "primarily a result of PROMESA and what is going on in Puerto Rico."
PROMESA is an act of Congress that is allowing Puerto Rico to restructure its debt.
In its announcement, Moody's said the downgrade was due to V.I. conditions such as "persistent general fund deficits addressed primarily with repeated deficit financings; very high and rising debt levels; declining gross domestic product and population; high unemployment; and a large unfunded pension liability."
Collens said the other two major ratings agencies: Fitch and Standard and Poor, had both placed the USVI on a rating watch and might follow suit with Moody's.
On a practical level, the downgrade means the territory cannot refinance the bonds, because the cost has gone up two to three percentage points, Collens said.
"In that regard, it would not make a lot of sense to restructure, you know, your mortgage for a higher rate when you are already getting a lower rate," Collens said.
The PFA is talking with Moody's about how to reverse the downgrade and the agency is suggesting the territory make it much harder to divert Matching Fund revenues from the bonds to the V.I. budget, he said. Right now the V.I. government instructs the U.S. Department of the Interior every year to deposit Matching Fund revenues with First Bank, which pays bond holders before disbursing the remainder to the government. Puerto Rico was able to divert revenues to its general fund to cover government payroll and other expenses, at the expense of bondholders. Moody's is concerned that the USVI could theoretically do the same, Collens said.
"Now I want to reinforce that has never happened and we don't intend for that to happen. But it is something they have estimated into their risk profile," he said.
Moody's has suggested an irrevocable letter of instruction that directs the trustee will receive the funds on an annual basis until the bonds are paid off, he said. Graham asked if that was not already in the bond agreement. Collens said it was, "but this would strengthen it."
Collens said Moody's officials made no promises but said they "would consider bringing us up another two notches" if there were an irrevocable letter of instruction to the Department of Interior.
Sen. Kurt Vialet asked if it would help if the Legislature enacted a statute declaring the same.
"That would make it even stronger, it would, thank you," Collens said.
"Send us the language and we will include it in the next session," Graham said.
Also affecting the budget, the government authorized raises for most government employees this year, costing upwards of $20 million per year, which Bowry has said are "sustainable" because the government already has a $100 million per year structural deficit. (See: Mapp Official: Raises 'Sustainable' Because Deficit Already $100 Million in Related Links below)
Collens presented budgets for the Department of Finance and PFA Wednesday.
Finance is requesting $6.5 million, with $3.2 million for wages and salaries; $1.1 million for fringe benefits; $1 million for other services and $687,000 for utilities.
The PFA has not approved its FY 2017 budget yet, Collens said. He said it will be similar to the FY 2016 amounts. PFA always prepares its budget after the Senate's budget process, so PFA budget information is always retrospective. Collens said PFA's budget for FY 2016 was $6.5 million, of which $4.5 million went for contracts for accounting and auditing services, financial advisors, municipal tax attorneys, legal advisors, trustees and bank custody fees, investment, advisors, project evaluation, and underwriting expenses. The remaining $2 million covered the PFA's operating expenses.
No votes were taken at the budget oversight hearing. Present were: Graham, Vialet, Sens. Marvin Blyden and Myron Jackson. Sen. Sammuel Sanes was absent. Non-members, Sens. Justin Harrigan. Positive Nelson and Janette Millin Young also attended.