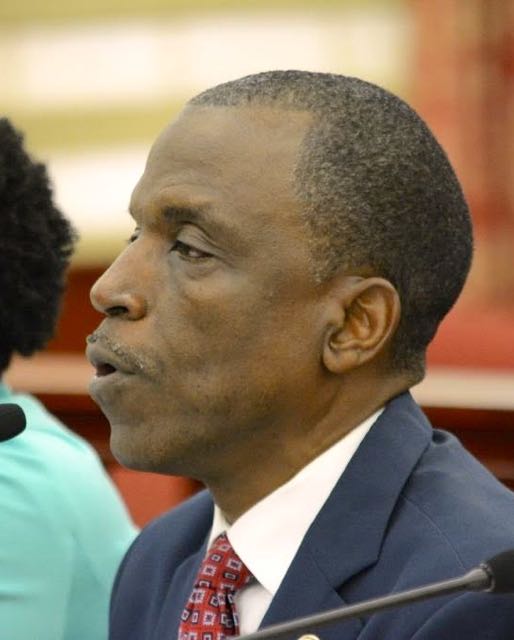 It will cost the Department of Agriculture "at least $1 million" to switch over all of its farmland use-permits to leases as required by law, Agriculture Commissioner Carlos Robles told the Finance Committee during budget hearings Tuesday.
Robles said a 2013 V.I. inspector general's report indicated the Agriculture Department's practice of issuing government agriculture land without a lease was in violation of V.I. law, so now anyone seeking government farm land must first obtain a lease.
Currently Agriculture relies on the Department of Property and Procurement for assistance in surveying farm plots, but Property and Procurement has very limited resources available to survey existing plots and pending requests for land, he said.
Funding is needed to survey new and existing farm plots to secure leases and to come into compliance with existing law, Robles said, adding it will cost at least $1 million.
"Until this requirement is met and we can obtain formal, surveyed maps that can be registered with the Lieutenant Governor's Office CADASTRAL Division our leasing process is stymied," he said.
Assistant Agriculture Commissioner Errol Chichester said about 80 farmers lease properties now, while another 120 farm under the now-prohibited permit system.
Director of Administration and Management Delreese Brown said that under either lease or permit, farmers rent government land for $20 per acre per year for plots under five acres and $15 per acre for more than five acres.
Aside from the legal issue, one advantage of leases is they can clearly stipulate the responsibilities of the lessor to care for the land and can cancel the lease if the lessor fails to meet those responsibilities, officials said.
Another major issue for the department is increasing water storage.
"On St. Thomas, a temporary alternative water distribution system will have to be engineered to minimize the challenges we have with the existing system in Estate Dorothea and Bordeaux," Robles said. "The alternative system and increased storage capacity would provide more availability and better distribution of the limited water resources until the federal Farmland Improvement Project is completed."
Having water storage would "be a tremendous help for the industry," Robles said at another point.
Work was budgeted in 2016 to upgrade and equip the abattoirs in both districts. To date, the St. Croix abattoir is 75 percent completed with planned structural upgrades and installation of new equipment. On St. Thomas, they are awaiting the finalization of engineered drawings and the development of the scope of work by the Department of Public Works for a retaining wall for flood mitigation and a security fence. They expect to send out bid requests in August.
Abattoir Director Cardinal Richardson said the St. Croix abattoir has seen a substantial increase in business. He attributed much of it to the Muslim community, saying they had a big uptick in business with Ramadan. Muslims fast during the daylight hours, but eat special holiday meals after sunset and at the end of the month-long holiday. Lamb and goat are popular and a ram is often served as part of the festival of fast-breaking at the end of the month, called Eid al-Fitr.
Robles presented Agriculture's General Fund budget request of $4.1 million for Fiscal Year 2017, unchanged from 2016. Agriculture is also in line to receive $300,000 from the miscellaneous section and an additional $227,000 in federal funds for a total of $5.55 million for FY17.
V.I. Public Broadcasting System Chief Executive Officer Tanya-Marie Singh presented the TV station's budget of $4.4 million, a $486,000 increase from last year.
No votes were taken during the budget oversight hearing.
Present were Sens. Clifford Graham, Kurt Vialet, Sammuel Sanes, Marvin Blyden, Tregenza Roach, Positive Nelson and Myron Jackson. No members were absent.
"This would require the department to survey farm plots to initiate the lease process," Robles said.