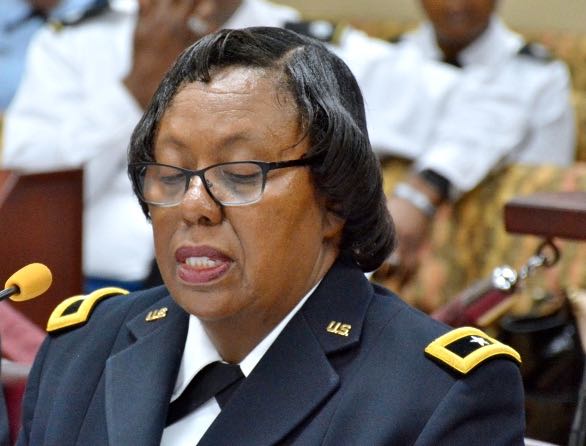 The V.I. National Guard is shrinking somewhat and the federal government has lowered the ceiling on the number of soldiers it may have. But the reduction does not affect any V.I. guardsmen currently serving and will not harm readiness, V.I. Adj. Gen. Deborah Howell told senators during budget hearings Thursday.
The VING currently has 828 members and 24 soldiers deployed overseas, Howell said. The ones overseas "are doing well and we look forward to their safe return. Please continue to pray for them and all others currently serving," she said.
In contrast, in 2013 the VING had 906 soldiers.
"I must admit that with the Army's force structure reduction, the Virgin Islands National Guard's strength ceiling for Fiscal Year 2017 was reduced by 137 soldiers," she said.
Sen. Novelle Francis asked how the reduction will affect readiness.
Howell said the Guard is already below the ceiling "so we are fine." In fact, the VING will continue to recruit to maintain troop levels, she said.
Another VING officer said they usually have about 60-70 new enlistments per year and had seen between 40 and 50 so far this year. Keeping recruits is actually an issue, Howell said.
"Because of the economy, we are losing a lot to active service," she said. On the other hand, she said if the economy improves, she expects more recruits.
In mid-June, VING opened a "new 10-lane weapons range" at their St. Croix facility in Estate Bethlehem, which means they will be able to do more weapons training within the territory, she said. VING also got new federal funding for a collapsible structure for training first responders to respond to a disaster situation like a collapsed building, she said. They also got funding for a major exercise, called "Vigilant Guard," scheduled for 2017.
"It's about training to provide disaster assistance to the community," she said.
There will be naval ships offshore, soldiers and aircraft, Howell said. "It's going to look like an invasion but a good one," she said. It begins in May of 2017, starting on St. Croix and moving to St. Thomas.
Sylma Sablon, director of administration and business management for the Adjutant General's Office, gave details of the office's proposed Fiscal Year 2017 operating budget of $6.97 million. That includes a General Fund appropriation of $1.22 million, a small reduction from the year before, and $5.69 million in federal funding.
Most of that funding pays the salaries of civilian employees and renovations and upkeep of OTAG buildings and vehicles, while the overwhelming bulk of VING funding comes from federal sources, according to Sablon.
The V.I. National Guard as a whole expects about $46.1 million in federal funding for the upcoming year.
No votes were taken during the budget oversight hearing. Present were: Francis, Sens. Sammuel Sanes, Clifford Graham, Kurt Vialet, Positive Nelson, Marvin Blyden, Tregenza Roach and noncommittee member Sen. Nereida Rivera-O'Reilly. Sen. Myron Jackson was absent.