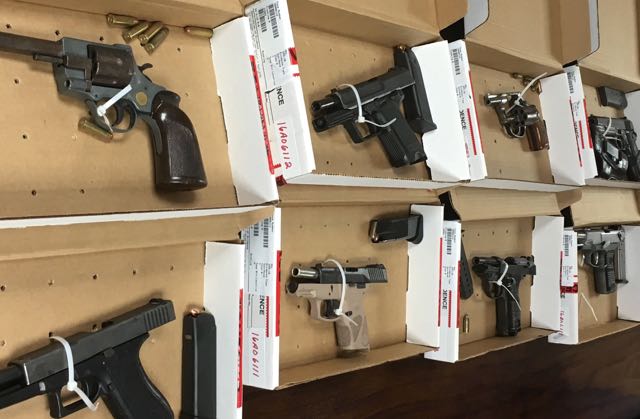 If you are a criminal, it is probably not a good idea to go bar hopping in the middle of your crimes.
On Saturday night, St. Croix police officers went to investigate reports of shots fired near Chris Hideaway Sports Bar in the vicinity of Five Corners.
Upon arrival, officers talked with an individual who, reportedly, stated he had an altercation with about 12 unknown males. Officers further determined, according to Glen Dratte, V.I. Police Department public information officer, that shots were also discharged from vehicles leaving the area.
Officers were able to locate vehicles that fit the description of those departing Five Corners in the parking lot of Sharkey's Bait Stand, a Christiansted restaurant and bar across the street and east of Canegata ballpark.
Officers received permission to search the vehicles. The search resulted in the confiscation of eight firearms. No arrests were made but the weapons are being examined by forensics and the case remains under investigation.
"Acting Chief Winsbut McFarlande and the VIPD have been getting positive results since McFarlande started an aggressive late night initiative, utilizing his resources with traditional old-school patrolling and more community-oriented involvement," Dratte told the Source on Tuesday.
He also mentioned the arrest on June 26 of 30-year-old Pernell Towers for robbery, within an hour after a male victim reported being robbed of cash and a mobile phone on the boardwalk in Christiansted.
Dratte said that this was the second boardwalk robbery within two weeks and that both suspects had been apprehended due to the late night VIPD initiative.
Dratte concluded, "People are noticing that the chief is making a difference in the short time he has been chief."