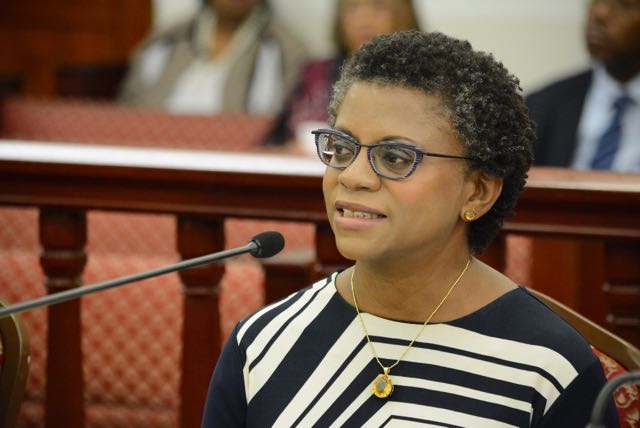 The University of the Virgin Islands Research and Technology Park building opened on St. Croix in 2013 with fanfare about its energy efficiency and wind and solar power, but it has extremely high utility bills, RTPark Executive Director Gillian Marcelle told senators Tuesday.
"The utility costs for that building are really high. Probably close to in the region of $150,000 per year," Marcelle said during budget testimony to the Finance Committee.
"One of the projects that we have in place is to engage in an energy efficiency audit because we want to reduce those costs, both for ourselves and for the university, and we are also recently engaged in some other operational readiness assessments that we think will lead to more cost savings in terms of the maintenance and operations of the building," she said.
Sen. Kurt Vialet asked, "When the RTPark building was built, wasn't it termed a 'green building'? So if it is green but there are no cost savings when it comes to (the V.I. Water and Power Authority), what made it green?"
Marcelle thanked Vialet for his question and said, "This is something that is receiving very urgent attention, because as I am sure you know the wind turbine has not been working," she said.
Vialet interrupted her to ask, "Has it ever worked?"
"It did work. But the more important thing is it will be working soon," Marcelle said.
Vialet said, "Hold up. Was there a warranty? I mean we can't be purchasing stuff and then, after a short period of time, it stops working and we gone from green to very expensive," Vialet said.
Marcelle never said whether the equipment was under warranty.
She said that "all of the renewable systems on the RTPark, the solar panel, not panels but solar array on the roof" and "the wind turbine are receiving urgent attention as part of an emergency project that is under way." Marcelle said she was "hoping" they would be working by August.
Vialet said, "That is not really answering my question. I am trying to find out what happened."
Marcelle said her "understanding" is "there were parts and maintenance routines that were not as well maintained as they ought to have been."
"We are putting in remedial steps to makes sure that that is upgraded," Marcelle said.
Vialet cut in and asked who was responsible.
Marcelle said, "So my understanding is that when the building was put up that the RTPark management team had their own contracting arrangements with a whole range of service providers. Since I have been in the role, and very recently with a director from the RTPark board, we are taking the operations and maintenance of the RTPark very seriously, working with our UVI colleagues of course."
Vialet asked what the utility costs were before the system stopped working compared with current numbers.
Marcelle said she would have to get that information and provide it at a later time.
Sen. Nereida Rivera-O'Reilly asked, "You have been director about 18 months?"
Marcelle said yes. She took the position in January 2015, replacing David Zumwalt.
"And you have not been able to resolve the issues with the wind turbine?" Rivera-O'Reilly asked.
"No I have not," Marcelle replied.
When the long-delayed center opened in 2013, RTPark and UVI officials boasted it was highly energy efficient, with:
– a 15-kilowatt solar panel array;
– a 20-kilowatt windmill;
– a light exterior color to reflect daylight radiant heat;
– storm water and rainwater management systems to reduce facility water demands;
– permeable pavements, vegetated conveyance swales, bio filtration and underground detention in rain tanks for storm water;
– underground cisterns to collect rainwater;
– solar water heating;
– and high-efficiency lighting and cooling systems.
It was certified "green" by the Leadership in Energy and Environmental Design designation overseen by the U.S. Green Building Council. In 2013, Zumwalt said the LEED certification would free up half a million dollars in federal funding for the facility.
The facility was originally intended to house technology companies next to UVI, creating jobs and allowing collaboration between those companies, the university and its students.
In 2007, Zumwalt said the mandate of the RTPark is to encourage the development of a sustainable-technology sector in the local economy.
"Our intent is to create jobs. … Not just jobs but high-paying jobs, careers. … It is a pretty tall order, but what makes us believe it is achievable is we are awash in bandwidth," Zumwalt said in 2007.
Legislation enacted in 2014 over then-Gov. John deJongh Jr.'s veto removed that tenant residency requirement and changed local law retroactively to allow tax breaks the RTPark quietly gave the Innovative internet, telephone and cable television companies; phone and internet provider Choice Communications; and internet provider Broadband V.I. (See Related Links below)
Vialet asked Tuesday how many clients were at the UVI building.
Marcelle said, "We don't have any clients who have physical offices at the RTPark but they have –"
Vialet interrupted, asking what the building is being used for.
About 75 percent of the building is being used for laboratories and classrooms for the science and math department, Marcelle said. The other 25 percent contains a conference center available for tenant use, the RTPark administrative offices and the data center for UVI's internet, she said.
The facility, intended as the home of a technology park, was built with $5.5 million from the U.S. Department of Commerce; $3.5 million from the V.I. Public Finance Authority, $2 million from UVI; and $3 million in the form of a 15-year loan from Knowledge Investments LLP, an RTPark tax-break recipient.
The V.I. Legislature also appropriated other funding to establish the RTPark, appropriating $6 million between 2001 and 2007 and more since.
The park hopes to borrow money from the government to pay off its private loan, Marcelle said.
"We are seeking to swap out private sector debt that is sitting on our balance sheet with public funds that would be at a more attractive interest rate," she said.
Marcelle said the RTPark has 35 clients receiving tax breaks. Those clients used to be listed at the RTPark website, but the website appears to be defunct and now redirects to a UVI website page with perfunctory information about the RTPark. The list of clients as it appeared on the RTPark website as of May 2014 can be seen here. Another 20 prospective tax-break clients are in the pipeline, according to Marcelle.
For comparison, the V.I. Economic Development Authority has about 72 clients, with tax breaks that may be similar. The details of their tax breaks and the recipients are accessible online here.
RTPark tax break agreements are treated as proprietary information by the RTPark and are not public. The list of recipients is public and was formerly available online.
Some of the advertised benefits of the park were to be partnerships with area schools, internships, scholarships and other actions by the tenants and RTPark to benefit local education.
Sen. Marvin Blyden asked about the RTPark's partnerships.
Marcelle said, "We have a program called Tech Fridays. We have done two of them already and plan more over the summer." At one, the National Guard participated and at the other a "tech entrepreneur from silicon valley" spoke. Elementary school students from two private schools and students from public high schools attended and they had 50 high school students at one event on April 15, she said.
They are also working with the V.I. Literary Festival and the Caribbean Writers Project, she said.
For Fiscal Year 2015, the park generated $2 million in commercial revenues and had $1.6 million in expenditures, generating net revenue of over $400,000, which is a turnaround from past years, Marcelle said. While appropriations were made for some years, no actual allocations of V.I. government funds were made to the RTPark for the past four years, she said.
For FY16, the park expects to have revenues of $2.38 million and expenses of $2.18 million, for net revenues of $200,000, according to Marcelle's testimony. There was no information in the testimony on projected revenues or expenses for the upcoming FY17.
Some senators expressed concern that the RTPark provided no budget information to the Legislature's post auditor in time for the hearing.
Sen. Tregenza Roach said, "Our post auditor notes that you did not provide the information requested that would helped them provide us a detailed analysis of the RTPark and I don't take that lightly. And I want you to be aware that even though you present a report that says that the park is not requesting any funding from the central government, that does not make us less concerned about being able to follow the park and its assets, its movements, its revenue, its operations, etc."
Marcelle said the RTPark had since submitted the information.
"Yes, yesterday," Roach said.
"We did get a report into the post audit division and I apologize for not meeting the deadline," she said.
Those financial details were not part of Marcelle's testimony or the distributed post-audit report, which simply said the information was not provided.
Rivera-O'Reilly asked about public records and minutes of the RTPark's meetings.
"The minutes of the regular session can be acquired on request," Marcelle said.
"You know the law requires you to publish them," Rivera-O'Reilly said.
"Thank you senator," Marcelle replied.
Marcelle said the park has "historical liabilities to UVI" of $1.2 million and had recently made a token payment of $80,000 toward retiring the "legacy" liability. The details were not discussed Tuesday.
However, six years ago UVI loaned the RTPark several million dollars, of which $1.43 million remained as of September 2015, as a result of a tax-break recipient suing the RTPark.
Last fall, UVI President David Hall told senators the RTPark board and Zumwalt tried to get the client to comply with the terms of its confidential, negotiated tax agreement but were unsuccessful and the board recommended terminating the company's RTPark tax breaks.
When the tax breaks were rescinded, the RTPark's agreement allowed arbitration and the arbitrators found damages against the RTPark "because the client was out of the park," Hall said. (See Related Links below)
No votes were taken at Tuesday's budget hearing. Present were: Vialet, Rivera-O'Reilly, Roach, Blyden, Sens. Clifford Graham and Myron Jackson. Sen. Positive Nelson was absent.