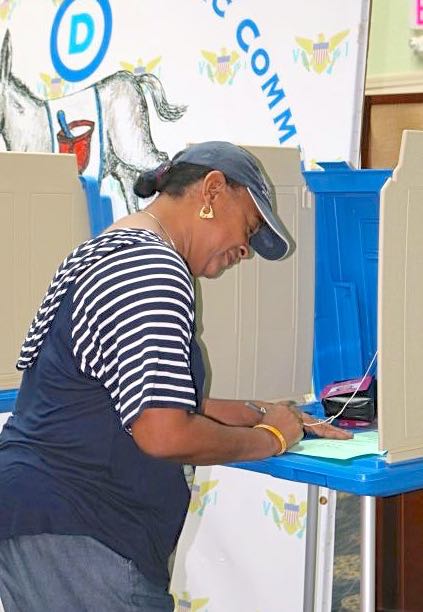 In a landslide victory, U.S. presidential candidate Hillary Clinton swept the Democratic caucus on St. Thomas on Saturday, picking up four pledged delegates for the district at the Democratic National Convention in July.
More than 500 democrats turned out for the caucus, which ran from 10 a.m. to 6 p.m., but gave residents a chance to cast early votes during the week. According to party organizers, 23 percent of the votes cast came from early voting, but in order to get as many ballots in as possible, provisional ballots – which will be checked with the Elections System on Monday – were also allowed.
The Virgin Islands is one of five U.S. territories that casts votes in primaries and caucuses to decide the Democratic Party's nominee for president, even though residents aren't eligible to vote for the election in November. While the territory's pool of delegates is small, the Virgin Islands sweep puts Clinton only 60 delegates away from what she will need to win the nomination next month, according to an article posted this weekend on Time Magazine's website.
Representing the Virgin Islands from St. Thomas will be Sen. Janette Millin Young, Pamela Eckstein, Clement Cain Magras and Edgar Baker-Phillips. According to the numbers, that breaks down to 84.2 percent of the votes (or 1,803 votes) in favor of Clinton and 12.2 percent of votes (or 190 votes) for candidate Bernie Sanders. A candidate must win at least 15 percent of the vote to be eligible to receive delegates, according to V.I. Democratic Party officials.
"This process gives us power because it allows us to be delegates in the nomination process," Roger Minkoff, who also ran for a St. Thomas-St. John delegate seat, said Saturday. "Right now, Hillary needs 60 votes, 60 pledged Democrats, to put her in the driver's seat. We have seven from St. Thomas, St. John and St. Croix and, with ballots from Puerto Rico this weekend – because we are the only caucus in the U.S. this weekend and Puerto Rico the only one in the Caribbean on Sunday – we have the ability, if the vote comes in the way we anticipated, to get her in there."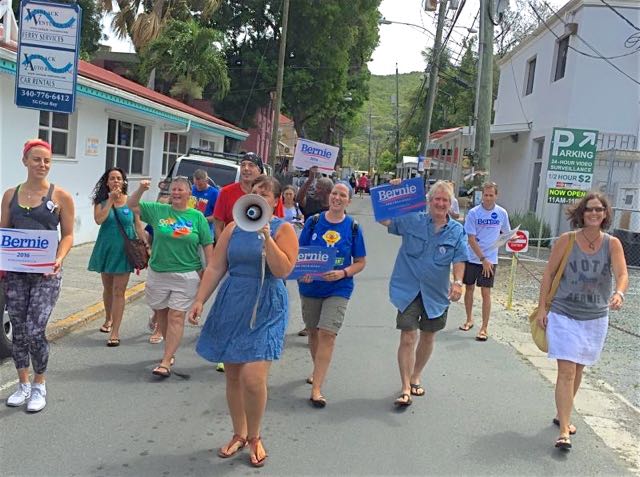 While two of the potential delegates had pledged their support for Sanders, V.I. Democratic Party State Vice Chairman Riise Richards said Saturday that more were "impressed" by Clinton's platform.
"She has promised that self-determination is something that she will work toward, and we value the fact that her husband (former President Bill Clinton) was down here, and he spoke to us and he assured us that her other major areas of concern were health care, women's rights, quality education for the Virgin Islands, combatting the effects of climate change, creating good paying jobs, increasing the minimum wage and fighting for veterans."
Richards said the delegates are also creating a list of other issues to bring to Clinton's attention at the convention in July.