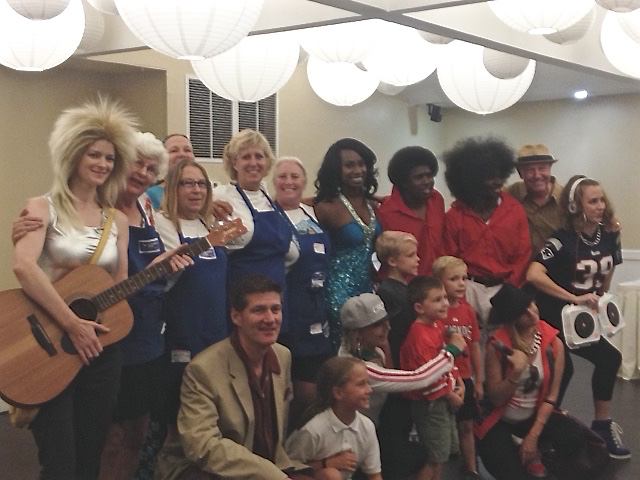 A group of competitors who didn't make a sound of their own delighted a crowd of about 140 people Monday at Mahogany Run Banquet Room to support the Humane Society of St. Thomas with the organization's first Lip Sync Battle.
The event was hosted by "DJ Tony T" of radio station 105.3 FM Cara Jo Hinton, the chairperson of the event.
Hinton opened the night by doing some lip syncing of her own – lip syncing an introduction that had been recorded earlier by Drew Russo.
"That was my favorite part of the event," volunteer Thames Shaw said.
The team of judges had their work cut out for them. The panel as made up of local chef and boxing contender Julius "The Chef" Jackson, Dr. Jane Reynolds and Omar Haneef.
Standouts among the eight performances in the solo category were Katherine Haneef dressed as David Bowie performing "Space Oddity" and Brian "Brianna" Reynolds performing "Big Spender" by Shirley Bassey. But it was Eyeesha McCall who took home the prize with her performance of "I Will Survive" by Gloria Gayner was a knock out.
"Eyeesha's performance was outstanding," said judge Jackson, adding, "Next year we hope to see more of Brian "Brianna" Reynolds."
Jackson split his time Monday night between the judges' table and the poster signing table, where he was signing limited edition posters featuring himself and his pit bull Lolita. The posters encourage people to stop pit bull fighting and clearly show the love he has for Lolita. The posters are available for purchase, by calling Hinton at 340-690-2849.
There were five entries in the group category, and a last-minute entry, four kids from a blended family, stole the show. Walter, Cory and Jackson Watkins and Charity Sertich wowed the crowd with "Watch Me Whip" by Silento. The judges loved their performance so much, they demanded that a special "Under Four Feet Tall" category be established and a prize awarded. The event organizers were happy to oblige.
The group prize went to Agene Rogers and Danny Challenger performing "Ain't Nobody" by Chalaine Khan. Their perfect in-sync dance moves and their 1960s costumes made them the winner by mere inches.
"It was very close competition in this category," judge Reynolds said. "The mash up of 'Baby Got Back,' 'Push It' and Nkotb 'Hangin' Tough' was performed by Jessica Alvarado, Jessica Howard and Jen Dubois who stayed in character all night. But in the end it was Danny and Agene's costumes and the perfect synchronization of the dance moves that won us over."
The event raised more than $20,000 for the Humane Society of St. Thomas, Hinton said. The funds will be used the neglected and homeless animals who enter their doors.
"We couldn't have done this without our sponsors, and especially a large donation of $10,000 from local EDC company, Galtere, Inc.," Hinton said.
Owner of Galtere, Renee Haguerud said she loved the event.
"That was the best time I've had in years! Can't wait until the next Lip Sync Battle!" she said.
the event was hosted by Mahogany Run with many additional sponsors, including Tito's Vodka, Premier Distributors, St. Thomas Restaurant Group, The BUZZ, 104.FM, Merchant's Market, Caribbean Packaging, Julius Jackson, DJ Tony T and Chef Nancy Black.