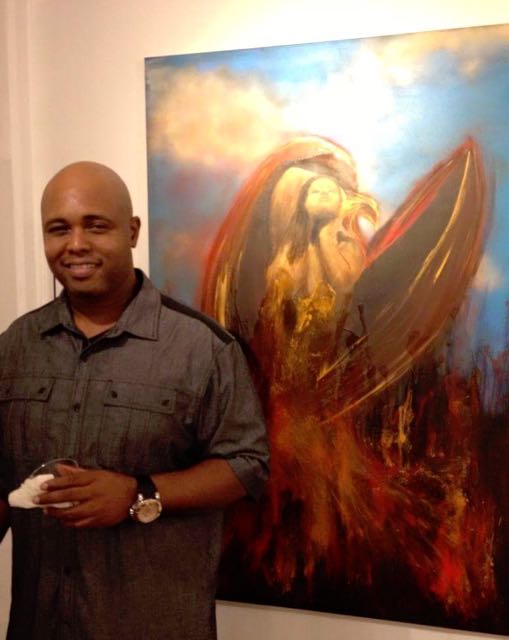 Jewels of the Virgin Isles is a feature series profiling Virgin Islanders in the diaspora who are excelling in their respective fields and/or positively representing the USVI abroad.
"To be able to create works of art is to come to a divine understanding of the great Creator," says Lucien Downes, a budding artist who recently moved back to St. Croix to make his mark in the creative arts and build momentum for his home to become a "hub for the art world."
Downes, who says he was shy as a child, used sketching and drawing to express himself until his early teens. Today, he is a man on a mission – to expose Virgin Islands children to the creative freedom of painting and visual artistry and to create an explosion of artistic expression in the Virgin Islands community.
Born on St. Croix to Trinidadian parents – Lucien Sr. and Ann – Downes left his management career in the art supply world to find his true voice with a paintbrush and blank canvas. Today, as the incoming president of the Artist Guild of St. Croix, he envisions expanding local interest in the visual arts by establishing regular programming to attract the youth and hosting events to attract art aficionados from around the world to the big island.
Downes, a 1994 graduate of St. Croix Central High School, relocated with his parents and two siblings to Boston for a few years after Hurricane Hugo in 1989. There, one of his elementary school teachers helped to nurture the artistic qualities she saw in him, encouraging him to hone his talent. However, as he entered junior high school, art became secondary to his new-found popularity, which "filled the void" that art had occupied for so long. By the time Downes began high school, his sketch books were a thing of the past.
After high school, Downes traveled to Atlanta to attend Morris Brown College, from which he received a bachelor's degree in business and information technology in 2002. Staying true to his love of art, he built a career working for art supply companies such as Pearl Paint, moving his way up to ladder to manage a number of stores.
During this time, though, he had resumed painting as a hobby, experimenting with various styles and, within five months, had taught himself acrylic and framing.
"I was in the management field for years, but have always been passionate about art and decided to become a full time artist. I decided to take a chance at going full time. I have been doing so ever since," says Downes.
He photographed his paintings and brought them to work, selling his first painting for $600 to a customer who had come into the store he managed. This was the beginning of his career as a professional artist. "It just took off and [my work] got into several galleries in Atlanta and Roswell, Georgia. I just couldn't believe it."
Inspired by his parents and the scenes that surrounded him while growing up in the Virgin Islands, Downes says he prefers to develop abstract images with his painting. "God inspires me. Every day I witness his artistic abilities in sun rises and sun sets, and the nature around me. Also my father is into string art and my mother loves to crochet. Being raised in a [creative] environment, I think that I inherited that from them," he states.
You can feel Downes' passion for the Virgin Islands as he describes why he returned to St. Croix three years ago, first on a part-time basis, to build his new career. "I love the rich culture, the people, the scenery; I love everything about this place – from the amazing sunsets and sunrises to the rich, cultural, iconic buildings and subjects," says Downes.
He has immersed himself in the community, giving back by speaking at local schools to introduce students to his profession. "Once you become involved, it's easy to commit to living here full-time, which I have been doing for the past year," he says.
Downes has built his business and his reputation using social media and has developed a following on St. Croix and St. John. He does, however, express disappointment in the lack of support from local Virgin Islanders for the arts movement.
"The locals don't support the art community. I don't know how we can change that. We have a huge disconnect between the islands when it comes to art and supporting our local artists between the islands. Once you have a community more into history and culture, then you'll have that deeper appreciation for art," he says.
In an effort to stem this divide, Downes says he is focusing on the youth, encouraging them to discover their inner artists and entrepreneurs by sharing the business behind his industry. During one of his school visits to Country Day School (now merged with Good Hope School), Downes met a teacher who said she had to melt used crayons in the sun to create more supplies.
This led him to launch Art St. Croix, a charity event held at the beginning of April to raise money for art materials for public and private schools on the island. Last year the event provided supplies to 14 schools.
Downes says he gives back to his home because "it needs to be done." He wants people in the community to actively fill the voids that are not being met by the government.
"When you're in management and work in corporate America, people look at you because you have initiative. You see something that needs to be done and you do it. Everybody in our community complains about the problem but who is going to fix it?"
Reflecting on his own transformation, Downes is still amazed at how his own life has come full circle after 20-plus years of wanting to be an artist.
"Now, I am an artist," he states. "The arts help kids to have a creative foundation and really think outside the box. Once you have a child that can think, he can do anything."
Nugget for V.I. Youth: "Go away, learn and bring what positive things you have learned to help improve our community. Become entrepreneurs [and] stop making people rich with your skills!"
Little Known/Fun Fact(s): "I love comic books."
__
Loán Sewer is a marketing and tourism branding consultant and proud Virgin Islander who resides in Charlotte, North Carolina. Follow her on Twitter @LoAnSewer or e-mail her at info@gobiconsulting.com.