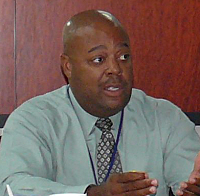 Hugo Hodge Jr., who was ousted from his position as executive director of the V.I. Water and Power Authority in January after eight years, has been hired by a North Carolina-based "smart grid" company.
Tantalus Systems announced Wednesday that its board of directors hired Hodge as the company's executive vice president and general manager in the Caribbean Basin.
The company's news release described Hodge as "an accomplished utility veteran with more than 25 years' experience in power distribution, engineering and utility marketing leadership roles."
The company said Hodge will accelerate its Caribbean expansion plans.
"We're proud to add a proven leader like Hugo," said Peter Londa, president and chief executive officer of Tantalus. "His wealth of knowledge makes him ideally suited to lead our strategic international growth."
Hodge said he was honored to join Tantalus.
"I have experienced firsthand the impact that applying the right smart grid technology can have on day-to-day utility operations. I am excited about the prospect of helping more Caribbean communities adopt technology that will lead to a more sustainable energy future," he said.
"I am honored to join the dynamic team at Tantalus, a company that has proven its commitment to helping municipal and cooperative utilities address critical operational challenges," Hodge said.