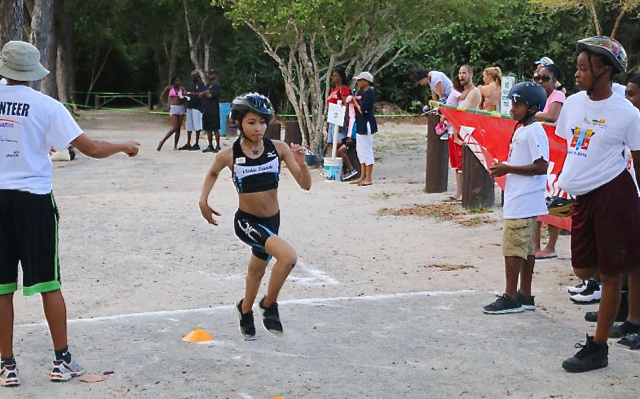 With some outreach to schools across the district, St. Thomas Club of Rotary Sunrise members were able to bring in enough competitors for this year's Kids Triathlon to even the fields in all categories.
According to organizers, 141 triathletes participated in the swim, bike and run course at Magen's Bay Saturday, bringing up the numbers in both the individual and relay competitions. The triathlon is divided into three age groups – 5 to 8 year olds, 9 to 11 year olds and 12 to 15 year olds – and for the first time since the event started, each boasted an almost even number of students.
"We had 46 participants in the 12-15 age group, and this is the category that has always experienced the lowest numbers," Rotary Sunrise organizer Susan MacFarland-Helton said Sunday, after the results were in. Crediting the club's efforts to recruit more participants this year, MacFarland-Helton said administrators and staff at the local public schools, particularly Addelita Cancryn Junior High and Charlotte Amalie High Schools, were "instrumental in recruiting."
Cancryn's physical education teachers Therese Hodge, Gloria Lindquist and Rochelle Todman – all longtime Kids Tri volunteers – also pitched in, while administrators, such as Cancryn Vice Principal Judy Edmeade, even drove students to the beach Saturday. CAHS, meanwhile, received a push this year from JROTC program instructors Janet Martin and Steve Pinney, who worked with Vice Principal Erma Skelton to encourage students to form their own relay teams.
The high school also arranged transportation for their students, who could be seen on the course Saturday in their matching uniform pants.
The push to get students to the beach was also matched with donations of equipment from sponsors such as Agnes Rampino, who brought more than 20 bikes to the event. Rotary Sunrise holds a drive each year to bring in bikes for students who don't have them, and MacFarland-Helton said knowing that they were available also helped with the recruiting process.
"Traditionally, we've found that as students get older, they're less likely to own a bike," she added. "Rotary Sunrise hopes to determine additional Rotary events where we can utilize our new bike inventory."
The bikes were also available at Rotary Sunrise clinics, held each year before the event. At the beach Saturday, several parents said they were excited to have the extra training time and the chance to participate even if they didn't have their own equipment at home.
"This is the first year we went to the clinic, and it really helped get our son prepared and even more excited about the event," mother Julie Magee said about her son Paul, who was a second-place finisher in the 9-11 relay category. "The event is very well organized, from the beginning to the end, and there is not much else you have to do but come out, see the kids race and be excited for them when they finish. I recommend this experience to any other parent who might be thinking about it, it's a lot of fun and it is rewarding to see your kids get so involved."
Part of what helps the event run smoothly are the volunteer efforts behind the scenes. MacFarland-Helton said that more than 130 volunteers put their time into this year's Kids Tri, while more than 200 supporters came out Saturday to cheer on the young athletes.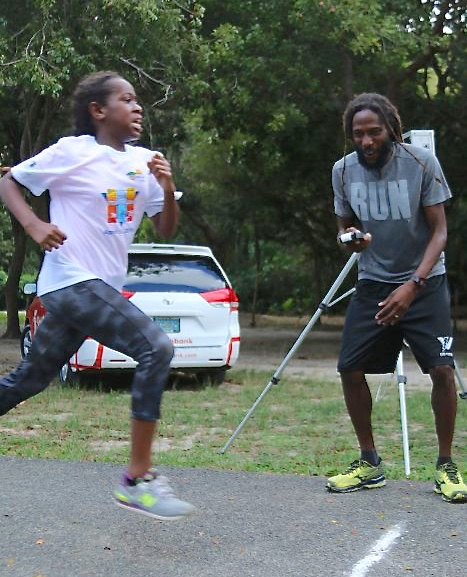 "I've been volunteering for five years now, and each time it gets better," said Shane DeGannes, better known as "Coach Nurse" at the V.I. Montessori School. "I'm a big supporter of any event that gets our youth out there moving, being athletic, and this is one of the best I've ever seen. What is even better is that it involves everyone, which is important because while there are a lot of events out there that target our young men, there are fewer athletic events that work with young women and I think being able to get everyone involved in something like this at a young age teaches a life lesson that they can carry with them throughout their whole life."
Many students on the course Saturday said they were excited to also participate in an event that allows them to be competitive. Shaiah David, for example, said that she looks forward to the event each year because it gives her a chance to work with her mother, champion runner Ruth Ann David, to prepare for the event.
"My mother is also a personal trainer, so she knows about running style and she is able to help me get ready," said David, who came in third in the 9-11 individual girls' competition. "We've been running together for a long time and when I come here, I am excited to just get out and try to win. And it's fun, too."
Coming out on top for another year was repeat competitor Tabor MacFarland-Helton, who has continued to be dominant in the individual boys' competition for the past few years. This year, he took first place in the 12-15 age group with an overall time of 26:50, which he said Saturday he didn't expect.
"This was my first year in this age group, so I was just hoping to make the top three," he said after crossing the finish line. "But when I was out there, I pushed hard and even though I'm definitely tired, I'm excited to get first place. I feel like I did something good."
The Rotary Sunrise Gold Sponsors for the event are Scotiabank, The V.I. Source and Agnes Rampino of Water Island. Silver sponsors include Theodore Tunick & Company and Fortress Storage. Bronze sponsors are Merchants Commercial Bank, Mind/Body Health & Psychology, LLC and Virgin Islands Orthopedics & Sports Medicine.
Scott Fricks, president of the Virgin Islands Triathlon Federation (VITF) served as the Kids Tri race director for another year, along with VITF Vice President Troy Holloway, who also came over from St. Croix to assist in running this year's event.
This year's winners are:
AGE GROUP 12-15
Individual Boys
1st Place Taber Helton 26:50
2nd Place Teagan Kappel 33.13
3rd Place Camille King 43:06
Relay Teams
1st Place Ky Odlum, Mensah Ola-Niyi, Arlix Amparo 24:36
2nd Place Jose' Rosario, Kimia Estrill, Kelvis Taveras 28:57
3rd Place Max Wilson, Diego Viegas, Amir Ottley 29:03
AGE GROUP 9-11
Individual Boys
1st Place Tristan Feddersen 12:56
2nd Place Gabe Derksen 14:27
3rd Place Nehemiah Severin 19:46
Individual Girls
1st Place Kaia Anspacher 12:23
2nd Place Gabriela Brunt 13:32
3rd Place Shaiah David 14:28
Relay Teams
1st Place Thomas Brunt, Christian Belcher, Chris Griffith 12:43
2nd Place Amelie Bennett, Paul Magee, Mohamed Bilal 13:22
3rd Place Paschal Bryan, Rohan Nagi, Ka'eo Brown 13:40
AGE GROUP 5-8
Individual Boys
1st Place Boarden Gonzalez 7:38
2nd Place Benjamin Caillouet 7:56
3rd Place Sonny Gonzalez 8:12
Individual Girls
1st Place Sofia Kappel 8:23
2nd Place Halina Diehl 8:47
3rd Place Lily Derksen 9:37
Relay Teams
1st Place Santiago Brunt, Alex Brunt, Andy Bornn 6:59
2nd Place Aliya Asfour, Kingston Walker, Rohan Nelthropp 7:36
3rd Place Fiona Dodson, Aurora Rodriquez, Mariana Brunt 8:01