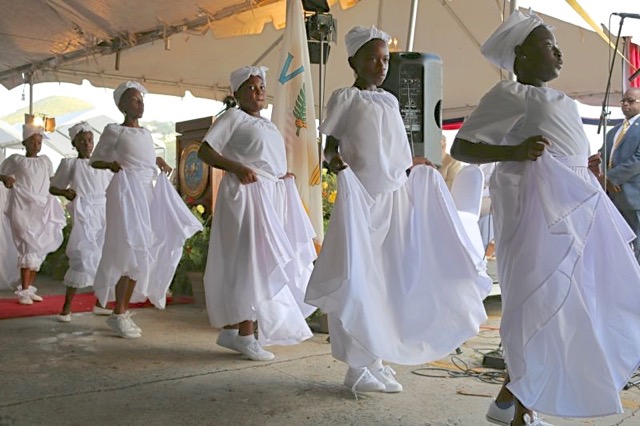 With the 100th anniversary of Transfer Day approaching, speakers at this year's commemoration event on St. Thomas urged residents to band together, take a look at what the territory has been able to accomplish over the last 99 years and to use the 2017 Centennial as a stepping stone "to make their voices heard" about what they want the next century to look like.
"Our culture is important," ceremony organizer Sen. Myron D. Jackson said Thursday. "It is the fiber that keeps us together and should be passed on to the next generation."
Jackson said that all organizations on the ground, from nonprofits to ethnic groups, should come together to "embrace what we have been, what we are today and what we will be in the future."
"As the world recovers from the global economic meltdown of 2007, tourist destinations should find a way to distinguish themselves from one another," Jackson said.
"History becomes a magnet and an enticements and we should use this rich cultural heritage and history as we approach the 100 year observance as a platform for our search for identity and the coming together of our various ethnic groups as one people."
Jackson and other speakers said the territory, while celebrating the original transfer from Danish colonial to American democratic rule, should also understand that the past 99 years have left open issues that the V.I. Transfer Day Centennial Commission is working to address.
Just as Virgin Islanders examined their relationship with Denmark on March 17, 1917, so too should residents think about the benefits of its relationship with the United States as they move into the next century, speakers said.
"Don't march to next year's date with just merriment, bands and food on your mind, but go with deep reflection about the freedoms that we all yearn to exercise, those freedoms that if we simply move to the mainland would not be obstructed, but don't have access to at home," Gov. Kenneth Mapp said Thursday.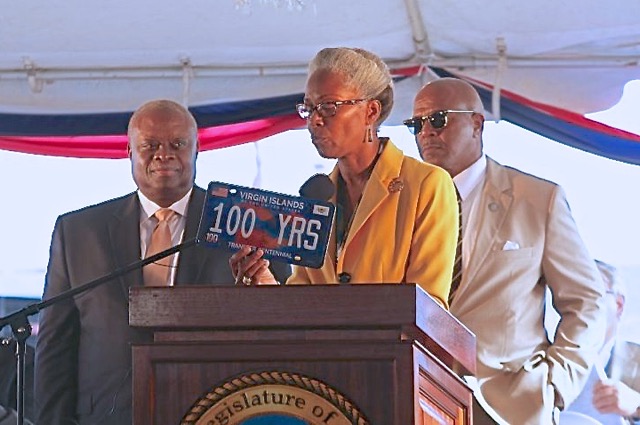 Mapp spoke in particular about the limited benefits extended to veterans who leave home to fight but still have to leave the territory to receive treatment for wounds.
"Our people yearn for the opportunity to exercise their right to vote for president, to select that person who, with the stroke of a pen, can order Virgin Islanders to go to war," he said. "We want to be a part of the fabric of the American dream."
Delegate Stacey Plaskett said that part of the solution is getting the U.S. government involved in next year's celebrations and the discussions or forums that the Centennial Commission is planning.
"By standing here today, we are working toward using the Centennial as a vehicle to open the discussion on how the next 100 years should be," Plaskett said. "We are not ingratiating ourselves with the colonialists or celebrating what has initially been the transfer of land without people, but we are using this as a vehicle for us to determine our own futures."
Plaskett said that she and Mapp have continued to be in talks with Danish ambassadors and government officials about playing a role in next year's events, and that she has already introduced a bill for a Congressional Centennial Commission that will soon be reported to the floor of the U.S. House of Representatives for a vote.
"We will use this as a means for us on a national level to recognize what Virgin Islanders mean to this country, and to have hearings and discussions in the halls of Congress about what the Virgin Islands has contributed and what we want to be going forward," Plaskett said.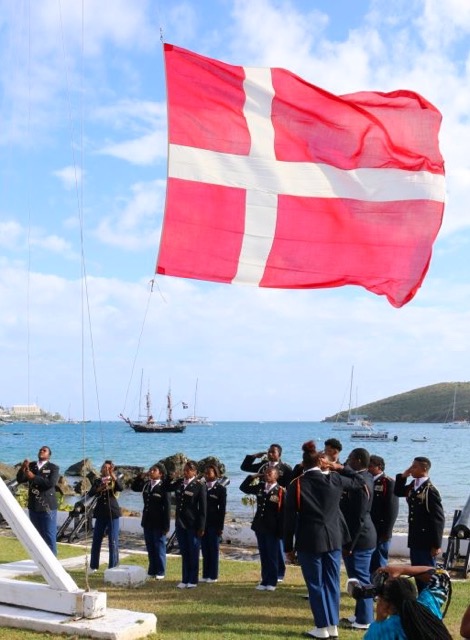 "Today is about celebrating our history, but it is also about raising awareness and exploring opportunities for collaboration not just with the U.S. and Denmark, but most importantly, among ourselves."
Assurances offered by Danish officials Thursday indicate that Denmark is already a willing partner.
Consul General of Denmark Anne Dorte Rigglesen said during Thursday's ceremony, "Yes, even a century later, the Virgin Islands remain an important part of Danish history, and this event offers a chance to reconnect with the complex, complicated and even painful relationship between us."
"Our government continues to be committed and we want to help make the Centennial memorable," she said. "In Denmark, a committee is also working on how to commemorate the day, and we working with the delegate and governor in trying to get the U.S. to join our efforts in celebrating this appropriately."
Dorte Rigglesen said the Danish partnership with the Virgin Islands is already making an impact, as historians work to digitize and scan more than 5 million historical documents for purposes of preservation and access. Important records, such as genealogical documents, are being made available as soon as possible by the Danish National Archives, she said.
Those histories will become an important part of next year's discussions as the Centennial Commission works to highlight the successes of local residents and the territory in general, Commission chairwoman Pamela Richards-Samuel added Thursday.
"We have many stories to tell," she said. "But we as a community must be more involved. Our government cannot do it all and we invite everyone to join us at our forums, at our symposiums, so you can add your voice to the direction in which our territory will move over the next 100 years."
"We will put the world's eyes on us, and when we put the Centennial on the world platform, we will use it as a catalyst to help correct these many deficiencies we see," she said.
Richards-Samuel also joined Mapp and Jackson on Thursday in unveiling a Centennial license plate, which she said will soon be circulating throughout the territory.