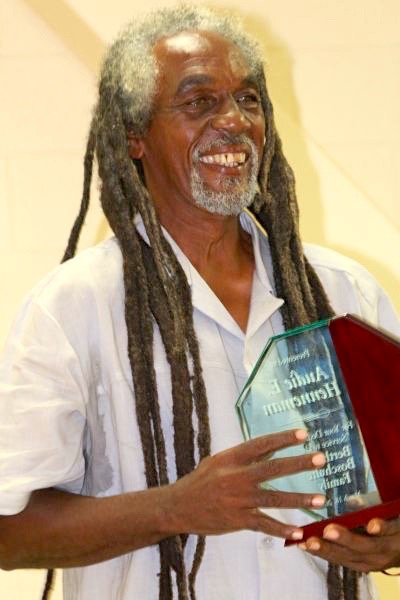 Many were moved to tears Friday after former Parks and Recreation Commissioner Stanley Smith got up to honor his mentor and the new namesake for the Bertha C. Boschulte Middle School's gym, Audie Henneman.
"Mr. Henneman taught me everything I know," an emotional Smith said at the gym's dedication ceremony on St. Thomas. "He took his time out to deal with people's children, to teach them. Any students, no matter if they were the worst, our principal always would say, 'Put them in Mr. Henneman's class' and he would take care of them. He was first class and there is no honor that could be more befitting than naming this facility after him."
Throughout the morning, several speakers made similar remarks, remembering Henneman, who was at the ceremony with his family, for his contributions to students at BCB, Winston Raymo Recreation Center or the Elrod Hendricks West Little League.
A longtime Little League and biddy basketball coach, Henneman also served as the physical education teacher at BCB for more than two decades before his retirement in 2011.
According to BCB Principal Carver Farrow, one of Henneman's lasting contributions to the school was the creation of the school's "lunch league," which gave students the chance to play everything from basketball to ping-pong during break.
"He did this all without extra compensation and the best thing that happened to us is that the negative behavior amongst students slowly but surely decreased, to the point where BCBG is now the secondary school with probably the least amount of confrontations," Farrow said Friday. "And it all started with Audie Henneman."
Farrow added that Henneman was already at the school when he came in 20 years ago and was an important member of the BCB family.
"This is one of the highest honors that can be bestowed upon an individual and, in this case, it recognizes a member of this family and this community for his outstanding service to students," Farrow said.
The recognition comes through a recent act passed by the Legislature that honors Henneman's career and his work with students throughout the district, both as a coach and a teacher.
Speaking during the ceremony, Henneman said that when Smith first became an assistant commissioner, he asked his old student to name the gym in his honor, and Smith made it happen with the help of another "old friend," former Sen. Carlton Dowe.
"I told what I wanted in the morning, he called the former senator (Dowe) and before the afternoon finished, he called me back and said, 'This is going to get done,'" Henneman said. Henneman added that his career as a coach and teacher started when he was still attending Charlotte Amalie High School and working as a camp counselor at Winston Raymo Recreation Center.
"My life story as an educator and sportsman started at a very young age growing up around the field and at Winston Raymo Center, which became a melting pot of love fun and joy," Henneman said.
When the opportunity came for him to become a counselor, Henneman said he took it and was proud to be working not only in his own neighborhood, but also in the place he loved most on St. Thomas.
"This is where the interest in my career started," Henneman said. "I loved being around kids, showing them right from wrong, how to have respect for their elders, and how to compete and show sportsmanship toward one another."
"I told them to just play hard and have fun, and they loved being there. And now, as I've coached for many years teams from around St. Thomas, I am thankful for that time, and for being an athlete and loving sports, because it's done a lot for me."