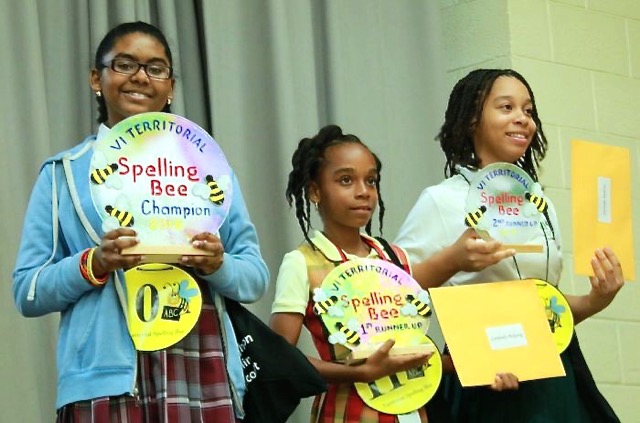 St. Croix's Maykala Todman took home the territorial spelling bee title for the second year in a row Wednesday, capping off a slate of St. Croix students that ended up taking the top three spots.
Todman, from John H. Woodson Junior High, was followed Wednesday by second runner up Jacinda Dubois from St. Patrick's Catholic School and first runner up Carmindy Pickering from Pearl B. Larsen Elementary.
Speaking after the winners were announced, St. Croix District Superintendent Colleen Williams said Wednesday's competition kept the audience on the edge of its seat with a tight back and forth between players over 12 rounds.
The event each year gives students a chance to showcase not only their "superior spelling skills," but also their knowledge of everything from word origins to intonations in pronunciation that can serve as clues to help the players advance, she said.
"All of those questions they asked, all the strategies they used to spell the word correctly, that is something we must all take note of," Williams said. "These students are fantastic and, really, I know we were all going crazy wondering who was going to win."
Todman, now a competition veteran, used all those tricks of the trade Wednesday and ended up being the last standing after the 11th round. With no one left to spell, she closed the 12th round with the word "villatic," asking for both the definition and origin before giving her final answer.
Throughout the competition, Todman's words ranged from "gestalt" to "bombardment," while other players also fielded words with origins in Latin, Sanskrit and French.
"I studied the words' origins and their root words and that really helped me," Todman said after the competition. "Being on stage was nerve-wracking but, because I studied these things, I got more confident with each round."
After coming to the microphone in the 10th round, Todman said she thought she might come in third. But after being brought back up after her other two competitors were eliminated in the 11th round, Todman said she knew she had a chance.
"When I came back up again, I heard the word and I knew it was based on the word 'villa,' so I was pretty confident that I was going to win," she said.
Todman's coach Carla Bastian also had faith in her student's techniques.
"She's disciplined with her studying and the fact that she focused on word origins, that really makes it easier for her and, once she knows that, she knows what direction she needs to go in when she hears the spelling word on stage," Bastian said. "So this is take two for Washington, D.C., and we are all excited."
Todman said her hopes for the Scripps National Spelling Bee in May is to be a finalist.
"Or at to make the other competitors fight a little bit," she said.