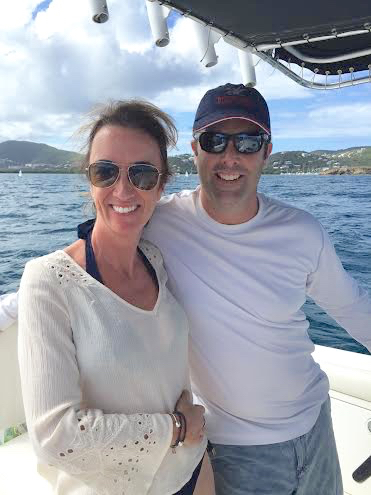 Mark van den Driessche and wife Charlotte Wardell give new meaning to the term "power couple."
Through their small business, Import Supply, they and their staff keep island residents connected with the latest energy technology.
"The main focus of our business is generators, no doubt," van den Driessche said.
That means both sales and maintenance of diesel generators. But the company also handles such items as battery backups and other equipment for solar alternatives, oil and filters, propane pool heaters, air conditioning, UPS (uninterrupted power supply) systems and propane generators. It services what it sells and it also offers help in calculating individual power needs.
"We do government facilities; we do a lot of businesses; we do a lot of vacation villas; we do a lot of private homes," he said.
And that's just on land. Import Supply also services the marine community.
The company has continued to evolve since it was opened more than 40 years ago. At that time, van den Driessche said, its owner and founder, Bob De Francesco, was well established as an importer including of such big ticket items as buses. He started bringing generators into the islands for sale and after Hurricanes Hugo (1989) and Marilyn (1995) that part of the business exploded.
When Wardell and van den Driessche purchased the company in 2008, they thought about changing the name to something more descriptive of its current focus, but decided against that because 'Import Supply' had a good reputation and instant name-recognition for most of the population.
Among Import Supply's many, many customers are the Legislature, the Education Department, the Government Employees Retirement System, Foothills commercial condominiums, Royal Palms and the Knud Hansen complex, van den Driessche said. One of its largest jobs to date was the installation of a two-megawatt generator at the West Indian Company and "paralleling" it with an existing two-megawatt generator so the two work in tandem.
The company is based on St. Thomas, with its offices in the Sub base. It serves St. Thomas, St. Croix, St. John and Water Island. Van den Briessche said British Virgin Islands labor laws discouraged an actual operation in the BVI, but the company is able to fill orders for equipment there.
There are eight full-time techs and four office staff personnel. Some of the employees have been with the company since before the current owners. Heavy equipment includes two crane trucks and a fuel truck for diesel delivery.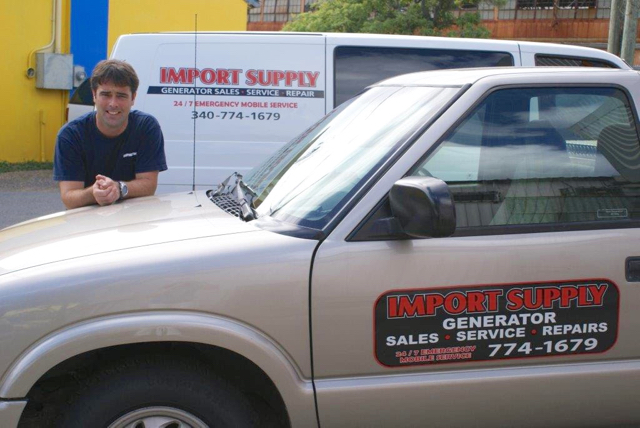 Although the storm-induced boom time is long passed, van den Briessche said he still sells an estimated 15 to 20 generators a year in the USVI. Perhaps more indicative of the scope of the business is the number of customers who sign up for regular preventive maintenance. He estimated that his staff service about 430 generators annually – most of them on a monthly or at least bi-monthly basis.
People who purchase generators "understand the value" of regular upkeep, he said.
"It's like my kids," he added. When they are accustomed to cleaning their rooms frequently, the chore is easy. "If you wait 'til a month, it'd be a disaster."
Van den Driessche and Wardell have two sons, ages 14 and 10.
The family was living in Vancouver, Wardell working in public relations and van den Driessche in financial services, when they decided to become their own bosses. Their familiarity with the Caribbean was limited to vacation trips, but they knew they wanted to try their hand at business.
"It's very much a family business," he said of Import Supply. Although there's some overlap, the couple observes a division of labor.
"I generally do exactly what she tells me," van den Driessche joked, then added "Charlotte does marketing and office managing … I do more of the operational stuff."
Wardell described the venture as sometimes challenging.
"We hadn't worked together before" so husband and wife had to work out a rhythm and be careful that "we're not stepping on each other's toes." The two clearly respect one another as partners.
"Most decisions are made together," Wardell said. She also credited much of their success to a good support staff.
"It was a big learning curve," she admitted, "but we had an appetite to kind of run something ourselves."
An early revelation was the difficulty of dealing with some suppliers.
"We learned the hard way" that some shippers can't be relied on to deliver goods on schedule. Consequently, "we learned not to over promise things," Wardell said. They also learned which suppliers are the most reliable and deal primarily with those.
Van den Driessche said owing their own business has given the couple more flexibility in planning family outings, such as boating trips and competitions for the boys, both of whom are avid sailors. But flexibility doesn't mean short hours.
"There's no question we work harder now than when we worked for other people," he said.
Import Supply can be contacted by calling 340-774-1679 or online at www.vigenerators.com.