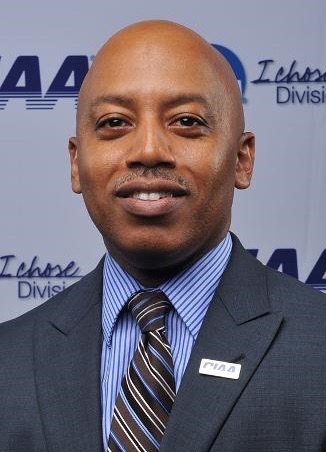 Jewels of the Virgin Isles is a feature series profiling Virgin Islanders in the diaspora who are excelling in their respective fields and/or positively representing the USVI abroad.
It is often said that the apple doesn't fall far from the tree. For Marcus Clarke, this saying is reflected in his work as a "servant leader," one who puts the needs of his team before his own.
The son of Father Julian Clarke, a well-known religious leader in the Virgin Islands community and Esther Clarke, a nurse, Marcus Clarke has drawn on their examples of how to be community-minded and people-focused throughout his career.
"Having a servant mindset is part of my DNA. I had an opportunity growing up to watch my parents always connect with the community whether in church or at the hospital and I got to see how their interaction helped them grow personally," Clarke says.
In his role as the senior associate commissioner for championships and events for the Central Intercollegiate Athletic Association, Clarke helps to enhance the student-athlete championship experience for 12 Historically Black Colleges and Universities, providing the athletes with leadership development opportunities as they prepare for life beyond athletics.
Last month Clarke's organization successfully hosted its annual basketball tournament in Charlotte, N.C., where CIAA is headquartered, and launched a series of business-focused events to connect with local entrepreneurs. With the responsibility of spearheading the events that determine a large portion of CIAA's revenue for scholarships, Clarke has his sights on preparing the next generation of young professionals who work in the sports industry.
The 1983 alumnus of Charlotte Amalie High School on St. Thomas will be the first to tell you that his rise in athletics did not begin as an athlete but rather as someone who just loved sports. "I entered this field with one goal in mind, to be an athletic trainer for the Olympics, which I achieved at the 1996 games in Atlanta."
Clarke's initial role was in helping injured athletes return to play. "I majored in sports medicine (athletic training) while I was in college."
After a brief military career, Clarke received degrees from Virginia Commonwealth University and Capella University. His passion to mentor and teach students caught the attention of the athletic administrators for the university where he worked and he was asked to coach.
He says his commitment to understanding the rules of the sport and eligibility guidelines led to his work in compliance and eventually his role as director of athletics.
Over time, Clarke has built his brand as a leader in athletic administration who puts students first and ensures that all requirements are met.
When asked about his path to success, Clarke credits his faith, which he says has provided the moral compass to maintain his integrity; his family, who he says made sacrifices to allow him to do the work he loves; and his friends, who he says saw more in him that he sometimes saw in himself.
Another key ingredient in his growth has been the guidance and honesty of mentors along the way and the opportunity to dream without limitations.
Beyond his passion for sports, Clarke is equally enthusiastic about the Virgin Islands. "There is no place like home," he states.
"Being in athletics and formerly in the military, I have had the opportunity to travel. Our culture is unique … We blend tradition with the present like nowhere else in the world."
If there is one thing that Clarke would like to see implemented in the Virgin Islands community, he says it would be to expose students to the business side of sports. "We focus so much on the playing aspect that people don't realize there is a business behind what we do. From writers and graphic designers to accountants, general managers and agents, the culture of athletics is way beyond what you see on the court and the field, beyond the coach and the players," Clarke says.
"We must create avenues to expose those who are interested in the administrative side so that they are aware of the myriad ways to contribute to the industry."
Nugget for V.I. Youth: "Dream big and make sure you take the steps to pursue those dreams. Find a mentor in the field of your interest and take the time to listen to what they say. Be sure to respect your mentor's time. Ask specific questions that will make a strong impression in the time you have with them."
Little Known Fact(s): "I enjoy researching and studying family history and tracing genealogy. It's important to know your roots!"
__
Loán Sewer is a marketing and tourism branding consultant and proud Virgin Islander who resides in Charlotte, N.C. Follow her on Twitter @LoAnSewer or e-mail her at info@gobiconsulting.com.