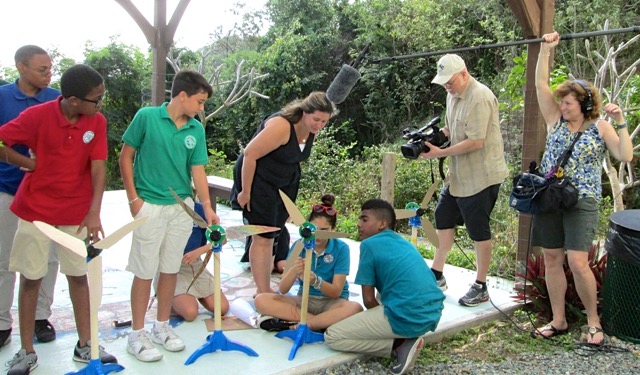 Gifft Hill School students and St. John have a turn in front of the camera this week as a documentary company films at the school and around the island for a piece to air on PBS. Visionaries Inc. will be on-island until Friday.
"It's very exciting. I've never been on TV before or done anything like this," said 12-year-old Shekinah Abraham on Wednesday as she fiddled with the wind generator she made in her seventh-grade English class.
The Visionaries team filmed her class as they worked on assembly in the classroom and outside when they put them to use. The project is based on a book written by William Kamkwanba of Malawi, "The Boy Who Harnessed the Wind," which tells the true story of a boy who built a windmill using odds and ends to bring electricity and running water to his village.
"Use your body as a wind gauge," Gifft Hill teacher Liz Kinsella told the students as the team filmed them outside the school.
The students got firm instructions from Visionaries photography director Bruce Lundeen before the filming began.
"Just keep doing what you're doing. If you say 'Hi mom,' it's definitely not happening," he said as his camera started to roll.
The film crew also made clips of Gifft Hill parents gathered for the regular parent coffees held by the school. The subject was the school's new math program.
"We're switching to the Singapore philosophy of learning," said Gifft Hill head of school Laurie Bottiger as the Visionaries crew filmed the parents. "It teaches math conceptually."
Visionaries is a Massachusetts-based nonprofit organization that does documentaries on other nonprofits like Gifft Hill School. It tells stories of positive social change by profiling organizations that are making a difference in the world.
Visionaries is intended to educate the general public about social issues, inspire further innovation and encourage the philanthropic investment of its audience.
The organization's producer, Bill Mosher, said he picked Gifft Hill over 200 other possibilities because the school was created by the community. The school that eventually became Gifft Hill opened in 1978 by parents who saw the need. It had four students at that time.
Mosher said he also selected Gifft Hill as the subject for this documentary because it has a student body that represents the island's diverse community.
In particular, he said that many of the people that work on St. John would not be on the island if they couldn't send their children to this school.
"This school seems to be essential to the sustainability of the community," Mosher said.
Acclaimed actor Sam Waterston of the television show "Law and Order" serves as the Visionaries narrator. According to the Visionaries website, Waterston volunteers his time.
For more on Visionaries, visit their website at www.visionaries.org. To learn more about Gifft Hill School, visit their website at www.giffthillschool.org.
Keeping our community informed is our top priority.
If you have a news tip to share, please call or text us at 340-228-8784.
Support local + independent journalism in the U.S. Virgin Islands
Unlike many news organizations, we haven't put up a paywall – we want to keep our journalism as accessible as we can. Our independent journalism costs time, money and hard work to keep you informed, but we do it because we believe that it matters. We know that informed communities are empowered ones. If you appreciate our reporting and want to help make our future more secure, please consider donating.