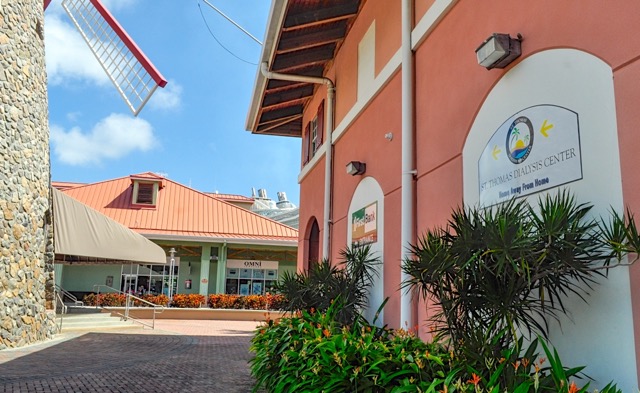 Following numerous attempts to collect delinquent rent payments from St. Thomas Dialysis Center in Crown Bay Center Mall, the Virgin Islands Port Authority has decided to pursue an eviction of the private hemodialysis center in court.
VIPA's Crown Bay district manager Ava Penn said at the authority's regular board meeting on Wednesday that St. Thomas Dialysis Center is responsible for 96 percent of the approximately $529,000 in outstanding payments owed to VIPA by tenants at Crown Bay Mall at the end of January.
The remaining 4 percent was divided among eight other tenants.
The dialysis center last made a payment of $3,000 to VIPA in January, but that amount is well below the $36,000 per month that the center owes for the use of its 600 square feet at the Austin Babe Monsanto Marine Terminal and its utility bill, which VIPA is also subsidizing.
V.I. Port Authority Executive Director Carlton Dowe said VIPA has given St. Thomas Dialysis Center notice to vacate several times and that the authority's only recourse is a lawsuit. He said that legal counsel for the center has reached out to VIPA to work out a settlement, but he plans to continue pursuing the matter in court.
"What I instructed them to do is to go through the court. We have been down that road before with discussions. Whatever settlement they want, let them tell the court," Dowe said.
On Jan. 22, a court hearing was held on St. Thomas regarding the center's eviction but the judge recused herself due to a conflict of interest. A new judge has not yet been assigned to the case.
Although St. Thomas Dialysis Center received a certificate of need from the V.I. Department of Health before opening in 2014, there is evidence that the V.I. has more hemodialysis centers than its population needs.
In addition to dialysis facilities located at both of the territory's hospitals, private company Caribbean Kidney Center operates two centers, one in each district, that offer dialysis treatments.
St. Thomas Dialysis Center, a separate company, became the third hemodialysis center on St. Thomas when it opened in Crown Bay.
A third center for St. Croix has been proposed by yet another company, Plessen Healthcare, although Plessen has not yet received the tax benefits that would make that possible.
At Wednesday's meeting, VIPA board member José A. Penn, who is also chairman of the Economic Development Authority's board, recalled testimony offered before the EDA last week at a public hearing related to Plessen Healthcare's application for tax benefits and the state of dialysis services in the territory generally.
At that hearing Caribbean Kidney Center's executive director, William Patton, made the argument that the territory does not have the demand to sustain its current number of dialysis centers, let alone grant tax exemptions for a new one.
Patton pointed to the financial troubles of St. Thomas Dialysis Center, his company's direct competitor, as evidence against the need for another facility on St. Croix.
"There is significantly too much capacity on St. Thomas," he said.
Patton said that when St. Thomas Dialysis Center opened, it chose its Crown Bay location with the vision of entering the medical tourism market. But according to Patton there is simply not enough volume in that market in the USVI to justify the center's existence.
VIPA board members said Wednesday that St. Thomas Dialysis Center initially reported to the authority that its trouble paying rent was due to delays in reimbursements from Medicare. According to Ava Penn, the center now says that "internal management problems" are responsible for its delinquent payments.
VIPA board member Yvonne E. L. Thraen said, "I think one thing we have learned is that when someone comes to us with a plan that involves reimbursement from the federal government, we need to be mindful in terms of what kind of timeframes we are setting up for implementation of the program."
Penn said that if St. Thomas Dialysis Center is evicted, VIPA will likely have to pay to reconfigure the center's space before leasing it again unless a new tenant agrees to invest in expensive renovations.
"The way [St. Thomas Dialysis Center] has built it out is very specific to that type of business," she said.
VIPA board member and Public Works Commissioner Gustav James said he is in favor of exploring legal avenues to keep the center from doing business until the eviction case is decided in court.
"If a company sees that it's going to crash, why pay new rent on the way down?" he said. "I mean if you see you're going to crash you may basically milk the operation to the best of your ability, and then you walk away with as much cash as possible."
VIPA's senior staff attorney Nycole Thompson said she would look into whether a move to shut down the center's operation is viable.