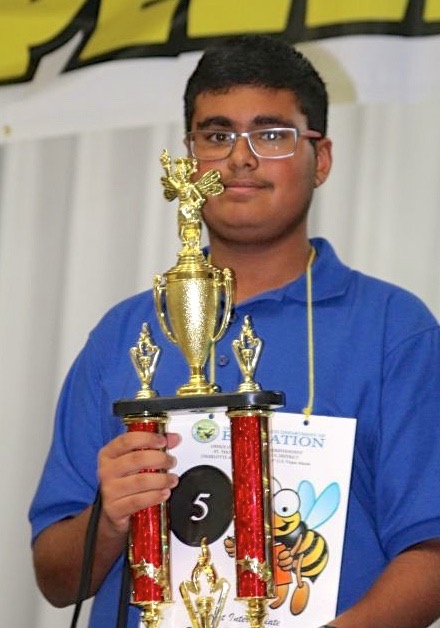 After coming in second and third place, respectively, for the past two years, Antilles School eighth-grader Viren Punjabi made good on his promise this year to win the St. Thomas-St. John District Intermediate Spelling Bee and advance to the territorial competition in hopes of earning a ticket to nationals.
"I'm so excited," Antilles coach Sonya Swan said after Friday's competition on St. Thomas. "He's worked very hard, put in a lot of crazy hours in preparation, so I'm definitely so excited for him."
"Last year," Swan continued, "when he competed in the school bee, he was runner-up so he has been diligently prepared and focused, and this … he came with experience so he was more prepared than some of the others that I've had a chance to work with."
Punjabi, who beat out 18 other students in 11 rounds to earn the top spot, won Friday with the word "corpuscle."
Coming in second this year was Anushka Chandiramani from the V.I. Montessori School and Peter Gruber International Academy, who took Punjabi on round after round, but in the end fell with the word "apartheid."
Coming in third this year was V'Andre A. Rochester from Joseph Sibilly Elementary, followed by Bertha C. Boschulte Middle School's Breanne Elie, Addelita Cancryn's Bonnel Andrew Jr. and Gladys Abraham Elementary's Joshua Morgan to round out the top six.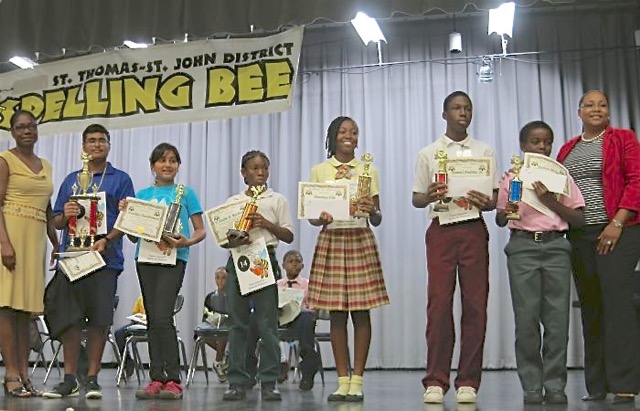 The group will represent St. Thomas-St. John at the upcoming territorial bee, which will be held this year on St. Thomas.
Speaking after the competition, Punjabi's mother Hashmita Punjabi said that her son's determination to win gave him the confidence needed on stage this year.
"He's always had it in him that he wanted to win and even last year when he started preparing, he said, 'Mom, it's my last year, I've gone so far and I want to do it.' And I think it's his confidence in himself and his coach that took him all the way."
As usual, the bee was a mix of words, ranging from tutu to concatenate. Punjabi said he gave each word the same weight while preparing with Swan, who spent months going over prepared lists.
"She's a great coach," Punjabi said afterward. "She made sure I knew the words and, if I didn't, she used to mark them and I knew that I had to go back and study them. I've been waiting for this for three years, so I didn't want to take any chances, and it's finally happened. I'm really happy about it. I just can't express myself right now."
The Antilles team says its next move is to keep pressing through the territorial bee but the ultimate goal is to get to Washington, D.C., and the Scripps National Competition.
"I want to go to nationals; that's my thing," Punjabi said. "I want to go, to have fun and maybe even win."