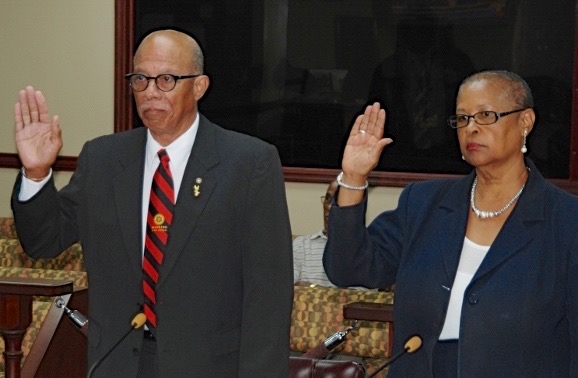 The Committee on Rules and Judiciary gave unanimous approval to two nominees to represent St. Croix on the Banking Board, sending Rosalie Javois and Richard Grant on for a final vote before the full Legislature. The six-member board ensures adherence to the Uniform Securities Act, Uniform Prudent Investors Act, and compliance by banks, small loan companies and pawnbrokers, savings and loans associations, mortgage loan companies, and the Economic Development Bank.
Javois, a former chief financial officer at Gov. Juan F. Luis Hospital, has a master's degree in business and finance from Long Island University. She worked at Schroeder's Bank on Wall Street until the mid-1980s. She left banking in 1987 to become chief financial officer at the St. Thomas hospital and became attached to health care financing and corporate compliance. She has also worked for the Department of Health and more recently for JFL.
Grant, a native of Jamaica, was educated at Jamaica College and Queens College in Taunton, England. He joined Barclays Bank, later Barclays Bank International in 1961, and had my grounding in banking operations over the next four years. He later was selected to open a branch office in Santa Cruz in Western Jamaica. He was an assistant bank manager on Tortola.
Over the years he moved up through the ranks, managing branches in the Caribbean, Atlanta and Miami, before moving to St. Thomas and finally St. Croix, to open and manage the St. Croix Branch. After 31 years, Grant retired and founded Premium Finance Company, which was based on St. Croix, and offered homeowners and automobile insurance premium financing in the U.S. and British Virgin Islands.
Following hurricane Marilyn, all agents' production stopped as they were busy dealing with claims. He sold the company in 1998 but continued as president of the purchasing holding company. He retired in 2013.
Sen. Kenneth Gittens, the committee chairman, asked the nominees to work to encourage more mainland banks to set up shop locally. Gittens said this is vital because many local bank branches have increased fees on savings accounts and other services.
Voting to send both nominations on were Gittens, Sens. Janette Millin Young, Neville James, Jean Forde, Nereida "Nellie" Rivera-O'Reilly, Novelle Francis Jr. and Justin Harrigan. Noncommittee members present were Sens. Tregenza Roach and Almando "Rocky" Liburd.