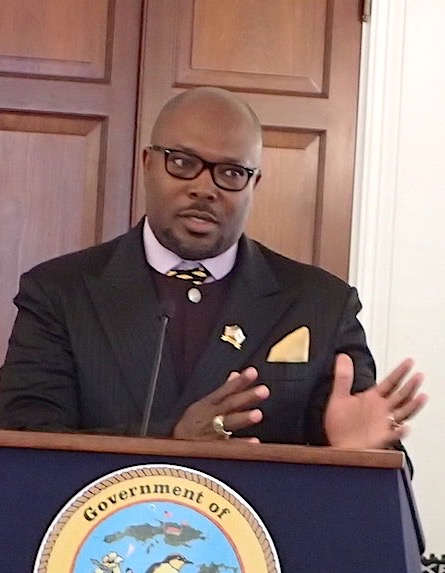 Three new members of Gov. Kenneth Mapp's "exquisite team" cabinet were sworn into office Wednesday during a ceremony at Government House on St. Croix.
V.I. Supreme Court Judge Maria Cabret administered the oath of office to Property and Procurement Commissioner Randolph Bennett, Bureau of Corrections Director Rick Mullgrav and V.I. Fire Services Director Clifford Joseph while their families and coworkers looked on.
"We give them the responsibility and authority to manage their agencies," Mapp said. "We were elected to leave government in a better place than we found it. It's your job to run your agencies effectively."
Bennett is returning to the territory after serving 21 years in the U.S. Army. From 2010 to February 2015, Bennett had overall management of the federal government's properties and leases that included 3,500 properties in more than 180 countries around the world. He resigned that job with the U.S. State Department to manage V.I. Property and Procurement.
His new job will include oversight of the transfer of Hovensa property to the refinery's new owners and the V.I. government.
Born in St. Kitts, and raised since the age of 4 on St. Thomas, Bennett graduated from Ivanna Eudora Kean High School and holds a bachelor's degree in psychology and a master's degree in counseling.
Bennett thanked the governor and the Legislature, his family and previous commissioners during his comments at the ceremony. He asked his staff to stand and receive a round of applause.
"We come from leaders who set such high standards," Bennett said. "I'm trying to carry on the same traditions. Managing one billion dollars in assets is not taken lightly."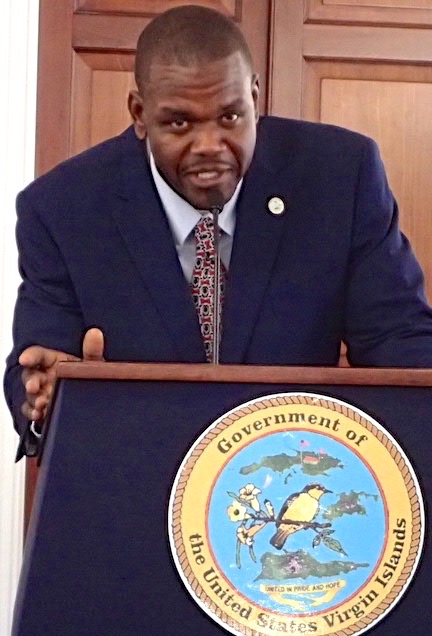 The new Fire Services director, Joseph, was born on St. Croix and graduated from St. Croix Central High School. He began his career with Fire Services in 1995 and rose from fire sergeant to fire marshal during that time. He earned an associate's degree in fire science and numerous other certifications. He served as president of the Firefighters Union and the Firefighters Supervisors Union and owns a telecommunications business.
During his comments, Joseph thanked God, his family, the governor and the Legislature. He introduced his wife, mother and staff to the audience and said he didn't envision becoming director during his career and just wanted to do his best in each position as he worked his way up through the system.
Mullgrav was born in New York, grew up on St Croix and graduated from St. Dunstan's Episcopal School. He earned a bachelor's degree in political science and worked at Fortune 500 corporations such as AT&T, MCI WorldCom, Georgia Pacific and IBM. After entering law enforcement and the prison system, Mullgrav spent 20 years garnering experience in project management and jail supervision before taking the Bureau of Corrections position.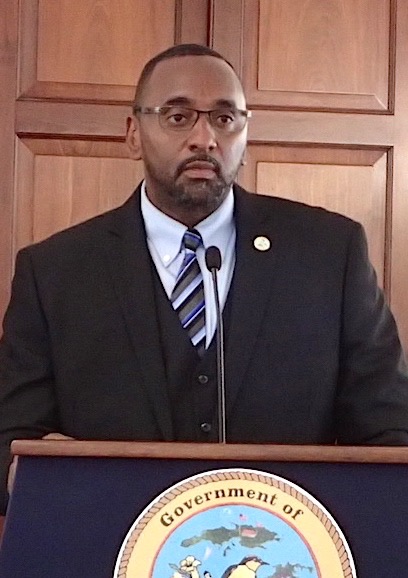 Mapp pointed out that Mullgrav had "major credentials," previously managing 2,800 prisoners. The Corrections director has already been commended by the federal judge overseeing the consent degree for progress during his first year on the job, Mapp said. He promised a formal program for correctional officer training in the future.
During his remarks, Mapp said the new cabinet members are part of an "exquisite team" and should focus on leaving their departments a better place through leadership training and education.
He said that Joseph has already "raised the Fire Department to the professional standards it needs." Mapp said he plans to merge the Emergency Medical Service with Fire Services and build a new facility to replace the Richmond Fire Station.
Mapp also said statutes for Property and Procurement are under revision "so we can expedite the process. The governor of the Virgin Islands doesn't have to sign everything."
The governor and lieutenant governor seemed pleased with the newest members of their administration, wished them well and offered advice.
"I welcome you formally to the cabinet," Mapp said. "Focus on the task at hand and your agency will be better than you found it."
Mapp said some of the populace will praise and support them, some will criticize and "the peanut gallery" will just complain about everything they do.