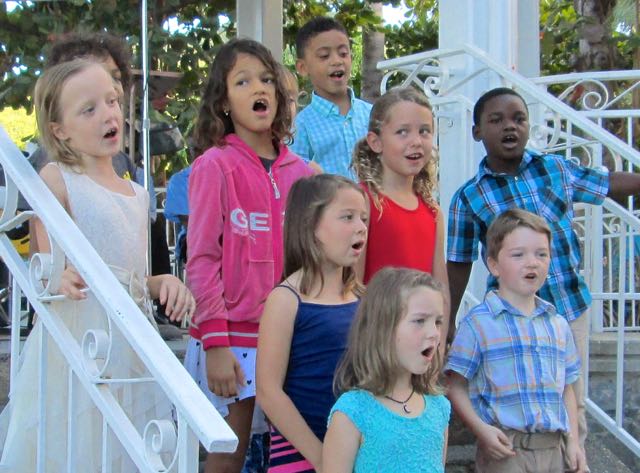 In a ceremony steeped in tradition, St. John celebrated Martin Luther King's life Monday at the annual Day of Remembrance in Cruz Bay Park.
"We shall live in peace…someday," the 50 plus people who attended the ceremony sang in "We Shall Overcome" as the program ended.
Music featured prominently in the event with the crowd joining forces to also sing "Lift Ev'ry Voice and Sing."
"Let us march on till victory is won," they sang.
The St. John group 'N Harmony started off the ceremony with the National Anthem and the V.I. March.
Later St. John Women's Ensemble and One Voice Chorus entertained.
"Keep your eyes on the prize, hold on," One Voice sang.
Two groups from Gifft Hill School also had their turns at the microphone. The students from grades three through five were a hit with Bob Marley's "Redemption Song," with those in grades kindergarten through second sending this message:
"We are all family under one sky," they sang.
The words from various speakers spoke about King's push for peaceful change.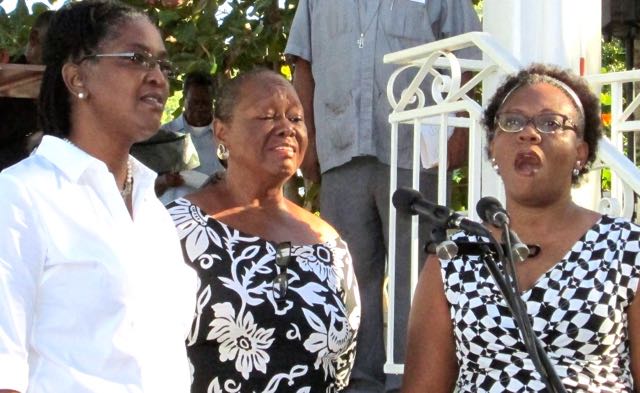 "In a world full of violence and injustice, there is a special place in history for those who choose the path of righteousness, who encourage unity, who seek spiritual upliftment, and do so peacefully," Sen. Almando "Rock" Liburd said in the keynote address.
Later he quoted King's words by noting that freedom is never voluntarily given by the oppressor, but it must be demanded by the oppressed.
Liburd also spoke about the success of economic resistance during the Civil Rights Movement. Discussing the 1955 Montgomery Bus Boycott, Liburd said that for 381 days, 42,000 black bus riders found other ways to get where they were going.
"Black communities generate over a trillion dollars as consumers and hold tremendous economic power," Liburd said.
Bringing the message closer to home, Liburd wondered what King would say about the state of the territory.
"Each and every one must begin to reclaim ownership so that we too will not be second-class citizens in these territories," Liburd urged.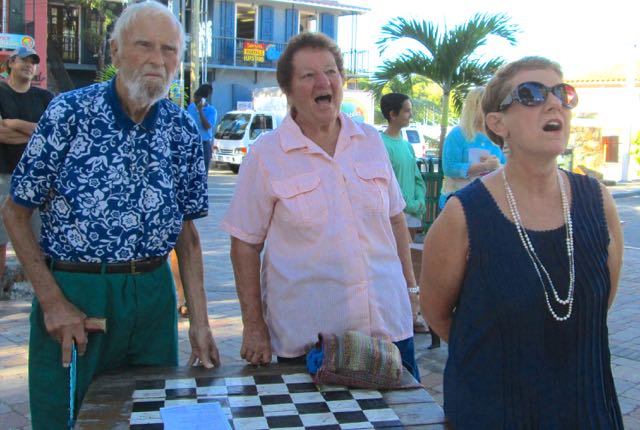 The Rev. Vankys Isaac of Emmaus and Bethany Moravian Churches continued with more of King's words from his 1967 address to the Southern Christian Leadership Conference convention in Atlanta.
"Let us be dissatisfied until those who live on the outskirts of hope are brought into the metropolis of daily security," Isaac said.
The Rev. Carlyle Sampson, who organized the event, urged people to pray for courage and deliverance for those who are oppressed.
Long-time St. John resident Charlotte Fish Lacey, who now spends much of the year in Massachusetts, was well-versed in King facts. She called him a radical who was killed on the day he was standing up for "laborists." She said he was against the Vietnam War, wanted pay equality, was a democratic socialist, but believe in peaceful means to get results.
"He was one of the outstanding leaders of our time," she said, summing up the reason why she and many others attended.