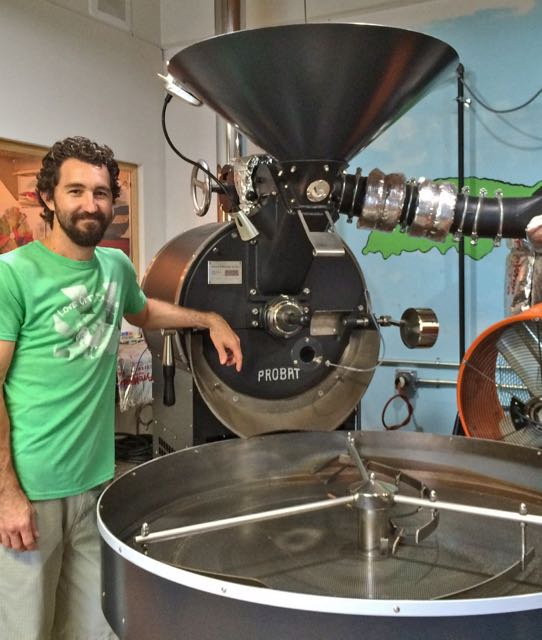 Four years ago, in the summer of 2012, Cathy and Ramsey Smith decided to find a business they could grow in St. Thomas. They had been in the territory for a couple years and decided to make it their home.
The more they thought about it, coffee seemed like the ideal thing to do.
Everybody likes a good cup of coffee," said the enthusiastic Ramsey Smith. And they said they hadn't found a place serving quality coffee.
They went to work, Cathy went to FirstBank where she'd worked in the states and Smith at the St. Thomas Dive Shop where he said Pam Balash and the late Andre Webber kept him employed.
He spent nine months researching the coffee business. "There was a lot to learn," said Smith.
They had chosen St. Thomas carefully. Both are from Florida. They met at the University of Florida and moved to Washington, D.C., to complete their educations and work in the corporate world, but their hearts were in a warmer climate.
They had a couple friends on St. Thomas and so they moved with their son Indy. "Geographically, this is right for us. We couldn't do this in a larger place," Smith said.
The smell grabs you first. Located in an office complex in lower Contant amid numerous small businesses, the aroma of roasting coffee is like aphrodisiac (if you are a dedicated coffee drinker, that is).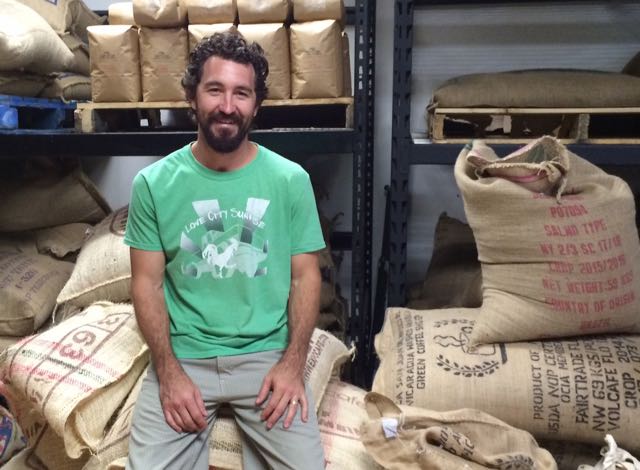 You walk into a room filled with what else? Coffee in all its phases. One room is stuffed with 145 pound bags of cherries (the fruit from which the bean comes), with 25 pound and smaller bags neatly stacked on shelves.
Then come the real attraction, the two roasters: one that looks like a small train engine, bright red and covered in stickers; the other larger and more prepossessing, a German Probat, the state of the art roaster.
"It arrived with the electric not functioning," Smith said. "But I found a friend who's an electrical genius. That's a small island for you."
Indeed, it is a formidable system. There's a separate unit that is its operating system along side with all sorts of buttons and switches. Smith said it isn't as complicated as it looks; his 5-year-old can run it. In any event, it is a major investment.
The Smiths started their business from their savings. "We bet the house on an underserved market," Smith said.
They started off with "cold calls," which whetted their sense of adventure, and quickly brought results. Their first customer was The Fruit Bowl.
"David Goldstein was enthusiastic from the start. He gave us ideal shelf space, right in front at eye level. From there, word of mouth helped," Smith said. "But we are still making cold calls." In fact, they expanded to the BVI and they have outlets on St. John and St. Croix.
Painted on the wall is Quality, Quality.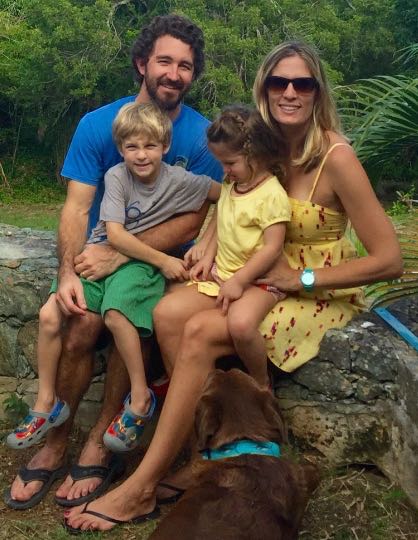 "That's our product. Quality in, quality out," Smith says with pride.
"We get our coffee from the finest producers in Honduras, Columbia, Brazil, Sumatra, Kenya and Nicaragua. Last year," Smith said, "I went to Honduras where I met with Roberto Salazar, one of the best, most well-known growers involved with organic practices."
"We sell now more than 6,000 pounds a month, and order about 10,000 pounds. We have a storage unit in New Jersey, and from there it's shipped to Miami with two or three weeks lee time. It makes sense logistically. We get the first crop, the most recent picking. We buy everything seasonally so it's always fresh."
Smith said it's what's "known in the business as specialty coffee," adding that this distinction is given to coffee awarded 80 points and higher on the Statistics & Standards Committee of the Specialty Coffee Association of America's rating system.
"We have three espressos, two house blends and single originals," Smith said. "We name our coffees for Caribbean history, for instance Kalinago, or Carib, for the first Caribbean Indians. Love City Sunrise, with a less dramatic name, is a breakfast blend; it's our best seller."
Smith walks into a small room filled with the latest in coffee paraphernalia. "We invite our customers here to familiarize themselves with flavor profiles, so they can train their staffs. We call them cuppings. Kalinago, for instance," he said, "is from south and central America. It has a smooth, chocolate, fruit finish."
Smith sounds for all the world like a coffee sommelier. Which, in fact, he is.
They have also introduced cold brew coffee. "Cold brew is made from lukewarm water," Smith said. "Steeping it at room temperature you gain flavorful coffee with no acid and a lot more caffeine. If you see a cold brew, it's probably ours. We have about 95 percent of the market."
They operate with two full-time employees – Smith and his wife. He said, "We had to bring her on full time so she quit the bank job. Then we have three part-time employees. It's roast, pack and deliver," Smith said.
"And we have never, ever, not even once, missed a delivery," he adds. "Not once in almost four years. If it means getting up in the middle of the night, we do it."
They have helped open seven coffee shops. "Zest, St. Thomas Scoops and Brew, and My Brother's Workshop on St. Thomas. Cruz Bay Landing and Sip and Chill on St. John, and Cooper Island in the BVI," Smith said.
And they are hitting the big time. "We recently got the Marriott Reef and Morningstar Beach," with only a slight nod to bragging rights.
Smith is engaging. He is pleased with his success, but not overconfident. He has grown to know how difficult it can be to do business in the territory. However, he seems to enjoy the challenge, with a touch of humor, and they love the climate and the beauty that first drew them here. They have now added a daughter, Remi, to the family.
By all indications, the islands should have a quality and flavorful wake up for the foreseeable future.