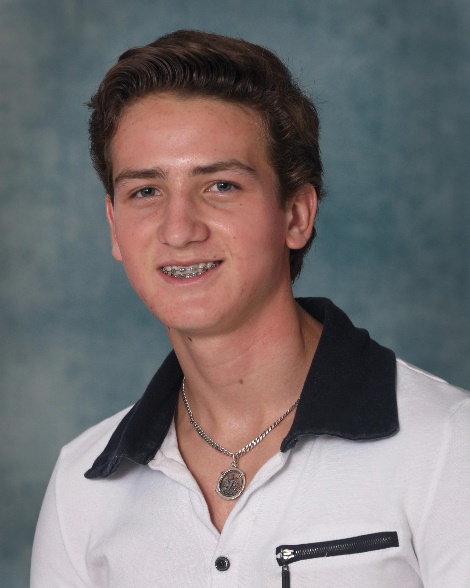 Marcus Norkaitis has been offered a four-year scholarship to the United States Coast Guard Academy (CGA). Norkaitis was one of over 2,200 students to have applied for an appointment to the CGA, one of five federal service academies, and he hopes to become one of 290 cadets to graduate in the Class of 2020. This summer he plans to complete an intensive eight-week session called "Swab Summer."
Norkaitis' high school career at the Peter Gruber International Academy, an International Baccalaureate school, is highly distinguished. He has maintained a GPA of 4.27 and was a founding member and acting president of the school's Junior Statesmen of America chapter. He spends his extra-curricular time serving in the Boy Scouts of America as well as sailing and singing. As an Eagle Scout, Norkaitis volunteers at U.S. Virgin Islands' community centers and the Humane Society.
His passion, however, is sailing. He has participated in this watersport for over six years as a student, instructor and contender, having competed in several major regattas including the St. Thomas International Regatta – the largest regatta in the U.S.V.I. — finishing third overall in his class.
This fall, he attained the leading role in "Rock of Ages," a rock-n-roll musical. He was also selected to sing the national anthem three years in a row at the territory's largest international fishing tournament, the USVI Open/Atlantic Blue Marlin Tournament, and he continues to entertain at functions singing patriotic and big band songs.
Last summer, Norkaitis attended the Coast Guard Academy Introduction Mission (AIM) program, where in one week he was given a full experience of what it's like to attend the CGA.
"Serving others, giving back to society and bettering the world – this is my life mission," saId Norkaitis. "During my 2015 Academy Introduction Mission (AIM) experience, I quickly realized the Academy trains America's future leaders, and I aspire to become one of them. I seek challenge, relish change and strive to thrive in stressful environments. Particularly attractive to me is that the Academy enhances character development, strengthens leadership skills and promotes teamwork."
Norkaitis applied to the CGA in the fall during the early decision time frame. He was elated to receive his letter of appointment on Dec. 24, 2015.
"I firmly believe the Coast Guard Academy will be an ideal fit for me, molding me into a leader among the best. As a result, I choose to be part of this tight-knit campus whose active purpose is to train and educate cadets in humanitarian, regulatory, offensive and defense-oriented service. I am ready to serve in unrelenting seas to keep the framework of America functioning and securing our borders. As a future leader, making a difference is what counts and, therefore, I hoped to obtain the honor to serve our country in the United States Coast Guard," he said.
Born and raised in the Virgin Islands, Norkaitis treasures the Caribbean, his community and the sea. He said, over the years the ocean has drawn him closer to the environment , and he has become a devoted sailor and scuba diver who marvels at the ocean's beauty and expansive horizons. He will be following in the footsteps of former Virgin Islanders who have graduated from the Academy and those presently on campus: Cadets Nikole Barnes, Harry Hoffman and Thorn "Gary" Nelthropp. As a cadet, he plans to join the sailing team and the Idler's Glee Club, while achieving his most coveted interests in pursuing a major in civil engineering and graduate with a bachelor of science.
He is the son of Paula Norkaitis and Gary Norkaitis. His sister is Portia Norkaitas, a second class cadet at the U.S. Naval Academy in Annapolis, Maryland.
Founded in 1876 and ranked among the nation's most prestigious and selective institutions of higher learning, the CGA is an academic and military community educating future leaders for America. A scholarship is valued at $300,000, and the appointment offers a total life experience. The campus provides a secure, supportive and highly structured environment for a unique higher education experience focusing on academics, athletics, leadership and professional military development.