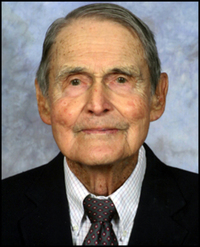 Well-beloved, retired tennis professional, Frederick "Fred" Geissler Ashhurst, loving husband of Margaret Feher Ashhurst, passed away Thursday, Sept. 3, 2015, after a very brief illness at the age of 99. A reception in memory of Mr. Ashhurst was held Dec. 19, 2015, at the Kalmia Landing Clubhouse in Aiken, S.C.
Mr. Ashhurst was born in Aiken, South Carolina, to the late John William and Sophie Geissler Ashhurst. He was a graduate of the Aiken Institute, which now houses the historic public library. He attended the Citadel, (class of '39), Charleston, S.C. He became a member of the New York Seventh Regiment and was deployed to Camp Stewart, Ga., and subsequently deployed in Europe during WWII, fighting in France and Germany.
After the war, he became a tennis professional and worked in Forest Hills, N.Y.; Fairfield, Conn.; Rye, N.Y. and Hollywood, Fla. He relocated to St. Thomas, V.I. in 1957 and worked as the tennis pro at the V.I. Hotel, V.I. Hilton Hotel and then Bluebeard's Castle Hotel. He retired in 1982 and moved back to Aiken, S.C.
He was a member of the American Legion Post 26 and the Aiken Senior Men's Club. He was a lifelong member of the U.S. Professional Tennis Association. In addition to his wife, he is survived by his stepdaughter, Jane Kilgour of Miami, Fla.; son, Kent Clore; granddaughters: Hollie Berry (Lew) and Angela Cecarelli (Tony); along with several grandchildren.
He was preceded in death by a sister, Virginia Venning; stepbrothers: John Ashhurst and Ravenel Ashhurst; and stepson, Douglas Kilgour.
Arrangements were made by Shellhouse Funeral Home Inc., 924 Hayne Ave., Aiken, S.C.
Mr. Ashhurst's online guest book may be signed at www.shellhousefuneralhome.com.