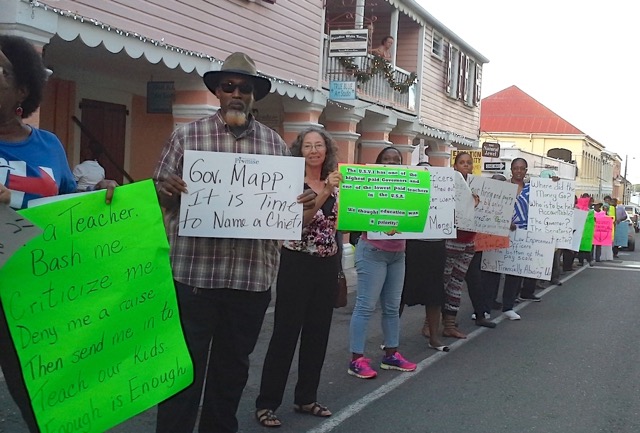 As many as 100 teachers stood in front of Government House on St. Croix on Tuesday carrying signs and shouting complaints against the education system and chiding Gov. Kenneth Mapp for not meeting them at the bargaining table.
Complaints include mold in classrooms, lack of supplies and, of course, the absence of 2010-11 scheduled pay increases.
Rosa Soto-Thomas, president of the St. Croix American Teachers Federation, said a new evaluation system requires data to be recorded on computers and many classrooms don't have computers. As a result, teachers have to leave the room to record attendance, leaving students unattended.
Teachers also complain that many are using sick leave because the air quality in the schools breeds respiratory problems.
Pay raises are the biggest gripe, Soto-Thomas said, and teachers are frustrated because federal grants have not been awarded due to improper applications by the Department of Education.
Additionally the V.I. Government budget was cut 5 percent this year. Education will receive $158.5 million from the General Fund down $3.4 million from last year. The Department should receive another $5 million from the Miscellaneous Fund. Federal education funding is expected to be around $36.7 million.
The starting salary for teachers is $32,000, she said, and there have been no increases in five years. Hundreds of employees have left the territory for better salaries, housing allowances and benefits.
"We are operating with bare bones staff," Soto-Thomas said.
In March when appearing before the 31st Legislature, Education Commissioner Sharon McCollum told the Education and Workforce Development Committee that more than 100 employees have left the schools system since the opening of the 2014-15 school year and the system depends heavily on 150 substitute teachers.
"Many who remain are compelled to hold second and third jobs to make ends meet," McCollum told legislators in March. "It is imperative that we explore creative ways to address this challenge or continue to encounter hurdles in staffing our schools."
Soto-Thomas said Tuesday problems among students have erupted at the schools that were combined this year because junior high students don't mingle well with elementary students.
Mapp directed the closure of Elena Christian Junior High and Evelyn Williams Elementary Schools for the school year to make repairs. Christian students and faculty moved to Charles Emanuel Elementary; Williams students, faculty and staff merged with Alfredo Andrews Elementary School.
"You can't keep pouring on more responsibilities and make empty promises. They need to show and tell," Soto-Thomas said.
During the time the AFT president spoke to the Source, cars passed, blaring their horns and slowing traffic during rush hour in support of the group and protestors shouted slogans at the cars.
"You couldn't read without a teacher. Support the teachers," one man repeated.
Another protest will be held on St. Thomas on Dec. 16 during a Legislative hearing. Soto-Thomas said teachers have the right to serve a three-day notice to the government and then go on strike.
"We can serve a three-day notice, but teachers want to be in the classroom," she said.