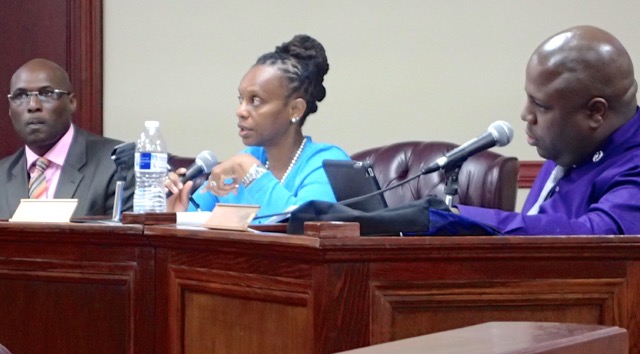 Testimony from education officials and labor leaders at the Frederiksted Legislature led the Committee on Education and Workforce to hold a bill Monday for amendments and prompted senators to criticize the Department of Education for its lack of information and participation.
It was the second day of testimony on legislation sponsored by Sen. Kurt Vialet that would establish a committee to analyze and integrate Virgin Islands educational standards with federal Common Core State Standards.
Vialet said the goal is to ensure the local program includes subjects such as culture, local history, humanities, art and science with federally mandated math and language skills courses.
Common Core State Standards, also known as the College and Career Standards, are skills and knowledge in math and English language arts and to prepare students for college and workforce training.
Labor Commissioner Catherine Hendry said properly V.I. educated student can look forward to jobs in high demand fields such as construction, hospitality, the medical field and the marine industry.
According to the Vialet's proposed legislation, the review committee, comprising 19 stakeholders, would function for 180 days and report to the Education commissioner and chairman of the Board of Education on their findings and recommendations.
Monday's testifiers spoke against the bill for several reasons.
Chermaine Hobson-Johnson, Education's assistant commissioner, said the department does not support the bill because funding she estimated at $500,000 was not identified.
Vialet disagreed with Hobson-Johnson's estimate, saying there were stakeholders with the knowledge and experience to complete the task with less money.
Under questioning by senators, Education officials admitted the territory does not have a written curriculum. Hobson-Johnson said it would take two years to create the program, a committee has not yet been formed.
Although there is not a curriculum document, "we have many components," said Yvette McMahon-Arnold, state director of instructional development. She said creating a review committee would duplicate the work of a curriculum committee.
Lauren Larsen, social studies coordinator for Education, explained that standards indicate what to do and where to go while a "curriculum tells you how to get there."
Rosa White, representing the territorial Educational Administrators' Association, also mentioned the lack of funding and said the task force was unnecessary.
"It is strongly our concern that the already adopted Common Core State Standards be examined by the Offices of Curriculum and Instruction," she said.
White also spoke about continuing opposition to Common Core Standards implemented in the territory between 2010 and 2012.
"It is evident that the 2010 adoption and the 2012 implementation were completed with little to no effective training or appropriate funding source.
White acknowledged positive aspects of Common Core including the ability to compare standardized test scores accurately using internationally benchmarked standards. Common Core also leads to students' higher level thinking skills and allows teachers to monitor their progress, she said. Negative aspects include the difficult transition for teachers, students and parents adjusting to the federal requirements.
Avery Lewis, president of the St. Thomas/St. John Federation of Teachers Local 1825, agreed that the transition to Common Core has been implemented poorly by the educational system. He questioned the AFT's participation in the task force and asked who would make the final decisions regarding curriculum.
Senators lectured that the lack of curriculum and said Education's direction has created bored students and burned out educators.
Vialet moved, and the committee approved, to hold the bill in committee for revisions. He said he plans to add a component requiring the education department to formulate a curriculum.
The hearing was continued from last week to accommodate input from labor unions, according to Committee Chairman Jean Forde.
The second half of the hearing focused on learning about the status of the education infrastructures.
Since the testifiers were from the St. Croix district, no information was available about St. Thomas/St. John schools.
Vaughn Hewitt, St. Croix deputy superintendent, said repair and renovation delays are caused by the procurement process and the time it takes to hire contractors.
Senators asked why school staff does not handle minor repairs. They also wanted to know if contractors are monitored to insure quality work.
Hewitt said a five-year plan, not available to the public, will address problems such as mold, structural, electrical and plumbing issues with preventative maintenance plans.
The two schools closed this school year for major renovations – Elena Christian and Evelyn Williams Junior High Schools – will require $11 million to repair roofs and structural damage. Hewitt said he did not know the timeline when the schools will be repaired.
There were several questions the testifiers could not answer, such as the amount of the Education budget and how funds will be allocated.
Hewitt was not aware funds had already been set aside by the Legislature for school maintenance. Neither Hewitt nor William Mathews, maintenance director, knew how many schools were compliant with the American Disabilities Act.
Vialet asked, without getting an answer, about unspent grants including monies for maintenance, staffing and outdoors facilities.
Sen. Novelle Francis Jr., not a committee member, asked about computer software to track necessary repairs.
Forde said, "I'm recording my displeasure with the (Education) Department's attitude, with the Department of Education not sending representatives who can answer questions."
"I don't know if this is a tactic to defer answers, but I'm not going to let this rest."
Attending the session were Forde, Vialet, Francis and Sens. Kenneth Gittens, Tregenza Roach and Myron Jackson.