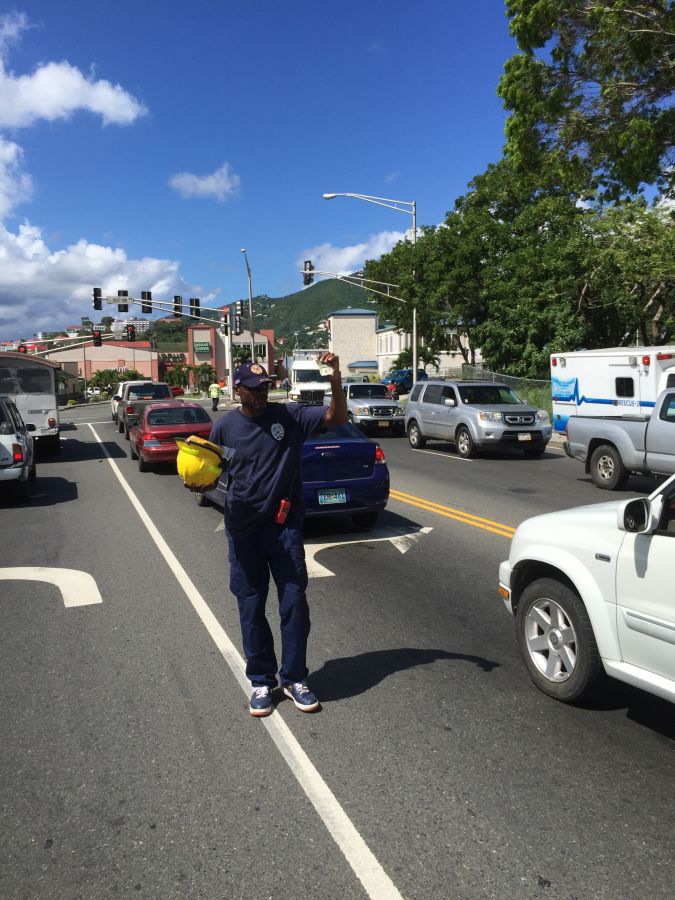 Taking advantage of Saturday's Halloween traffic near Wheatley Center, St. Thomas Rescue workers hit the streets for a dollar drive they said would help raise funds to help the organization do its jobs.
Holding a hardhat and walking the line between two lanes, spokesperson Dallas Walwyn said Rescue tries to hold at least three drives a year. Everything raised goes toward training and equipment, which he said helps the organization fulfill its mission of helping other local first responder agencies.
"We're a nonprofit agency, so drives like this are very important to our budget," Walywn said as he and other volunteers took donations from passing cars. "It helps us get to where we want to go. Right now, our response capabilities in the territory are good, but they could become better and we're always looking for ways, like signing up for additional training, that would help us step up the way we assist other agencies and the community."
As a nonprofit volunteer organization, St. Thomas Rescue operates solely on government grants and public donations. Starting with four members in 1979, the organization has increased to more than 30. Members not only help emergency medical services, police, fire and federal agencies during emergency response calls, but also offer CPR and other workshops to the public.
"The community is always really good to us," Walwyn said over the weekend. "When we hold a drive, we know that if they don't get to make the red light, they're going to turn around, park and make sure we get that donation. And when we're not out here, they come to us, so we would like to thank everyone for their efforts and continuing to support us."
Anyone interested in donating to the organization can call 340-643-7385 or 340-774-2244 or can bring donations to the V.I. Territorial Emergency Management Agency, headquarters on St. Thomas.
St. Thomas Rescue can be found online at http://www.virescue.org/index.html.