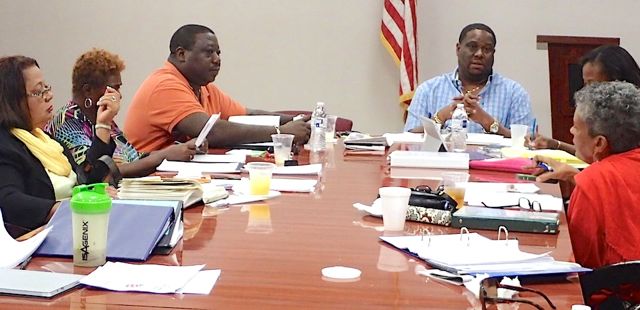 Working mainly with St. Croix Elections Board members and public input, Sen. Kenneth Gittens and other members of the 31st Legislature are plodding through the V.I. Code Title 18 – "line by line and chapter by chapter" – to rewrite outdated election laws by March 2016, ahead of a June 2016 federal deadline.
Last June, Gittens sought suggestions from voters through three town hall meetings and since then has convened two meetings a month with Elections board members and senators.
Most of the meetings have been held on St. Croix, since St. Thomas/St. John Elections Board members voted not to fund travel to participate, according to Joint Board Chairman Arturo Watlington Jr.
"I totally disagree with the process," Watlington said.
According to Gittens, one or two members from St. Thomas and St. John have attended the daylong sessions, including Sen. Almando "Rocky" Liburd, Alecia Wells and Lydia Hendricks.
Attending Thursday's workshop were Sen. Novelle Francis and St. Croix Elections Board members Lilliana Belardo de O'Neal, Glenn Webster, Raymond Williams, Lisa Harris Moorhead, Roland Moolenaar and Adelbert Bryan.
Elections Supervisor Caroline Fawkes and Genevieve Whitaker, deputy supervisor for St. Croix, also participated.
As of Thursday, the group has read – and rewritten when appropriate – 23 of the 29 chapters to VIC Title 18.
Gittens said he has already begun drafting legislation to change and clarify several ambiguities in the law and will continue submitting drafts as changes are made to the Senate's legal counsel.
A major change to the law would be to merge the Elections Boards into one territorial entity. Gittens said "most" of the stakeholders are in favor of one board to govern both districts but there are "one or two against."
Watlington does not support combining boards. He has said he believes district boards should oversee district elections.
The final decision will be made by the Legislature.
One glaring contradiction in the current V.I. Code makes it unclear whether or nor the V.I. government is responsible for holding and paying for primary elections.
According to Gittens, draft legislation will place the responsibility solely in the hands of the political parties. They will have access to Elections-owned voting machines but will fund the process themselves, if the Senate approves the new law.
In the 2014 election, the use of symbols to vote along party lines was confusing to some voters and, as a result, most of the primary ballots on St. Croix were hand fed into the DS200 machines.
To eliminate the problem, Gittens and his committee propose that in the future, ballots will have the party emblem next to each candidate so voters can select their choices individually.
Gittens said he plans to introduce legislation requiring candidates to place on the ballot their names as seen on government identification – no nicknames.
After lengthy discussion, most of the meeting participants agreed to ban electioneering in front of polling places on Election Day, Gittens said. It is expensive for candidates to feed and provide T-shirts to supporters and the noise is distracting for voters. In the past, police have been called to break up loud arguments, he added.
Other language throughout Title 18 describes the voting equipment such as ballots and buttons – the process used in previous elections. The group has been changing the verbiage as they go to reflect use of the DS200 and, going forward, other electronic equipment.
Some of the subjects that still need to be discussed before achieving elections reform include vote counting and recounting, announcing election results and elections officials' responsibilities – all hot topics debated in the public after the 2014 election.
During Thursday's meeting, the discussion bogged down occasionally and Gittens objected to putting items aside for further interpretation and discussion.
Every change to the Code posed by the committee must be approved through Legislative committees, the entire Senate and signed into law by the governor before June. According to federal law, rules and regulations must be in place six months before an election to allow military voters time to cast ballots from overseas.
"If it doesn't pose a problem, I don't see a need to tweak it," Gittens firmly ruled.
Most of the time, the process went smoothly and it was apparent that the stakeholders were familiar with the V.I. Code.
Watlington told the Source he didn't agree with Gittens' process for election reform or merging the boards. Just because there is disagreement between board members, the Legislature believes there is "confusion," he said.
However, Watlington pointed out that every action is passed or vetoed by vote in the end. The Senate should draft the laws and present them to the Elections Board for input afterwards, he added.
The senator did not hold a discussion with or consult the St. Thomas/St. John board members about meeting dates. St. Thomas/St. John board members were free to attend if they wanted, added Watlington, who is also chairman of that district board.
"We voted in May that we would not fund participation of board members," he said.
Several board members who have participated in the elections reform meetings commented that the review process has been useful.
Williams said, "Reform has been needed for the 13 years I've been on the board," adding that the process had given him an opportunity to understand the law more thoroughly.
Belardo de O'Neal agreed. "It's been a good opportunity to review the Code, especially for new board members. It's like a training."
In two hours Thursday morning, less than a chapter of Title 18 of the V.I. Code was covered so the task seems far from complete.
"Nevertheless, we intend to move forward and have a flawless 2016 election," Gittens said.
If voters have suggestions, they can contact board members, Gittens said.