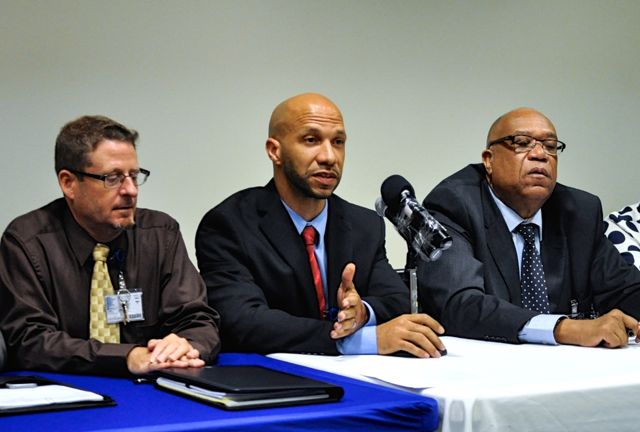 Full comprehensive cardiology and interventional cardiology services will be available again at Schneider Regional Medical Center by the end of November if a recruitment process at the hospital goes as planned, SRMC officials said at a press conference on Tuesday.
"We are sifting through a number of candidates and I am excited to tell you that we are on the brink of now procuring the individual with the special talents that we desire to service our community," said Dr. Luis Amaro, chief medical officer at the hospital.
St. Thomas has not had a full-time interventional cardiologist on-island since the August departure of Dr. Roy Flood, who joined the Schneider staff in 2004. Flood relocated to the mainland for personal and family reasons.
Since Flood's departure, interventional cardiology services have been available on a rotating basis on St. Thomas. Schneider Chief Executive Officer Dr. Bernard Wheatley said that Dr. Kendall Griffith of St. Croix has been making visits to SRMC on a weekly basis. Griffith is a cardiologist and also the CEO of Gov. Juan F. Luis Hospital.
Wheatley said that all of Schneider's internal medicine physicians are trained to deal with elevated conditions of the heart and that all emergency cases seen since Flood departed have been successfully treated.
But without a full-time interventional cardiologist on-island, Wheatley and Amaro acknowledged that the hospital is falling short of being able to provide comprehensive care on a daily basis.
"There are gaps in our care during this transition period right now," said Amaro. "We do not have the continuity with our outpatient visits, our routine follow-ups, our stress-testing."
Wheatley and Amaro both thanked the community for its patience during what they said is a period of transition that is coming to a close.
"We understand the anxiety that everyone is feeling right now. It's attributed to the great care that Dr. Flood has provided over the last decade," said Wheatley.
Amaro was not prepared to make any introductions to the possible candidates for SRMC's new cardiologist, but he said the chosen individual would be working in an updated cardiology suite that will be completed by December.
Cardiology consultation, echocardiography, electrocardiology and holter monitoring, stress testing, temporary pacing, coronary angiography interventions, critical care cardiology, and outpatient wellness services will be available at the suite on a full-time basis. Open-heart surgeries will not be conducted; none have been done in the territory since JFL's program was closed in 2011.