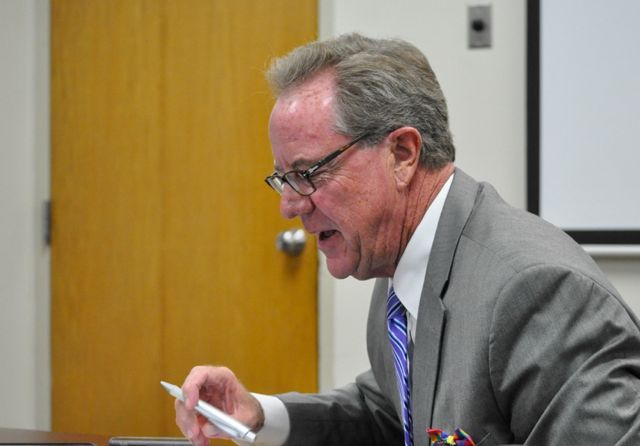 Reports delivered Monday at the regular board meeting of the V.I. Government Hospital and Health Facilities Corporation indicated that both of the territory's hospitals continue to face significant financial challenges, although there are signs of improvement at the Gov. Juan F. Luis Hospital and Medical Center on St. Croix.
Schneider Regional Medical Center's new chief financial officer, Scott Nothnagel, stressed the "critical financial state" of St. Thomas-St. John's medical facilities during his report to the board. SRMC, which includes Schneider Hospital, Myrah Keating Smith Community Health Center and Charlotte Kimelman Cancer Institute, took a loss of $14.5 million in Fiscal Year 2015, Nothnagel said, an amount that is primarily being financed by the hospital's vendors. The medical center's debt to its suppliers rose from $19,283,500 in September 2014 to $27,231,520 in September 2015.
"We're at a point where that credit's not going to be extended any longer. So it's been a very difficult struggle to get supplies and resources into the organization," said Nothnagel.
Although St. Croix's JFL also has "colossal debt," $52 million worth according to Chief Financial Officer Tim Lessing, the hospital's situation is showing signs of improvement. Over the last five months the hospital has seen a 60 percent improvement in its gross charges, Lessing said.
The hospital's total operating revenues are up nearly 70 percent from FY14, according to Lessing's report. Total expenses are down 14.44 percent.
"We have a fabulous story to tell," said Lessing. "I think what we've seen in the last year is an increased awareness of not only the fiscal responsibilities of an organization and understanding the business aspect of healthcare, but also how it plays into our community."
Lessing said he expects FY16's numbers to improve another 35 percent.
Signs that the financial standing of JFL has begun to turn around does not mean the hospital is seeing positive cash flow, however.
"It'll be a long time before we see a positive cash flow day," Lessing said. He explained to the board that the hospital's problems are partially due to broader economic conditions on St. Croix.
Luis Hospital "has an average daily census of 65 to 70 people, of which about 80 percent are government-payers, whether they're Medicare or Medicaid," Lessing said. "You can't make a cost margin without some good commercial payers."
Despite unique challenges in both districts, the operating losses of JFL and SRMC have some common roots, according to the medical centers' executives. A high rate of uncompensated care in the territory, decreasing government appropriations, and high utility costs (a $380,000 per month electricity and water bill in the case of SRMC) have all led to the institutions' financial woes.
St. Thomas-St. John District Board Chairman Cornell Williams pointed to an increasingly competitive environment for the territory's public hospitals, which are required to treat patients regardless of their insurance status. Many insured residents, especially on St. Thomas, utilize private outpatient care centers for some high profit procedures. In addition, many V.I. residents seek healthcare off-island.
Williams said local competitors are "not always on a level playing field" with the hospital.
If patients with high-paying insurance plans and those who can afford to pay continue to seek care elsewhere, SRMC Chief Executive Officer Dr. Bernard Wheatley said. Schneider Hospital "doesn't have any way of surviving."
Nothnagel backed up Wheatley's assertion with statistics related to SRMC's orthopedic surgeries, an area of health care that many hospitals rely on to deliver strong profits to subsidize other services.
In 2011, SRMC brought in over $6 million from orthopedic procedures. In 2015, the amount was $3.6 million. The rate of collection of charges for these procedures also dropped more than 10 percent.
Most troubling, according to Nothnagel's report, the types of insurance that the center's patients held shifted dramatically between those years. Patients with Cigna insurance dropped from 31 percent to 16 percent. Patients with Blue Cross insurance dropped from 6 percent to 3 percent. Patients covered by Medicare rose from 28 percent to 44 percent, while those covered by Medicaid rose from 4 percent to 10 percent.
"The paying business is leaving and we're being stuck with the lower paying government-payers. And the high paying outpatient procedures are leaving," said Nothnagel.
Dr. Kendall Griffith, CEO of JFL, said that on St. Croix there isn't as much competition between the hospital and ambulatory care centers, but he worries that "the territory is hemorrhaging health dollars."
New York, Florida and Georgia are a few of the places where Virgin Islanders go for standard care and tests they could just as easily receive at home, he said.
"There has to be some sort of out of network fee," Griffith said. It is not out of the ordinary for insurers to limit the list of health care providers they cover, he explained.
But board secretary Maria Tankenson-Hodge said incentives for retaining health care money in the territory should be positive, not punitive.
"I would not be on board with a proposal that involved financial penalties to our people for choosing to see a doctor in the states," she said. "We ought to be able to do a better job of marketing our ability to do an MRI, a chest x-ray, all those things here," she added.
Whether or not more patients spend their health care dollars in the territory, both CEOs of the territory's hospitals agree that the V.I. government's dwindling appropriation for uncompensated care is a major obstacle towards keeping their institutions healthy. Since 2008 the central government's uncompensated care appropriation has decreased by 29 percent. It will fall by another 2 percent in Fiscal Year 2016, according to Wheatley.
At Monday's meeting the board also filled its chairmanship vacancies. Nellon Bowry was elected chairman by acclamation and Vera Falu was elected vice-chairwoman, also by acclamation.
Also present were board members Valdamier Collens, Greta Hart-Hyndman, Troy de Chabert-Schuster, Kimberly Jones and Joyce Heyliger. Margaret Sprauve, Miles Stair and Philip Arcidi were absent.