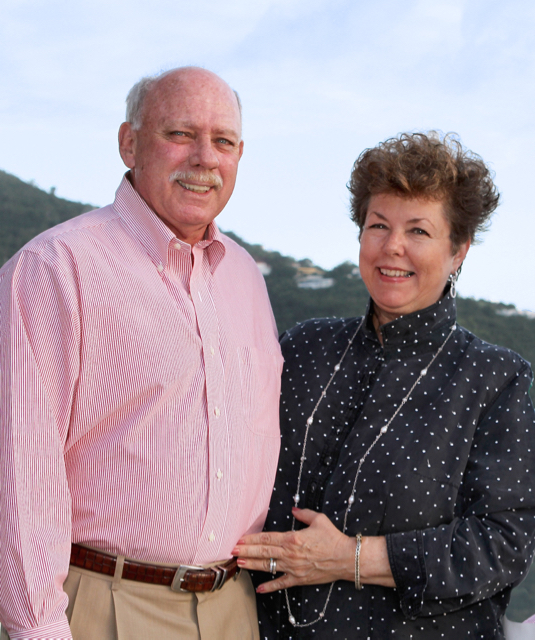 Liz Buckalew was kind of busy when she picked up the phone. Ever the welcoming hostess, she agreed to talk about her life in the restaurant business, but just now she had to get back to peeling eggs. See, there was a party planned that night for the bartender's birthday, and he likes deviled eggs.
That sort of personal involvement and a flair for the celebratory have been the hallmarks of Liz and Jerry Buckalew's success on the St. Thomas restaurant scene for almost 40 years. The couple first made a name running the elegant Entre Nous restaurant, and now own and manage the popular Banana Tree Grille.
"Jerry does all the maintenance and all the numbers," she said. "He handles accounting, liquor orders, and all the running during the day. He's the back of the house, and I'm the front of the house."
It's a career neither of them envisioned when they started out.
Born and raised in Connecticut, Liz Buckalew grew up close to the entertainment world. Her father, a World War II pilot, became a local radio personality. For years he hosted "The Man Around the House," a regular talk and music show that appealed to housewives – there were such things then – in the prime daytime hours of 10 to 2. He also dabbled in broadcast news on early television.
"I was very lucky" she said, because she was exposed to theater stars and musicians. "It really was an experience. I always say it was prepping me for the restaurant business." But entertainment, per se, was not for her.
"I had the opportunity. I did not have the confidence," she said. Instead, after high school, "I went to the Katherine Gibbs School" in New York. It was a place where young women could train to be excellent administrative assistants.
"You were prepared to be the woman behind the executive. In those days, that's as far as you got," Buckalew said. "We wore hats and gloves every day."
She enjoyed life in New York – and a brief stint in California playing hippie.
Meanwhile, Jerry Buckalew was growing up in New Jersey. He did a lot of bartending while attending college. After he graduated, he worked as a history teacher briefly and later he sold real estate, but he decided that the food and beverage industry was his true calling.
Through different routes, both made their way to St. Thomas in the mid-1970s.
"We met in 1977 and our first date was at Lionel Roberts Stadium for Carnival," Buckalew recalled. They clicked almost immediately, but, she said, both had been married before and were recently divorced, so they didn't rush down the aisle. In was 1982 before they bowed to family pressure and tied the knot.
By that time, they were already working together.
In her early years on island, Liz held a series of jobs, including hostess at the old Harbor View Restaurant, an administrative position in a federal health care project, and a brief stint in the legal office of legendary attorney Edith Bornn. Then, with a partner, she opened the framing shop, Hang It Up.
Whatever her day job, she soon found herself working nights at Entre Nous, which Jerry and a partner had opened in 1979. When the partner left in 1984, the Buckalews moved the restaurant to Bluebeards Castle Hotel.
"It was a wonderful time," Buckalew said, replete with tableside carving, flaming coffees, starched linens, formal attire and other fine dining touches.
In the early 1990s, the couple decided to open a second, less formal restaurant at the hotel. It was the semi open-air Guava Grille.
It lasted only about a year. Buckalew recalled how they decided to purchase expensive rain curtains for protection in bad weather. In September of 1995, they wondered how the curtains would hold up against a little storm that forecasters said would blow through the islands.
That, of course, was the deceptively strong Hurricane Marilyn. Never mind the curtains, "It took the whole building."
As she recalled the events, the laughter dropped away from her voice.
"Jerry and I weren't even sure we were alive. The condo was destroyed," she said.
At Bluebeards, both of their restaurants were in shambles. But they switched into recovery mode and threw themselves into work. They found a supply of propane. They salvaged some liquor.
"We went out with FEMA looking for our staff," she said. "What people endured was incredible."
Soon, they had created a haven for rescue workers.
"From Sept. 17 to Thanksgiving we fed Red Cross and hotel workers," Buckalew said. She remembers the day the ice machine was put back into service.
"You can't imagine what happened" when people saw the ice. "Everybody was jumping up and down and laughing and crying." That's the thing about disasters: "You just see how little you need."
The restaurant served as Red Cross headquarters by day and a gathering spot in the evening. Red Cross rules forbade liquor on the premises, so, as Buckalew tells it, at 4 p.m. each day, the work tables went away and a sheet was raised. "Marilyn's Café" was printed on the sheet.
Volunteers from Lutheran Kitchens arrived. They cooked food for distribution in the lower parking lot and used Entre Nous' refrigeration system for storage.
By December, it was time to trade the gloom for holiday cheer. Buckalews and staff pulled out whatever elegance they could find to deck the halls. Guardian Insurance had booked its Christmas Party before the storm, and Buckalew said she was determined to honor the reservation. In addition, they hosted the annual tree lighting and opened for New Year's Eve.
"We weren't used to looking at anything pretty. It was all destruction," she said. But with the restaurant partied-up, all that changed. "People came down the stairs, and their faces lit up. It was like watching kids at Christmas."
Guava Grill never reopened. In 1997, with the help of longtime friend and executive chef Patrick Bellantoni, the Buckalews transformed Entre Nous into the Banana Tree Grille.
"The world was changing," Buckalew said. The trend was toward more casual dining.
So the formal place settings and attire were tucked away, but touches of elegance remain. You might find colorful confetti decorating your place setting for a special occasion; a visit from Liz or Jerry at your table; a personal recommendation for a sparkling toast – and, almost any evening, Liz waiting to greet you at the bottom of the stairs.
"I think people make up their mind how good an experience it will be in the first few minutes" of entering a restaurant, Buckalew said. For that reason, she's adamant that guests are greeted. "It's an instinct for joyful welcome."
It also helps if the food is good and the wait staff is professional.
"We've always been blessed with staff that stay a long time," she said. They're the people on the front line and they know best what's happening in the operation.
"There's a mutual respect that you have to have for one another," Buckalew said. "Any time we make a decision, we make it together."
Although her regular work hours are "24-7," Buckalew has found time for community activities, most notably the Humane Society. She claims to be slowing down these days and says she has backed off of some activities.
There are those days, she says, that start out with her saying to herself: "I can't do this." It's just too much work, too many problems, too much stress.
"Then it all settles down, and you forget that's what you said in the morning."
There's drama in the business that Buckalew craves. And, she says, there's gratification when people tell you they enjoyed their time in the restaurant.
"It's a hard business," she says. Still "If I didn't love what I do, I couldn't still be in it 38 years later."