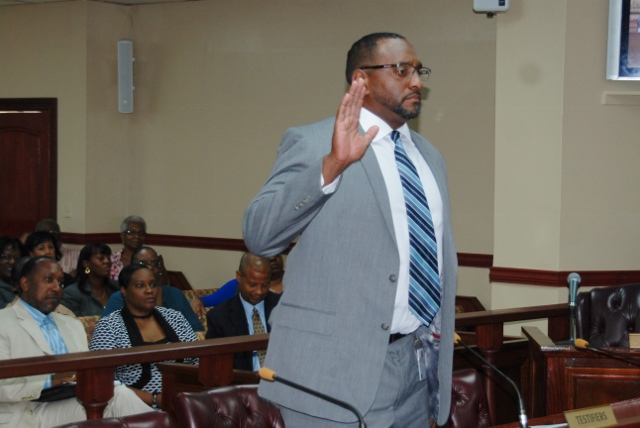 The Senate Rules and Judiciary Committee unanimously approved Acting Bureau of Corrections Director Rick Mulgrav's nomination to the post during a hearing Thursday. Mulgrav said he has been serving in an acting capacity for about two months.
During his testimony, Mulgrav laid out a detailed agenda for the BOC, giving a photo presentation of high priority repairs and projects that are underway. He said he wants to see more rehabilitative programs to help prisoners prepare for life outside, and wants to work with the courts to "see how we can speed up the hearings for detainees."
"Many detainees remain incarcerated for over 18 months without going to court," Mulgrav said.
This puts detainees at risk and adds to the numbers the prison must house and feed, according to Mulgrav.
"There is an unprecedented amount of unproductive inmate idleness in our facilities," he said. To address it, a program administrator "will be working territory wide to see that our inmates have the opportunity to get an education and a job skill that they can use upon release to take care of themselves and their families," he said.
Mulgrav said his career in Corrections began in 2006 with the Gwinnet County Sheriff's Office in Georgia as Deputy Sheriff. He said he operated in various capacities such as maintenance security, court security, housing units, outside details, shift supervisor, the special weapons and tactics unit, and finally, from 2014 until coming to his present position, as special projects coordinator.
The committee also sent on the nomination of Aracelis Bermudez-Walcott to the Gov. Juan F. Luis Hospital Governing Board. Bermudez-Walcott has held an array of V.I. government positions over a career spanning 1966 through 1999 and served as assistant commissioner of Health from 1994 to 1999.
She has a bachelor's in psychology from Catholic University, Ponce, Puerto Rico, and a master's in health administration from the University of Puerto Rico and Clark, Atlanta University.
The committee sent on the nomination of Oran Bowry to the University of the Virgin Islands Board of Trustees too. In the 1990s, Bowry held several administrative positions in the V.I. government, in the Labor Department and Human Services Department, and held the post of chief labor negotiator from 1995 to 1998. From 1999 to now, Bowry has worked for Banco Popular de Puerto Rico, and is currently senior vice president and division manager for the Virgin Islands Region. He holds a master's in business administration from UVI and a bachelor's in labor relations from Rutgers University in New Brunswick, New Jersey.
The committee also sent on a bill sponsored by Sen. Sammuel Sanes to require the Bureau of Motor Vehicles to forward information on taxi insurance cancelations to the Taxicab Commission. Sanes said that the bill would help protect taxi drivers, their passengers and the territory, by making sure drivers are insured. He said the BMV is sharing the information now, but many jurisdictions require it by law, and a law would make sure it continues.
"They are doing a good job in terms of processing this information, now, but we have to ensure, in case there is a change in the administration, that it continues," Sanes said.
The committee also sent on a bill sponsored by Sen. Justin Harrigan establishing the last Sunday in September as Gold Star Mother's Day, in honor of mothers of military service members who died while serving their country. The bill also directs the BMV to create a special license plate for those Gold Star mothers.
In 1926, the U.S. Congress established that day as a national day of commemoration and it has been commemorated every year with a presidential proclamation. The bill would codify the practice for the Virgin Islands.
All measures were approved unanimously. Committee members present for the hearing were: Harrigan, Sens. Jean Forde, Novelle Francis, Kenneth Gittens, Neville James, Nereida "Nellie" Rivera-O'Reilly and Janette Millin Young. The bills and nominees now go to the full Senate for final votes.