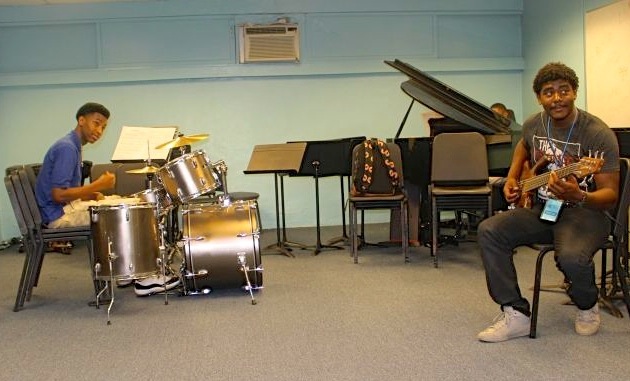 A new series from Dion Parson, the United Jazz Foundation and the Prior Family Foundation will give residents a chance to listen to performances by the V.I. Youth Ensemble, a 12-member group of young musicians that Parson said recently are the "best of the best" talents from St. Thomas and St. Croix.
The series kicked off last week at the Old Stone Farmhouse on St. Thomas and will continue every other Friday night.
"Our first official meeting for this second season was held last week and it brought together the best of the best of the Virgin Islands, from St. Croix and St. Thomas," Parson explained. "Dion Donadelle and I got together to create this ensemble and, with the support of the Education Department, we traveled to St. Croix, auditioned the students and have been able to put everyone together."
At the event, Parson said he and Donadelle, the Ivanna Eudora Kean High School band director, launched the V.I. Youth Ensemble in 2014 under the United Jazz Foundation's Mentoring Through the Art of Music program.
This year, Parson said the group will be heading to New York City in May for Mother's Day weekend to participate in the Jazz at Lincoln Center's Essentially Ellington Weekend competition. While the V.I. Youth Ensemble isn't going to compete this time around, the students will get a chance to observe and listen to pieces performed by high school students across the nation.
"And when the Youth Ensemble performs here every other week, they're not going to get paid," Parson said. "Their payment is going to go right back into the fund to cover this trip."
Part of the draw of the new music series and being a part of the ensemble is giving the students the opportunity to learn from their peers, including former Mentoring Through the Art of Music protégés that have recently gone on to college to study music. Included in that group is bassist Tabari Lake, now in his second year at Berklee College of Music, who not only played at the Old Stone Farmhouse kickoff but stayed on-island to be part of jam sessions and workshops with other V.I. Youth Ensemble members.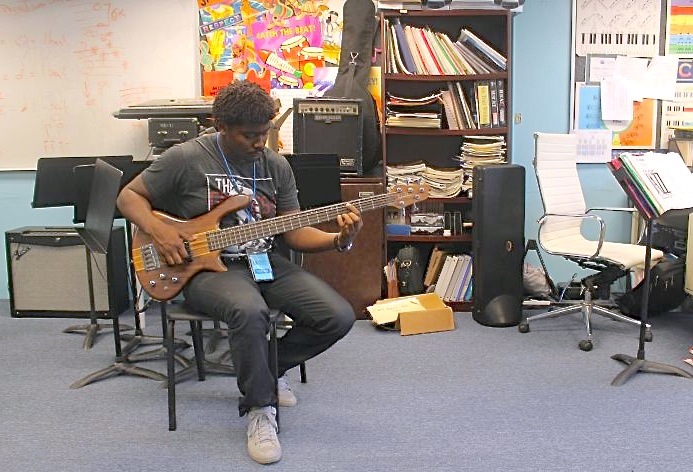 "The whole experience was amazing," Lake said before he flew back to school Monday. "I remember just a few years ago playing with some of these guys, and seeing how far they have come is really cool. They're really doing it."
Lake was on hand for a jam session Monday at Antilles School with his former Charlotte Amalie High School band teacher Georgia Francis and V.I. Youth Ensemble member Joshua Farrell. Lake sat pouring over a bass that he said Francis gave him to learn on "years ago," while Farrell set up his drum set, ready to go.
"The teachers that I had really pushed me to this point and it's great to be able to work with them again through this group," Lake said.
Parson has often said that the Mentoring Through the Art of Music Program gives the United Jazz Foundation the chance to bring back master musicians who can partner with local youth. Working through sponsors such as the Community Foundation of the Virgin Islands, he said recently that having students such as Lake come back and work with the V.I. Youth Ensemble gives the students a chance to see what they can become.
"Each one teaches one. We lift as they climb," Parsons said at last week's series kick off. "I've had a lot of great mentors in my life, a lot of musicians that took me under their wings and now, when I call on these individuals to do the same, they always come back home and support."
Students in the V.I. Youth Ensemble are Tariq Lionel from St. Croix Central High School; Keshawn Hardy, Alex Charles and Micah Tyson from St. Croix Educational Complex; Hezekiah George, Jalen Francis and Sherwin Williams from Ivanna Eudora Kean; Jovier Adams, Uriel Rogers, Elijah Braithwaite and Naysha Lynch from CAHS; and Farrell from Antilles.