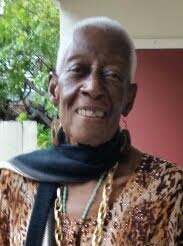 Bernice V. Joseph, better known as "Mother J" and "Miss B," died on Oct. 3 at the age of 83 at Roy Lester Schneider Medical Center.
She was preceded in death by her husband, Hubert Alexis Joseph Sr.
She is survived by her children: Garry Aubrey Sprauve, Glinda Moses-Johnson, Gerda Marie Lloyd, Gretta Lloyd-George and Percival Geraldo Taylor Jr.; stepson, Hubert Alexis Joseph Jr.; daughters-in-law: Cheryl Sprauve and Helen Taylor; son-in-law, Russell Johnson; brothers and sisters: Kenneth Clendenin, Irvin Petersen, Emma Townes, Althea Farrell and Tina Petersen Williams; brothers-in-law and sisters-in-law: Alfred Townes, Boston Williams, Carol Clendinen and Deborah Peterson and Rita Simmonds; and grandchildren: Gary Aubrey Sprauve II, Donna Sprauve Hendricks, Stefan Lewis, Sandra Robinson-Wilson, Olushola Bolarinwa, Folashade Bolarinwa Eggert, Samuel Moses III, Rashida Kimon Lloyd M.D., T'wanna Lloyd-Connor, I-eesha Adams Isom, Kamilah L. George, Safiya D. Williams, Shanelle Johnson, I'Tiana Kernan Taylor and Brandon J. Thomas.
She is also survived by great-grandchildren: Dhymond Revan, T'Shara Watley, Gary Sprauve III, Nala Sprauve, Neriyah Sprauve, Anitrice Kean, David Robinson III, Michelle Bolarinwa, Agape Bolarinwa, Samahd Moses, Samaurie Moses, Jelani O. Lloyd-Ross, Demorrise Adams, Demarcus Adams, DiAmada Adams, Denylah Adams, Darriella Isom, Denadia Isom, Jhoneil R. Warner, Taylor Elijah Bates, Kennedy Isaiah Johnson and Grayson Maddox Thomas; aunts: Andromena Abramsen and Doris Abramson; and nieces: Dana DeClouette M.D., Denise Durant, Wendi Davis, Danita Durant, Nicole Durant and Tyrene Petersen.
Other survivors include nephews: Duane Townes, Marshall Simmonds, Micah Simmonds, Martin Simmonds, Telek Petersen, Terrence Williams and Brian Williams; godchildren; Carl Abramsen, Velma Abramsen, Verna Petersen, Eurma Moore, Earl Abramsen and Anselmo Abramsen Jr.; extended family: Fenton Williams, Angela Durant, Ira Lani Miller, Eleanor Kirnon, Cosmas (Pat) Edwards, Herman (Mikie) Edwards and Glenwood Brown; special friends: Norma and Eugen Gottlieb, Cheryl S. Plaskett, Helena Enrique, Sheba Adrien, Alicia Malone, Roserita Laporal, Ivan and Judith George, Bernadette Joseph-Eddy, Bernice P. Jackson and Bishop Elliot Thomas; and many other relatives and friends.
A first viewing will be held from 5-7 p.m. on Monday, Oct. 19, at the Celestial Chapel – Hurley Funeral Home.
A second viewing will be held at 9 a.m. followed by funeral services at 10 a.m. on Tuesday, Oct. 20, at Holy Family Catholic Church. Interment will be in Western Cemetery No. 1.
Tributes may be e-mailed to office@hurleydavis.com or delivered to Hurley Funeral Home by Monday, Oct. 12, 2015.
For online condolences and directions, please visit www.hurleydavisfuneralhome.com
Funeral arrangements under the direction of Hurley Funeral Home – 774-1464