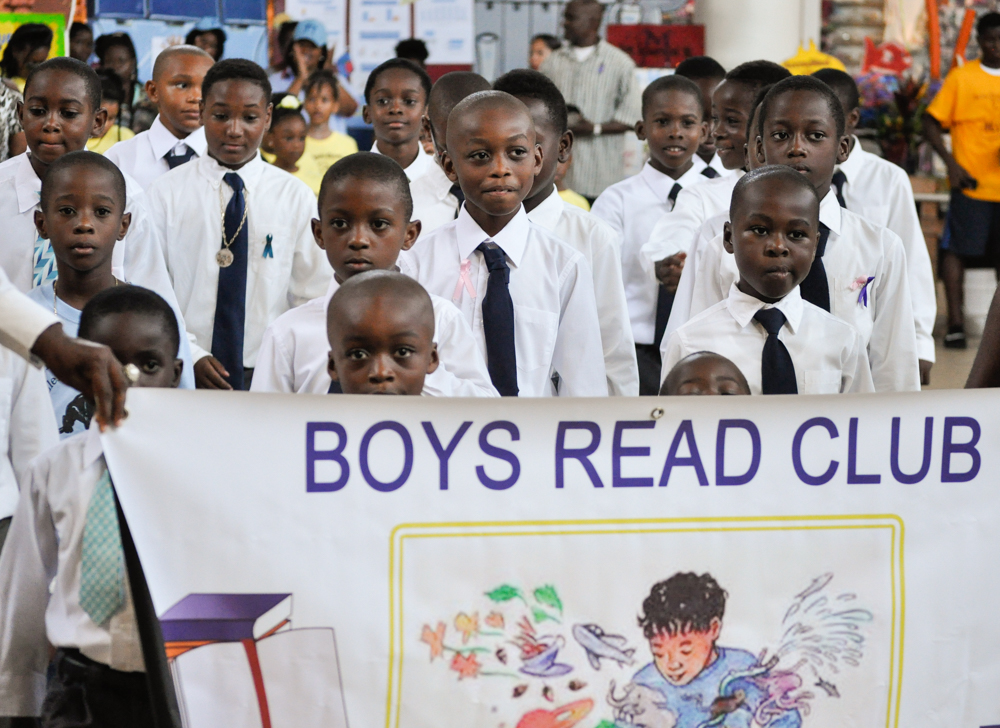 V.I. public schools have been back in session for more than a month now, but for the teachers, parents, administrators and students who attended the Department of Education's fourth annual Education Expo Saturday at Tutu Park Mall, the excitement of the new school year was still fresh.
Schools showed off their latest programs and extracurricular activities. Around the mall's central courtyard a ring of tables, staffed by representatives of schools, non-profits, and government bodies, were stacked with handouts and pamphlets on education-related programs.
The University of the Virgin Islands, Family Resource Center, and the V.I. Board of Education also were represented.
Members of Charlotte Amalie High School's JROTC Color Guard, light reflecting off their polished helmets, marked the opening of the expo with a stately flag-bearing ceremony.
"We're very excited to see the wonderful things that are going to take place in our schools this year," said St. Thomas-St. John District Superintendent Dionne Wells-Hedrington. "We're off to a great start."
At the table staffed by Wells-Hedrington and her team, new school supplies were being handed out to families, along with free books donated by St. Thomas's Rotary Clubs.
Wells-Hedrington said she was canvassing parents at the expo on what courses interest them as part of the DOE's popular Parent University program, a series of classes that are designed to help families become more involved in their children's education.
At Ulla F. Muller Elementary School's table Principal Symra Dee Brown stressed the importance of extracurricular activities to achievement and school culture.
She listed some of the school's most popular extracurriculars as: steel band, cultural dancing including maypole and bamboula dances, the Girl Power Club, which "empowers young ladies to be women," a book club for boys called the Boys Read Club, and the Gnashing Pups, a junior quelbe band named after the Tortola group the Gnashing Dogs.
"We use extracurricular programs as positive behavior reinforcement for the students. Once they're involved and engaged they want to do better in school to be a part of those things," said Brown.
Both the Girl Power Club and the Boys Read Club were represented at the expo during a short parade through the mall. Brown said the Boys Read Club is becoming popular at the school with "more and more boys joining because it's the cool thing to do."
"The boys come in and read at lunch time. We encourage them to, instead of running around, read; grab a book. Have adventures with books," said Brown.
At the CAHS table, at which several awards and trophies were displayed, Assistant Principal Nneka Howard-Sibilly shared some of the programs her school is proud of. These included the school's V.I. history month program, its black history month program, an "extensive music program," a Spanish club and a French club.
Howard-Sibilly also said the school continues to excel in sports and academic competitions.
"We are three times consecutive moot court champions, last year's academic quiz bowl champions and science quiz bowl champions. We continue to reign supreme in football, and a myriad of other sports. So, it's not so much about what's new, it's just continuing the history of excellence in every area," she said.
At Ivanna Eudora Kean High School's table, faculty and students were equally enthusiastic about initiatives at their school. One such initiative on display was IEKHS's aquaponics farm, which has received national attention via First Lady Michelle Obama's Let's Move blog.
Through aquaponics, students raise tilapia in tanks connected to hydroponic beds where fish waste is recycled as nutrients for growing vegetables and herbs. Once the water is cleaned it recirculates to the fish tanks.
Although hundreds of fish died off under mysterious, and possibly criminal, circumstances in 2013, IEKHS has begun to regrow the program. At Tuesday's expo students were showing off a tank with new tilapia and produce being grown via the aquaponics farm.
"We're growing pineapple, basil, mint, cucumber," said IEKHS student Ray Sanderson.
Also featured at Saturday's expo were performances by Joseph Gomez Elementary School's Prestigious Pantomime group, E. Benjamin Oliver Elementary School's award-winning Steel Owls, Bertha C. Boschulte Jr. High School's Flambo Combo, and a new band from IEKHS called Music Styles.
"I'm happy to see the turnout here today. The support we're getting from the community is tremendous," said Wells.