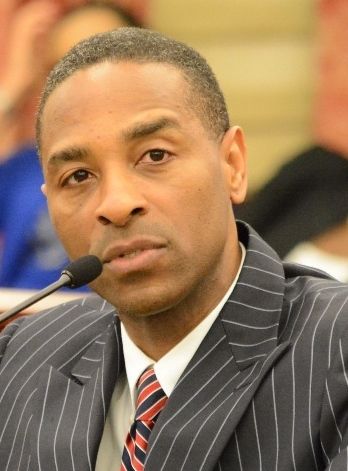 During his confirmation hearing Thursday, acting Attorney General Claude Walker told senators that airlines tag bags with declared firearms in them, and that V.I. Port Authority could potentially hold those bags until the owner's declare and register the weapons.
The revelation contrasts somewhat with longstanding V.I. complaints about the difficulty in getting this information – and with Walker's own statements in recent legislative hearings.
Several senators asked Walker on Thursday about efforts to control the influx of firearms and whether they, as legislators, could help by changing any local laws. Walker said he had researched the law and found the V.I. code (Title 23, section 469) already requires airlines to notify the commissioner of police whenever a firearm is declared and brought into the territory.
"I have been reminded, the law is there," Walker said. "The tools are there, looking at the code, we do have the authority. The question is if the attorney general and police commissioner are looking to that code and enforcing it. But we do have the authority," he said.
That law alone requires all carriers to notify the police of firearms being brought in, but that is a separate question from whether V.I. authorities have practical access to the information and are easily able to enforce it.
Sen. Tregenza Roach asked if the law should be amended to make sure local authorities are enforcing it.
"We have at present, at the airports, at least three different sets of law enforcement officers," Roach said. "Why shouldn't there be a requirement that the registration takes place at the point of entry? It eliminates the need for a person having to leave the airport or any port of entry and going to find the police commissioner," he said, adding that police have raised concerns about the manpower needed to enforce reporting requirements.
Walker said passengers "have to declare firearms to the airlines … and the bags are tagged. The Port Authority can take possession of those tagged bags" and make travelers address the registration of firearms before they can have their luggage, he added.
Roach asked "Is that happening?"
Walker said, "Now it is not. But we don't need a law. We can do it."
That perspective stands in contrast to Walker's statements during budget hearings in August.
"Federal law enforcement cannot obtain this information from the airlines and there isn't any way for us to get the information directly from the airlines," Walker said in August, when Sen. Sammuel Sanes asked about the status of long-standing efforts to get this information. Walker said the airlines did not feel they had to give the information "thanks to the NRA (National Rifle Association)" and the "current political situation" on the national level.
"There is simply no way to get this information from the airlines. … They have it. The form is filled out. But they won't turn it over to anybody," Walker said in August. (See: V.I. Attorney General Says Airlines Won't Notify of Passengers Carrying Guns in Related Links below)
At another point Thursday, Walker was asked if he was currently investigating any public corruption, and what oversight there was of the Department of Justice itself.
"I am not aware of any corruption presently in the present government. But I will tell you I am bound by the Bar Association rules of professional conduct," Walker said.
Sen. Novelle Francis praised Walker for vigorously pursuing a lawsuit against the owners of the shuttered Hovensa refinery.
"Will you pursue WICO with the same vigor as you have pursued Hovensa?" Francis asked.
After the Department of Property and Procurement rejected the administration's request to pay more than $12,000 per month rent for a nine-bedroom villa for Gov. Kenneth Mapp, Mapp's chief of staff, Randolph Knight, asked the West Indian Co. Ltd. to pay Mapp's rent retroactively. Mapp also appointed Knight as WICO chairman. WICO voted to do so and is now fighting tooth and nail not to disclose transcripts of those discussions. (See Related Links below)
"I am not aware of any specific concern that I should pursue WICO on," Walker said, in response to Francis' question. "I think would be inappropriate to say I am going to target WICO without any specific formal information that has been presented to me to review," he said.
Two weeks after Mapp replaced then-acting Attorney General James Carroll with Walker, saying he "wanted to go in a different direction," Walker arrested former governor and long-time Mapp political foe John deJongh Jr. for deJongh's well-publicized security enhancements at his private home in 2007.
DeJongh said in 2007 that the security enhancements would save the government money by allowing him to live at home. A federal audit found the expenses were not properly authorized by the Legislature and recommended he reimburse the V.I. government. DeJongh sent a check after leaving office, but the Mapp administration declined to accept it.
Walker served as a prosecutor with the V.I. Attorney General's Office from 2007 until 2011, when he left to take the position of senior legal counsel for ScotiaBank USVI. Most recently, beginning in 2014, Walker held the position of associate regional counsel for litigation at the U.S. Department of Housing and Urban Development.
Walker has also worked in the nation's capital as an environmental attorney at the U.S. Environmental Protection Agency, and as a policy advisor at the U.S. Department of the Treasury's Office of Terrorism and Financial Intelligence. He holds a law degree from Albany Law School.
Walker is the fourth person to act as attorney general under Mapp. Mapp's first choice for the position, his gubernatorial election rival Soraya Diase Coffelt, resigned after two weeks citing conflict with the administration over management style.
Mapp chose Terri Griffiths to replace Coffelt as acting attorney general in January but her tenure ended in controversy after she tried to retroactively undo a plea agreement in a tax case involving V.I. radio magnate Jonathan Cohen. (See: Cohen Plea Deal Back On in Related Links below) Mapp appointed James Carroll to the post, then replaced him with Walker.
The Rules and Judiciary Committee voted without opposition to sent Walker's nomination to the Senate floor for a final vote. Voting to send the nomination forward were Francis, Sens. Jean Forde, Justin Harrigan, Nereida "Nellie" Rivera-O'Reilly, Kenneth Gittens and Janette Millin Young.
The committee also approved the nomination of attorney Henry Smock for another term as a member of the University of the Virgin Islands Board of Trustees. Smock has served on the board for 15 years.
And it approved St. Thomas businessman Harith Wickrema as a member of the V.I. Port Authority Board of Governors.
The committee held the nomination of St. Thomas entrepreneur Bhagwandeen Persad for the V.I. Waste Management Authority's governing board, pending clarification of some conflicting documentation.
Editors note: This article has been updated to correct an error concerning which nominee was approved and which one held in committee..