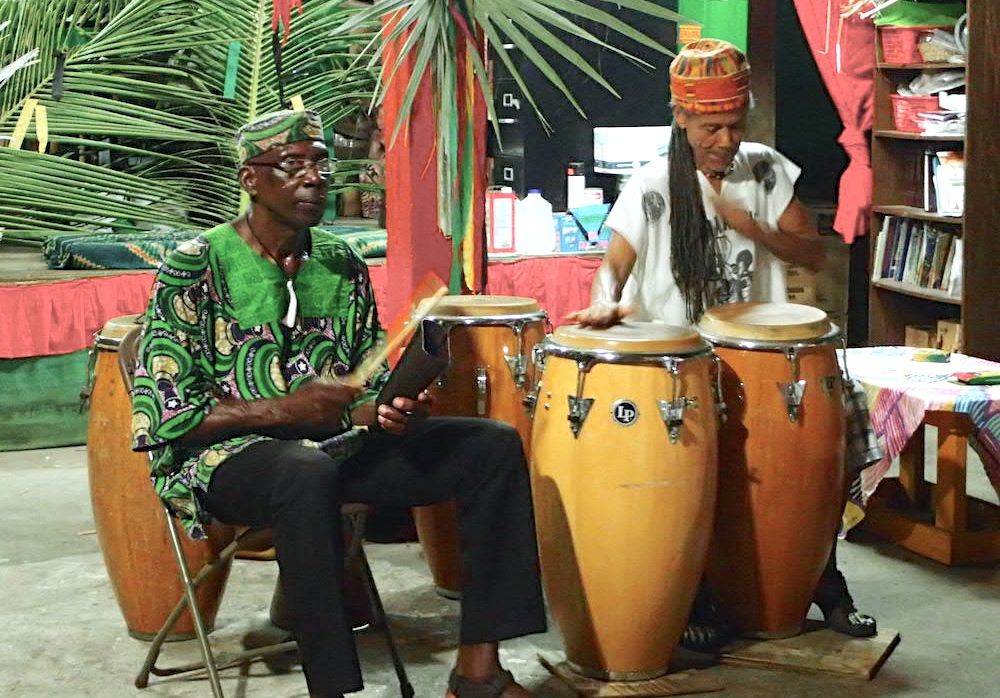 The 1878 Fireburn labor revolt was solemnly observed Thursday night by group of men, women, young adults and children at the United Caribbean Association and ended with a peaceful torch lit march through the streets of Frederiksted.
"October 1 – Contract Day – was the day contract labor was given a chance to switch estates," said Valerie Hendrickson, an event organizer since the early 1980s. "In 1878, the workers marched instead because there had been no raises. We keep this day to lift the spirits of the ancestors and keep them calm," she said.
This year, most of the ceremony was held inside UCA, which had been decorated with palm fronds, plants and flowers, and madras table coverings. The historic building, usually dimly lit, was flooded with light.
On one side, tables were set up with activities to engage children and Paula Collins was selling T-shirts to raise funds for Afrika House – an after-school and summer program on King Street.
The event began with drumming by several musicians and conch shells were sounded intermittently by Junie Bomba, Ras Lumumba and others.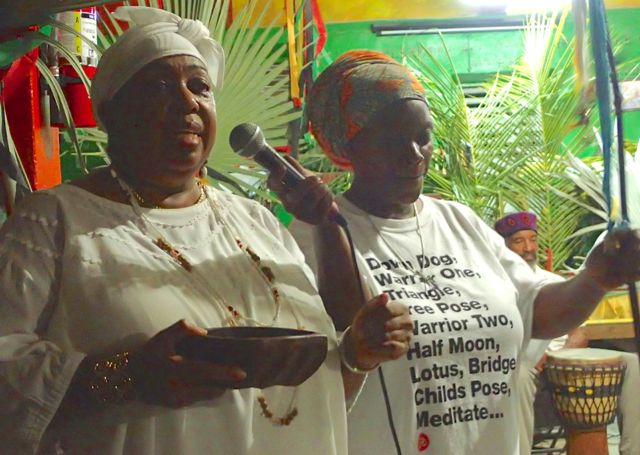 Denise Lenhardt-Benoit and Ashela Samuel offered a libation to ancestors, while reciting poetry and talking about the offering.
Lenhardt-Benoit said that water represented respect and is "a salute to the earth upon which I stand."
Names of some of the victims who died during Fireburn were read aloud and audience members murmured the names of their deceased relatives.
As in previous years, radio host and historian Mario Moorhead talked about the past and told about events leading up to and during the Fireburn.
Since Emancipation in 1848, plantation workers were technically no longer enslaved but their living conditions worsened in many cases. Workers were not allowed to leave their work sites without a pass except on Oct. 1, Contract Day.
In 1878 on Contract Day, because plantation owners had not followed through with promises to increase wages and provide better living conditions, four women – the queens – launched a revolt that lasted five days.
While much of the West End burned, more than 120 workers, men and women – and 20 employers – were killed.
In the end, the heroines – Mary Thomas, Mathilde Macbean, Susanna Abrahamson and Axeline Salomon – were imprisoned in Denmark, but the labor laws were changed.
The words, songs and power of the Fireburn program allowed members of the audience to express their feelings about the historical event and the commemoration ended with the audience "taking it to the streets" of Frederiksted to recreate the 1878 march, including with torches.
Although the V.I. Legislature has never approved an Oct. 1 holiday to commemorate Fireburn, UCA and Crucians have held ceremonies and reenactments every year since the early 1970s.