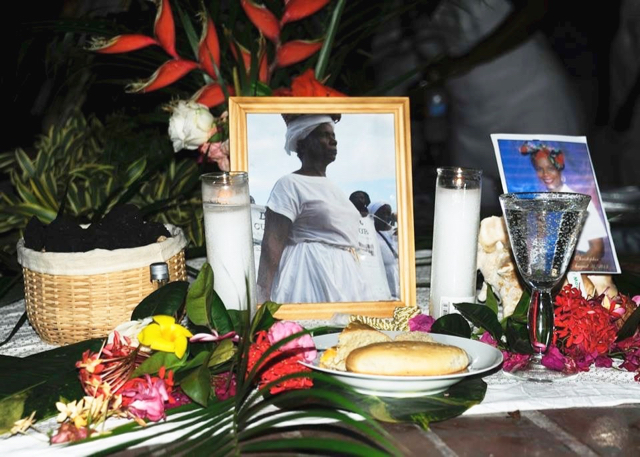 For years, local dance instructor and teacher Mary Ann Christopher was the centerpiece of the annual Dollar fo' Dollar Culture and History Tour. This year, participants once again honored her memory as the event kicked off early Saturday morning under the Sanderilla Thomas Bungalow in Market Square.
Christopher, who each year helped commemorate the famous 19th century coal laborers strike with her portrayal of Queen Coziah, died in September 2013, right before the annual event was scheduled to take place. A special ceremony aboard the Kon Tiki was held that year to celebrate her life. This year, a large portrait of Christopher blew in the wind under the bungalow as friends and family members honored her spirit during the traditional libation ceremony, which was performed by Sen. Myron Jackson.
With all participants clad in white, the ceremony included student performances, bamboula dancing and drumming before the actual tour started in reverse – moving from the Square back toward the V.I. Legislature. In the past the tour began in Emancipation Garden and ended at the Bungalow, where the outlines of old coal-carrying tracks can still be seen down nearby alleyways. This year, participants were also able to visit the island's old steamship offices on General Gade.
Along the route, participants chanted "dollar fo' dollar" and recited poems and sang songs recreating the spirit of the original protest, in which hundreds of coal laborers hit the streets to ask for better pay.
The tour is funded in part by a grant from the Virgin Islands Council for the Arts, the National Endowment for the Arts and the V.I. Academic and Cultural Awards Endowment. Additional partners include the Office of Senator Myron D. Jackson, Legislature of the Virgin Islands, V.I. Police Department, Department of Tourism, Dept. of Finance, V.I. Lottery, Benita Martin, Alphonse Wade, Edie Donoghue, Caribbean Genealogy Library, the University of the Virgin Islands and WSTA 1340.