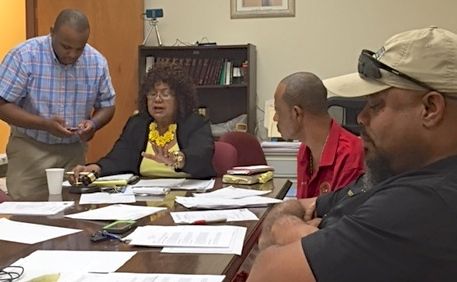 The St. Croix District Board of Elections voted Wednesday to boycott the upcoming Joint Board of Elections meeting on St. Thomas in protest of what St. Croix members describe as unfair treatment.
The board first voted to not attend the meeting – which is scheduled for Friday – and it later voted against funding travel for any St. Croix members still interested in going.
St. Croix board members complained that the last several Joint Board of Elections meetings have taken place on St. Thomas, when they should alternate between the two islands. The St. Croix board has depleted its budget having to travel more frequently, according to board members.
Supervisor of Elections Caroline Fawkes explained that the last Joint Board meeting was a "special" meeting, which is why it needed to be held on St. Thomas.
Lisa Harris-Moorhead, St. Croix Board member, said they should rotate, "whether there is a special meeting or not. The real problem is that there aren't written rules and procedures," she said.
The St. Croix Board also protested that its members have not been included in the agenda process, being told to go through the supervisor of elections instead.
Fawkes told the St. Croix board, "If you have agenda items, you get them to me and I will send it to (the Joint Board)."
St. Croix Board Chairwoman Lilliana Belardo de O'Neal suggested to board member Adelbert Bryan that he and Webster, as members of the Joint Board, take up their issues with Joint Board Chairman Arturo Watlington Jr.
"With you both on the Joint Board, I think you can be a force," Belardo de O'Neal said.
Moorhead replied, "But the reality is I've been the vice chair and St. Thomas does not listen to us."
Bryan said the St. Thomas Board was acting as if they have St. Croix on a "leash."
Voting to boycott the Joint Board meeting were members Belardo de O'Neal, Bryan and Roland Moolenaar. Member Glenn Webster voted against the measure and Moorhead abstained. Members Raymond Williams and Barbara Jackson McIntosh were excused from the meeting.
The motion to eliminate travel funding for the upcoming meeting passed with no objection.
Concerned that its motives may be misinterpreted, the board agreed to have Belardo de O'Neal draft a letter to the Joint Board clarifying its decision. Moorhead said they did not want to hold up the process but wanted their issues addressed.
"Because we're not going, (the process) will be held up, but that is not why we're not going. Our reasons are legitimate," Moorhead said.
Webster said that holding up the process is exactly what the board is doing. Outside the meeting, Webster said, he wanted to go to the Joint Board meeting because there are so many issues to be dealt with and boycotting it was just "playing divisive politics."
The hiring of a deputy supervisor for the St. Thomas-St. John District is one of the pressing issues that the Joint Board needs to deal with. St. Croix board members said Wednesday that they voted in executive session during the previous Joint Board to select a candidate but the motion to accept that person in regular session was never made.
Belardo de O'Neal said they shouldn't be allowed another vote for the deputy position. Bryan said they should just be informing the person that they were selected. Moorhead said the official motion needs to be made and the candidate should be in attendance at the time.
Fawkes said she hopes the issue is resolved by October because the election cycle is gearing up.
"It reflects on me," she said. "I'm responsible for the two districts and I'm limping with no deputy."
The board also discussed an upcoming election reform meeting with senators, as well as locations for early voting.
Sen. Kenneth Gittens scheduled a meeting for Monday in the Port Authority conference room to discuss election reform, which will impact when early voting takes place.
The board considered locations for early voting and Fawkes said ideally they will have locations in the east, west and mid-island. If they secure a new conference room in the Sunny Isle Annex, that could be the mid-island location with and Sunshine Mall in west.
The board couldn't agree on a suitable location in the east end, but mentioned the Florence Williams Library as a potential location.
Moolenaar said he is concerned with security since they will be housing equipment and documents in these locations for one to two weeks.
The board discussed pushing back a planned expo from September to October but Fawkes said the system employees would rather it be pushed to next year, possibly between February and April 2016.
The Elections System will, however, still be issuing a proclamation and conducting outreach for National Voter Registration Day on Sept. 22.