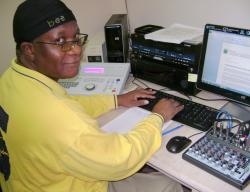 The Virgin Islands lost a voice on Thursday that has dominated the local airwaves for decades. Da Vybe radio station announced that news director Alvin "Gee" Southwell had passed away. He was in his late 50s.
Sheldon Turnbull, one of the founders of Da Vybe 107.9 FM, said workers at the station became concerned when Southwell did not show up for the evening newscast, and a worker went to his house around 5:20 p.m. where Southwell was found unresponsive.
Southwell had done his early morning newscast, the station indicated, adding it was his practice to leave the station for a while after the morning newscast, sometimes recording on-scene interviews for the evening broadcast.
He was born on Antiqua, where he had a radio broadcast in high school and began his career. He worked at a radio station in the British Virgin Islands and at JKC stations before moving to the Da Vybe almost five years ago.
Turnbull said Thursday evening, "It feels like losing a member of your family. He was such a great team player." He added that when Da Vybe was being created, Southwell was one of the first people to whom the owners talked. "He played an integral part in everything."
The broadcaster made a bit of news himself when he collapsed into a diabetic coma while doing a broadcast in September last year. Turnbull said he was not sure of Southwell's specific cause of death but it appeared to be of natural causes.
Although he was a very private person who did not talk about himself much, he had an active presence on Facebook where he kept his followers abreast of any international news coverage of the Virgin Islands. As news of his passing spread Thursday, his Facebook page quickly filled with remembrances and testimonies about the value of his journalism skills.
Turnbull said that Southwell's strengths included a good sense of humor and sharp insights into local politics.
Cassandra Dunn, former spokesperson for the V.I. Water and Power Authority, told the Source when it did a profile of Gee, "He is fantastic. I find him to be very fair. He is the consummate news reporter, skilled at what he does."