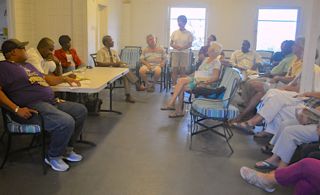 At a town hall meeting at Paradise Cove's Inspiration Hall on Monday, Red Hook residents told members of the Community and Police Association that they feel without recourse in the face of constant noise disturbances from area bars, some of which play loud music until 3 a.m.
The meeting was hosted by CAPA in conjunction with the Red Hook Community Alliance to identify the largest problems facing Red Hook and to propose some solutions.
Increased enforcement of laws against late-night noise disturbances made by bars, motorcycles, drag racing and car stereos was repeatedly identified as the change Red Hook residents would most like to see in their neighborhood.
"Red Hook has turned into the Wild Wild West," said one attendee of the meeting.
Caroline Smart, who lives on Red Hook Mountain, reported being kept awake at least one night a week until around 2:30 or 3 a.m. by "thumping bass" coming from the East End's open-air bars.
"My bedroom is air-conditioned; I have my windows closed; it's in the back of the house; and it's like someone's out there banging with a hammer," she said.
Other residents reported being bothered by an increase in "late night bar noise" as far away as Ridge Road, in the area near Paradise Cove.
Virgin Islands law contains a fairly extensive anti-noise ordinance.
Among activities banned in Title 19, Section 6 of the V.I. Code are "operating a bar or tavern in a residential zone or within 500 feet of a residential zone such that it creates a noise disturbance" and "operating an indoor or outdoor sound amplification device that creates a noise disturbance."
The law defines a noise disturbance as any sound over 75 decibels (about the volume of a coffee grinder) that "unreasonably interferes with the enjoyment of life, quiet, comfort or outdoor recreation of an individual of ordinary sensitivity and habits."
Red Hook residents, however, insisted that attempts to report offending businesses have yielded no results. The most frequently reported Red Hook bar, they said, is international chain Señor Frogs.
"What I've been told by several of the police is that if it's not criminal, they really don't have the interest in it," said June Marsh, also of Red Hook Mountain.
Smart, her neighbor, said that upon calling 911 in the early hours of the morning she had been told by a dispatch operator that "people need to be able to have their fun."
Flamon and police officer Roy Chesterfield, also of CAPA, suggested that residents should start establishing "a paper trail" by cataloguing the numbers of every police report made against area businesses. They said that by collecting data on repeat offenders, CAPA might be able to help the police focus their efforts where they are needed.
Flamon volunteered to help residents organize their records. He said he wants individuals who live in the Red Hook area to, starting this week, collect the numbers of each police report they make. He said that after residents call 911, police report numbers should be reported to him personally at 340-513-4041.
Government officials present at Monday's meeting were St. Thomas Administrator Lawrence Boschulte, and representatives of the offices of Sens. Almando "Rocky" Liburd and Myron D. Jackson.