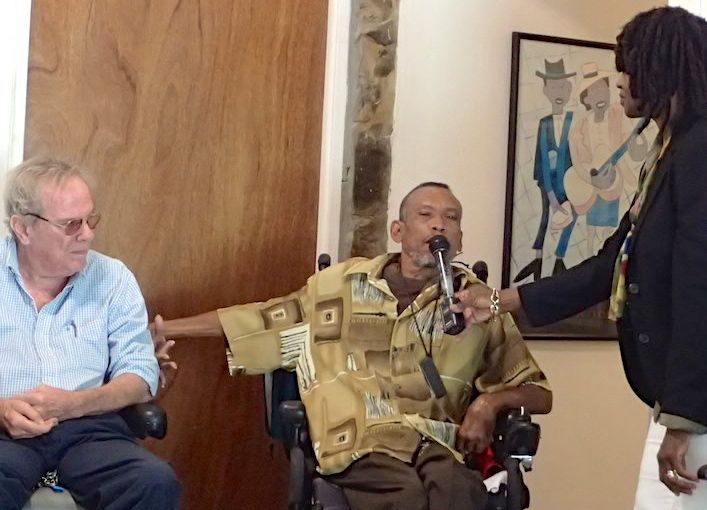 In 1996, six years after the federal mandate, Lloyd Alfredo "Sonny" Barnes parked his electric wheelchair in front of a VITRAN bus to advocate for public transportation for people with disabilities.
On Tuesday, stakeholders gathered to honor Barnes and mark the 25th anniversary of the Americans with Disabilities Act, which was signed on July 26, 1990, by President George H. W. Bush. The ADA ensures civil rights for and outlaws discrimination against individuals with disabilities.
Between1996 and 1997, Barnes and others lobbied outside supermarkets, banks, the movie theater, retailers, restaurants, medical services and telecommunications companies for access to St. Croix establishments. Little by little, businesses and organizations complied. However, several schools and sidewalks are still not wheelchair accessible.
Tuesday's commemoration was hosted by the Disability Rights Center of the Virgin Islands, the University Center for Excellence in Developmental Disabilities and the V.I. Developmental Disabilities Council – the so-called three sisters – at the Disability Rights Center.
The trio of organizations is known as the Developmental Disabilities Partners, according to Yvonne Petersen, territorial executive director of the Disabilities Council. Petersen said the goals of the partner organizations are advocacy, capacity building and systems change.
The "sisters" work with schools, nonprofit organizations and parents to promote understanding and to clarify parental rights. Just understanding the ADA law can be daunting, Petersen said.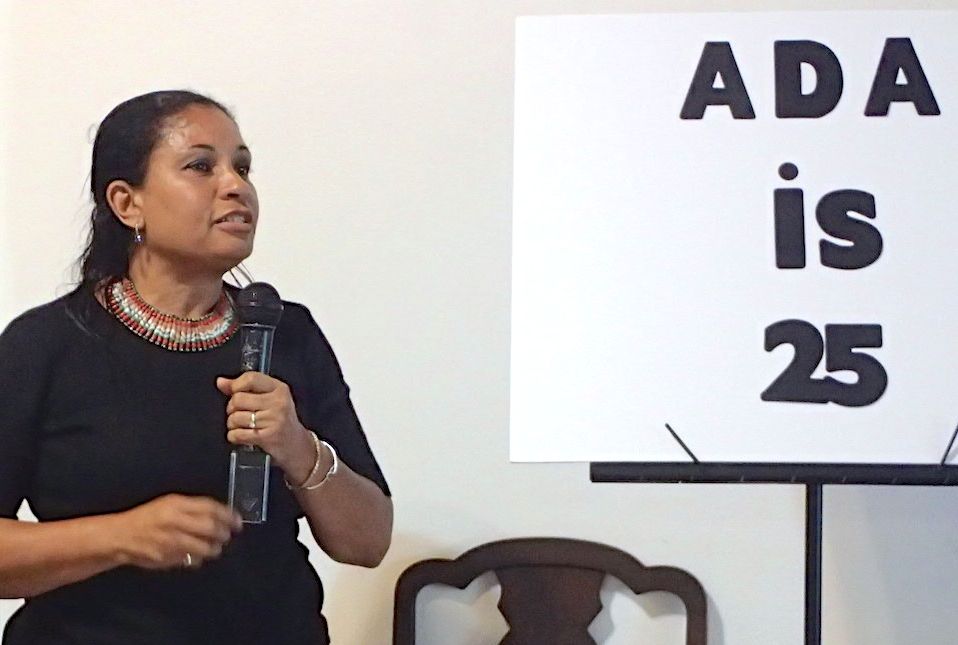 "Empowered parents equals successful children," she added.
Changing the systems began with Barnes in 1996 and continues today with training for bus drivers, teachers and others to understand the special needs of the community.
Other speakers included Jamilla Russell, territorial ADA coordinator; Amelia Headley-LaMont, executive director of the Disability Rights Center; Denyce Singleton, AARP director; and Archie Jennings, an attorney who has represented the disabled and special-needs community in court.
Several of the early advocates made comments Tuesday including Barnes, Mark Vinzant and Carmen Huertas. Barnes commended the group's accomplishments adding, "There is still work to be done."
Vinzant of V.I. Community AIDS Resource and Education said he had "a lot of fun in 1997" and they made a lot of noise. That advocacy will be "important for generations to come," he added.
Huertas is a bilingual teacher at Arthur Richards Junior High School with a visual disability. She has a master's degree and is beginning to work on a Ph.D. She said the group's advocacy encourages the community to be sensitive, sensible and understanding.
"We don't decide to be disabled," Huertas said. "But at any second you can become a member of this club. Membership is free."
In 2010, Cornell University reported that almost 10 percent of the Virgin Islands population has a visual, hearing, ambulatory, cognitive, self-care or independent living disability. Petersen said the goal is to get children into V.I. schools as early as possible.