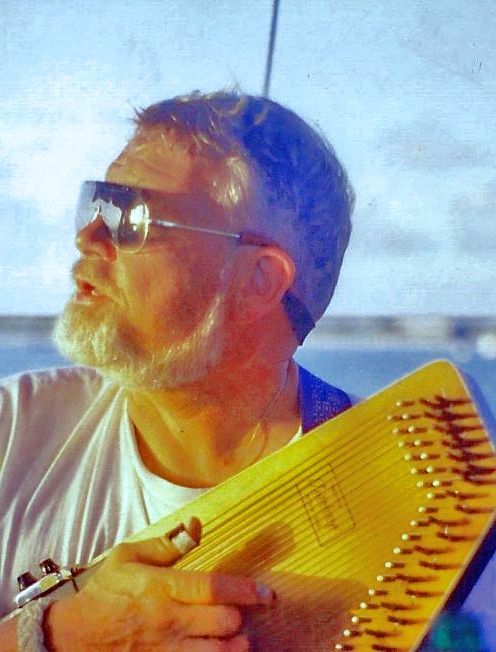 The life of Fred Watts, local attorney and full-throated musician, will be celebrated in two memorials – one in Pennsylvania July 15 and on St. Thomas on Aug. 15.
Watts, along with his wife Polly, was an integral part of the island's musical community for decades. Calling themselves and a few other musicians Harmony Dem, they founded the October Sunday Music Festival, the beloved community music fest still going strong 39 years later.
Watts passed away peacefully at the University of Pennsylvania hospital on June 17 surrounded by family, love, and music.
He was born in Barberton, Ohio, on Aug. 7, 1938, the son of George and Vivian Watts, and he grew up in Alliance, Ohio. Watts graduated from Case Institute of Technology and Rutgers University School of Law. After law school, he joined the U.S. Navy as a JAG officer, rising to the level of lieutenant JG.
Relocating to Washington, D.C., he served in the office of Attorney General Ramsey Clark and the U.S. Attorney General's Office in D.C.
In 1971, Watts transferred to the U.S. Attorney's Office on St. Thomas and moved to the island with his family. He said he immediately fell in love with the laid back lifestyle, spending the rest of his life as an "Island Mon."
In 1973 Fred joined the Law Office of Loud and Campbell, which later became his own partnership. He was an active ham radio operator, a mentor to many local law professionals, an avid sailor, an enthusiastic musician and joyous Carnival participant.
The Watts Family Thanksgiving celebrations have been legendary for more than 43 years – an opportunity for sharing fabulous food and wonderful music.
He is survived by his wife; son, Colin; daughter, Karen; four granddaughters, Austen, Sydney, and Spencer Watts, and Abigail Farrington; numerous nieces and nephews; and his beloved dog Cassie.
The Watts have an extended musical family that spans across the U.S. and includes musicians of all types and genres.
This obituary was supplied by Polly Watts, who will be leaving this week for her family's home in Glenbow, Pa. Fred Watts' life will be celebrated in the 210-year-old Log Church in Schellsburg, Pa., on July 15.
Polly Watts said, "The acoustics at the church are fantastic. I asked my sister, who is organizing the memorial, if it was OK to for me to ask some of our friends from St. Thomas and those who used to live here. She said fine. I thought it would be a handful, but more than 30 are already coming."
On St. Thomas on Aug. 15, the celebration will continue from 2 to 5 p.m. at Magens Bay shed 2, by the seaside where October Sunday became the October Sunday Beach Jam in 2000, a smaller, but fully spirited affair.
This year, Polly Watts said, it will be a "mini October Sunday."
"All of our children and grandchildren will be here this year for the first time in years and that will be wonderful," she said.
In lieu of flowers, friends are asked to make a donation to the Save Mandahl Bay Organization, a cause Fred strongly supported. Checks may be sent to Save Mandahl Bay, c/o V.I. Conservation Society, 4126 Anna's Retreat, St. Thomas, USVI 00802. Donations may also be made at
http://savemandahlbhttp.