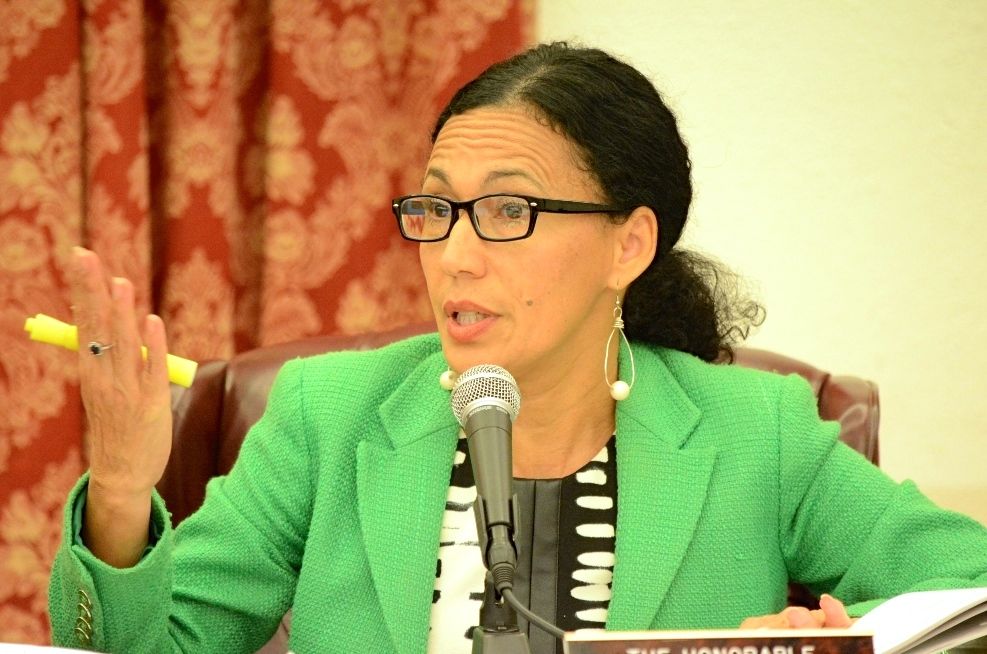 A hundred million dollars in roadwork on St. Croix's Melvin Evans Highway and St. Thomas' Veterans Drive, delayed when the Legislature declined to act last year, may begin toward the end of the year if a bill approved in committee Monday is enacted into law.
The bill sponsored by Sen. Nereida "Nellie" Rivera-O'Reilly would authorize the Public Works commissioner to borrow money through federal Grant Anticipation Revenue Vehicles or GARVEE bonds, which effectively act as a sort of advance on annual federal road funding.
Rivera-O'Reilly's bill [Bill 31-0073] originally authorized $75 million in GARVEE borrowing and required all of it to be spent on St. Croix. Rivera-O'Reilly later supported amendments increasing the borrowing to $105 million, with $55 million earmarked for St. Croix and the remaining $50 million for the St. Thomas-St. John district.
Introducing the bill, Rivera-O'Reilly pointed to many rapidly deteriorating road sections on the island and recalled the economic hardship and high unemployment St. Croix is enduring.
The St. Croix senators at the hearing, including Rivera-O'Reilly, Sens. Kurt Vialet, Terrence "Positive" Nelson, Novelle Francis and Sammuel Sanes, spoke of the greater amount of roads on St. Croix and of years past in which St. Thomas received the lions share of road funding, arguing that spending more now would only be fair.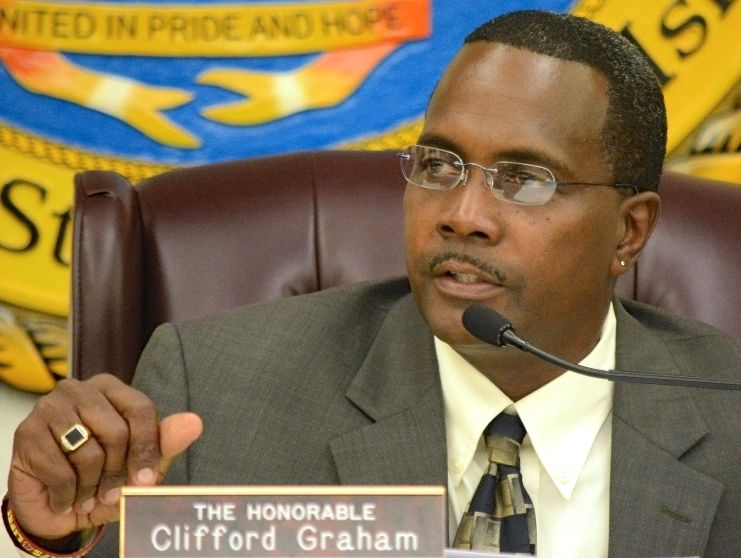 Public Works Commissioner Gustav James testified that GARVEE grants are only for new construction and to complete rebuilding of federal roads and they cannot be used for repair, repaving and maintenance of federal roads. They can only be used for projects the federal government approves as part of the Territorial Transportation Improvement Plan, James said.
James said he and the rest of Gov. Kenneth Mapp's administration agreed St. Croix had greater road repair needs and should get more funding. But he also said there was a compelling argument for including $40 million for St. Thomas' Veterans Dive.
James testified that the Veterans Drive improvements had been decades in preparation, were ready to begin and needed $40 million for the first phase, so that the GARVEE funding was the only plausible funding in light of this year's local budget deficit. He and Finance Commissioner Valdamier Collens both testified the administration supported the legislation with those changes.
Sen. Novelle Francis asked how long the work would take to start and to complete.
James said that after the legislation is passed and signed, the government has to get the GARVEE funding, then put out bids on the work, and "the bids, that process alone is six months, so (it will take) several years to carry out this plan."
Former Gov. John deJongh Jr. proposed GARVEE bond legislation in 2014, with similar amounts to fund the Melvin Evans and Veterans Drive projects, but the Legislature declined to act on it. (See Related Links below)
The committee unanimously approved the measure, sending it on to the Rules and Judiciary Committee for further consideration. Voting yes were Nelson, Sanes, Vialet, Sens. Marvin Blyden, Clifford Graham, Myron Jackson and Tregenza Roach.
The committee also heard Mapp's financial team give its initial budget presentation, starting the Fiscal Year 2016 budget process. [V.I. FY 2016 Budget Proposal] (See: Mapp Budget Shows Slight Belt Tightening from Last Year in Related Links below)
Blyden asked Collens, "Do you anticipate budget cuts in terms of payroll for FY 2016?"
Collens said he did not anticipate any payroll cuts at this time. "There is enough money in the budget to maintain payroll for government employees," he said. He also said layoffs are not on the table.
Budget Director Nellon Bowry said the government is working on implementing a program to improve gross receipt and income tax collection.
When Sanes asked for more detail, Bowry said merchants would be required to install data capture processes on point of sale devices, which will capture store sales data that will be accessed by tax authorities.
Sanes asked, "Will the merchants or the government bear the cost of the devices?"
Bowry said he is unsure at this time.
Budget hearings continue this week and will run throughout the summer.