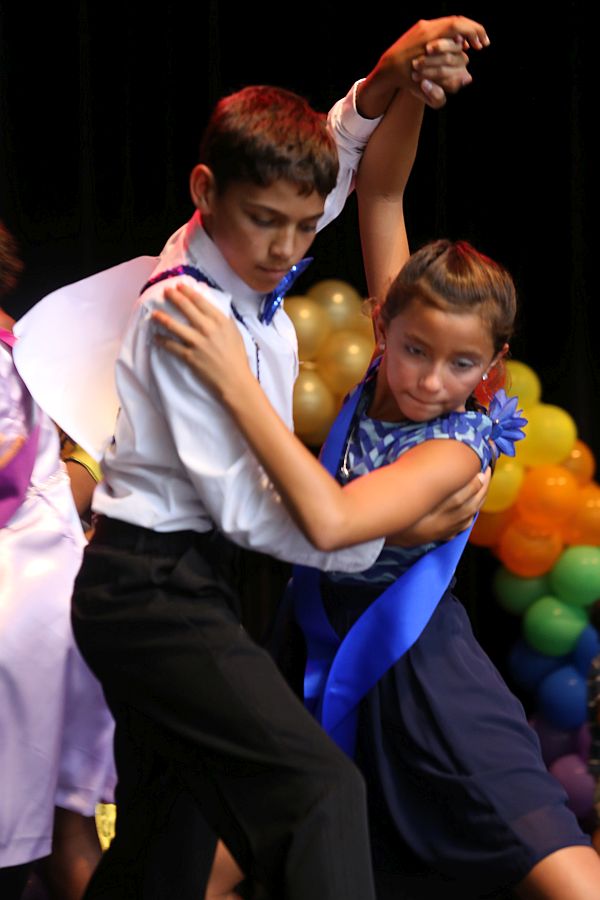 After 10 weeks of learning everything from the waltz to swing, St. Thomas students participating in the Dancing Classrooms Virgin Islands program faced off against each other this weekend on the big stage in a Colors of the Rainbow team competition at Reichhold Center for the Arts.
Based in New York City, Dancing Classrooms provides elementary and middle schools across the nation with a comprehensive ballroom dance curriculum that has reached more than 2,000 public and private school students on St. Thomas-St. John since 2009 through the efforts of Dancing Classrooms Virgin Islands Executive Director Katie Zaytoun. Eleven schools in the district are involved in the program and teams from seven of them were invited to compete at the Reichhold Saturday afternoon.
Dressed in their individual school colors, each team had its own cheering section of family, friends and supporters, all of whom screamed and waved streamers or signs while a panel of judges on stage evaluated the teams during each segment.
The 10-week curriculum is not only designed to teach students about the dance steps, but also dance etiquette, and announcers said the youngsters would be judged on a strict criteria, including movement, rhythm, and elegance.
"We need to see if they're following the rhythm of the music during the rhumba, or if they have the Latin motion in their hips for the tango, if they're dancing with energy and style," said Dancing Classrooms National Program Director Rodney Lopez, Saturday's master of ceremonies.
Taking the gold this year was the Antilles blue team, whose fifth-grade students recently wrapped up their season at school with a parent recital. Fifth-grade teachers Heather Blum and Kate Eanes said Saturday the program has brought about an "amazing" transformation in how the students relate to one another.
"It brings together the boys and the girls, it brings them together as a grade and as students and friends and it teaches them how to respect each other on a whole new level," Blum said.
"The awkwardness is gone," Eanes added.
Winning silver were the teams from Ulla F. Muller, E. Benjamin Oliver and Lockhart Elementary Schools, whose students looked like accomplished professionals as they moved around the stage during the two rounds Saturday. Winning bronze this year were the teams from Yvonne Milliner Bowsky Elementary, All Saints Cathedral School and Leonard Dober.
"It was so great," EBO fifth grader Yorleny Durand said after swinging on stage with partner Avanni Ahanzi. "Everything about the program is great, especially learning how to do the swing and the tango. Those are my favorites because there are so many movements to learn. It makes me want to dance all the time."
St. Thomas-St. John Superintendent Dionne Wells said after the performance that her students continue to be enthusiastic about participating in Dancing Classrooms. As principal of Julius Sprauve School, Wells said she saw firsthand how the program benefitted students on St. John and how excited they are each year to "showcase those skills to the community."
"It really is an awesome experience for them," she said. "That's the best part of being in the program: you actually see them transform into young ladies and gentlemen, where they're comfortable touching each other and working together as partners on stage."
For Zaytoun, another benefit of the program is seeing how many parents come out in support of the students at each end of the year performance. Saturday's event was packed, and Zaytoun said more than uniting the students, Dancing Classrooms is able to bring "together whole communities."
"The parents, that's my favorite part of it, because they begin to see their children in a different light," she said. "Especially when it comes to the young men and how they treat the ladies, it's wonderful seeing that evolution in the students and how much the parents enjoy watching their children perform."
Zaytoun added that Dancing Classrooms has continued to grow in the territory by one or two schools each year, bringing in more than 150 more students annually.
"We have only three more public schools left to join us and then we'll be reaching almost every fifth and eighth grader in the district," she said. "It's been so excellent being able to be a part of it."