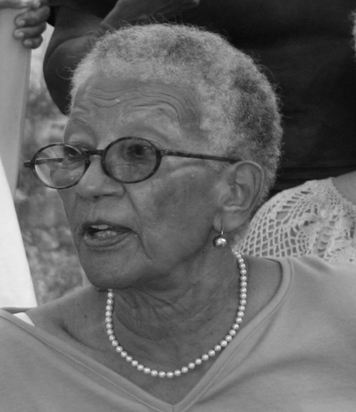 The de Jongh, Woods and Dukes families are saddened to announce the death of Mavis Elizabeth de Jongh at her home on Saturday, April 25, just a few days before her 95th birthday. Mavis was the widow of Percy Leo de Jongh (1904-1966), who served the Virgin Islands as commissioner of finance in the administration of several governors for more than a decade before his death.
Mavis Elizabeth Bentlage was born May 4, 1920, in Charlotte Amalie, St. Thomas, V.I. Her mother, Marie Christopher, often travelled to Puerto Rico and the U.S. Mainland to find employment, and she died when Mavis was still a girl. Mavis and her younger sister, Rita Antonia Van Epps Querrard (1922-2007), were raised by their grandparents, Alexander and Jane Christopher, formerly of St. Croix. "Mr. Alex," a coachman, and "Grand Jane," a domestic worker and laundress, lived in the section of St. Thomas called Round the Field, south of the present-day Lionel Roberts Ballpark.
As a child, Mavis first attended Miss Hansen's Private School on Bunker Hill, and the Moravian School located in the building that, in later years, became the Daily News Building on Wimmelskafts Gade (Backstreet). She also attended the Abraham Lincoln Elementary School on Hospital Gade, where she studied under legendary principal E. Benjamin Oliver. Mavis went on to attend the Charlotte Amalie High School when it was located in what today is the Virgin Islands Senate Building on the Waterfront, and she graduated as Salutatorian of the Class of 1939. Mavis was hired as a teacher at the Lincoln School right after graduation, but as the United States entered World War II, she went to work for the United States Alien Registration Program and then for the U.S. Customs Service, where she worked for more than 30 years.
Mavis Bentlage married Percy L. de Jongh on Easter Saturday in 1942. She was a dedicated parent, raising four children with her husband — two sons as well as a son and daughter from Percy's previous marriage — while also working outside the home. Throughout their marriage, Mavis and Percy led a tightly-knit family life based on providing for family, hard work, careers, sacrifice and entrepreneurship. The couple established de Jongh's Poultry Farm in the mid 1950s. The venture grew to thousands of laying hens that provided fresh eggs to many individuals on St. Thomas and supplied major accounts such as Caneel Bay Resort, the VI Hotel, and Chinnery's Food O'Mat, St. Thomas's first supermarket. After her husband passed away in 1966, Mavis managed Estate Staabi, while also fulfilling her job at U.S. Customs until she retired from it in the mid 1970s. After retirement, Mavis combined her love for gardening and ornamental plants with a commercial venture. She founded "The Green Thumb," a plant store located at Bakery Square – a downtown historic renovation of the former Lockhart's Bakery developed by her son Robert and his wife Donna, in which she also served as a limited partner with her other son, James. Mavis operated the Green Thumb until illness forced her to curtail her activities after several years.
Mavis de Jongh was very proud of her family and their many accomplishments. Offspring of Percy and Mavis and their progeny include a playwright and professor, several architects in the Virgin Islands and in New York, lawyers, including an assistant district attorney, a two-term governor of the Virgin Islands, the executive director of a private medical practice and a Miss Virgin Islands contestant to the Miss Universe Contest, an investment banker, artists, authors, a senior administrator of a U.S. military hospital in the South Pacific, a musician, a physician and surgeon, government workers, students, and many bright and promising grand, great-grand and great-great grandchildren, including a physician-surgeon in residence, a film production graduate and two, pre-teen, nationally-ranked, junior chess masters. This is in addition to passing on her legacy and skills as a diplomat/family negotiator to a special grandson, Bobby Jr., whom she lovingly called "Tiger;" her skills as a superb Vienna cake baker along with scores of selected Virgin Islands recipes to one special granddaughter, Julie; as well as untold amounts of Virgin Islands wisdom to another dearly loved granddaughter of whom she was so very proud, Christine. Moreover, to fulfill the lifelong wishes of her late husband, Mavis established a family-owned organization to consolidate family business opportunities, and to memorialize and perpetuate this family legacy of accomplishment into the future.
Mavis de Jongh is survived by her sons: James Laurence de Jongh and Robert Charles de Jongh with his wife Donna Geal Criner de Jongh. She was predeceased by John Percy de Jongh (1927-1999) and Edith Laurencia de Jongh Woods (1928-2005).
Grandchildren include: Judith de Jongh-McCoy and Michael R. McCoy, two-term Governor John Percy de Jongh Jr. and Cecile Rene Galiber de Jongh, Stanley Leo de Jongh and Gwen A. Johnson de Jongh, Sydney Walter de Jongh and Ingrid LaMae Allen de Jongh, Robert Mendes Woods (1954-2012) and Leticia Anderson Woods (1955-1995), John Percy Woods and Janette "Penny" Woods, Fred Randolph Woods (1958-2007) and Lauren Althea Heyliger Woods, Julie Woods-Dukes and Dr. Martin Walter Dukes Jr., Robert Charles de Jongh Jr. and Monique Evadne Jellerette de Jongh, and Christine Elizabeth de Jongh-Lewis.
Great-grandchildren include: John Percy de Jongh III, Rene Adele de Jongh, Julian Lewis de Jongh, Tommy Douglas de Jongh, Myles de Jongh, Davyn de Jongh, Ricardo Mendes Woods, Ian Matthew Woods, Jared David Woods, Reid Parker Woods, Shanique Shantara Woods Boschulte, Jerome Timothy Boschulte, Cherrisse Renee Woods, Sean Lamar Woods, Nancy Woods, Martin Walter Dukes III, Julian Ethan Dukes, Bailee Elizabeth Dukes, Savannah Ariel Dukes, Dylan Evadne, Jordan Carole de Jongh, Nina Emanuelle Lewis and Amahl Kedar de Jongh Lewis.
Great-great-grandchildren include: Nia Iman Woods Boschulte, Jerome Boschulte Jr. and Annabel Boschulte.
Mavis de Jongh is survived by a great nephew, Roland Jean III of Youngstown, Arizona, the son of Maria Esquerdo Jean and grandson of Rita Querrard; special in-laws: Kevin Lewis and Terryl Diggs-deJongh; and godchild, Maria David of St. Thomas. Mavis is survived also by the Classen, Boschulte, Lewis, Moorhead, Sebastien and Alwyn "Ladd" Richards families of St. Thomas; the Milligan, Christopher, Galiber and Delemos families of St. Croix; the Criner family of Houston, Texas; the Webb family of Detroit, Michigan; the Jellerette family of Hollis, New York; and the Costa and Ifill families of New York City.
A viewing will be held from 5-7 p.m. on Wednesday, May 6, at the Celestial Chapel of the Hurley Funeral Home at 3192 Altona and Welgunst, St. Thomas, V.I. (on the Veterans Drive between the Western Cemeteries). A funeral mass will be offered at 10 a.m. on Thursday, May 7, at Sts. Peter & Paul Cathedral, followed by interment in the de Jongh family mausoleum in the Western Cemetery.
For online condolences and directions, please visit www.hurleydavisfuneralhome.com.
Arrangements are under the direction of Hurley Funeral Home.