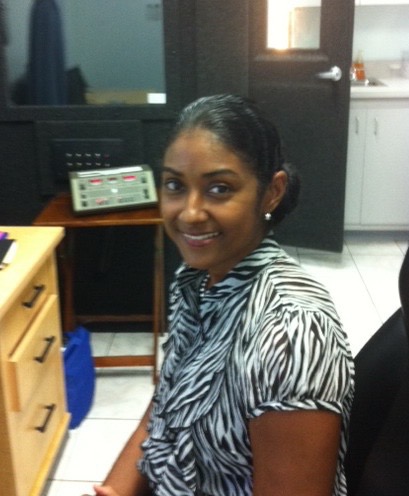 More than 360 million people – about 5 percent of the world's population – suffer from disabling hearing loss or are completely deaf, according to the World Health Organization.
One of them is Wincess Gentius' father, who lost much of his hearing at the age of seven because, she says, of an overdose of quinine. The real tragedy was that he didn't get help for his condition until halfway through his life.
"He'll be 83 this year," she said. "He only started wearing hearing aids when he was in his 40s, so there was a lot that he missed."
Gentius is determined to keep as many people as possible from similarly missing out on life.
The youngest of five children, Gentius was born and raised on St. Croix, where she graduated from Central High School. She earned her undergraduate degree from Hampton University in Virginia, before going on to A.T. Still University, where she said she earned her doctorate in audiology in 2005.
Now she maintains a territorywide practice, with her main office on St. Croix and a satellite office on St. Thomas where she sees patients once a week. She also treats some patients who travel to the U.S.V.I. from the British Virgin Islands or other nearby islands.
With audiologists in short supply locally – she's aware of only one other in the territory – it's not surprising that Gentius has a busy practice, seeing an estimated 12 to 14 patients daily.
"Most hearing losses are genetic in nature," she said. But there are environmental causes too.
Deafness or hearing impairment can be the result of maternal rubella or complications at birth, according to the WHO. It can also be the result of some infectious diseases such as meningitis, or a side effect from some chemicals and medications.
"There's a lot of drugs that cause hearing loss," Gentius said. Among them are many antibiotics.
It can also be caused by head trauma and by excessive noise, sometimes over a long period of time.
"I see a lot of veterans" with noise-induced hearing loss, Gentius said. There's also been an increase nationwide in that type of loss because of young children blasting music on headphones.
Some conditions are temporary. A person with excessive ear wax will have trouble hearing, for instance, until a doctor clears out the wax.
And some children have trouble not with collecting sound, but with processing it.
"We really hear with our brain," Gentius said. The child who continually responds to conversation with "huh?" or "what?" may be having trouble processing the information, not hearing it. "In a lot of cases, they outgrow it."
If the hearing cells are damaged, however, it's irreversible.
"Once those cells are damaged, they don't come back," Gentius said.
The WHO states that approximately half of deafness and hearing damage is preventable at the primary healthcare level, making its existence all the more tragic.
Of course, hearing loss also frequently accompanies aging. One in three people between the ages of 65 and 75 are affected by hearing loss, according to the Mayo Clinic website. Over the age of 75, those odds increase to one in two. The change often leads to drastically decreased communication and to an increasing feeling of isolation.
While hearing loss in seniors may be considered natural, "it's still not OK," Gentius said. Not when there are ways to combat its effects.
"The technology today is amazing," she said. "Hearing aids are not 100 percent effective, but they're the best we have."
Not only have they improved in the quality of sound they can deliver, they have become more comfortable to wear. Moreover, the stigma of deafness is disappearing as hearing aids become more and more discreet.
Gentius recommends one of several types of hearing aid, depending on the patient.
"Each individual is different," she said. "Each ear is different."
For some patients, the CIC – or "Completely in Canal" – may work. Virtually invisible, it's advantage is that it draws no attention. However, it only works for patients with mild hearing loss and the patients must have a large hearing canal in order to accommodate the device.
The BTE – Behind the Ear – and the RIC – Receiver in Canal – are more common, Gentius said. Recent improvements allow for connecting them to electronic devices such as a cell phone, television or MP player, thus eliminating distortion.
The worst thing a person can do about hearing loss, is to ignore it, Gentius said. Because of the stigma attached to it, many people are in denial. And sometimes, if the loss is gradual as with age, it may go undetected for a while.
"Nine times out of ten, it's your family member" who first notices there is a problem.
"You don't want to wait 'til it gets worse," she said. "The adage, 'you don't use it, you lose it,' applies."
Gentius can be reached at 1-340-690-1310.