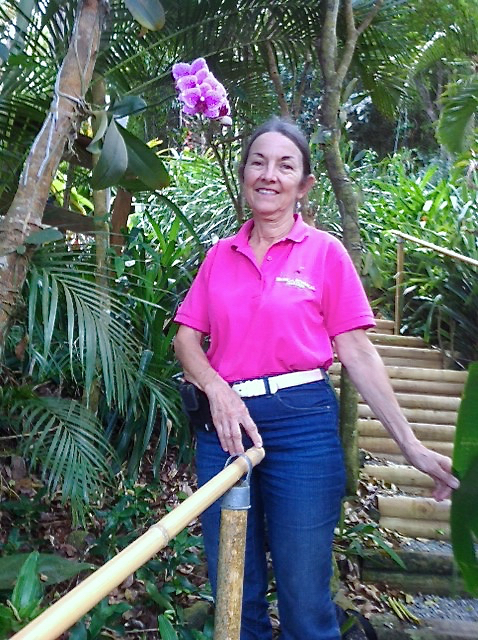 Tucked away amid quiet mountain homes, Patsy Breunlin's dream enterprise made an understated appearance a couple of months ago. The opening was so soft that one neighbor a street away was blindsided when a motorist asked for directions to the botanical gardens.
But Breunlin is eager to show visitors its hidden treasures. Just be sure to wear your hiking shoes when you enter Phantasea. And take your time; there's a world of natural wonders densely packed into two hillside acres of lush flora.
If you are lucky enough to have Breunlin as your guide, she can tell you the story of almost every plant you see.
There's the spiny fishtail palm (aiphanes aculeata) whose "heavily armored" trunk keeps intruders at bay. Here's a ficus plant sending out aerial shoots that will drop down to the ground and grow into external supports. Over there is a fan palm gradually being "skeletilized" by a species of moth that was somehow introduced to the island and that has no natural predator here. Straight ahead as you descend the stair path is a massive night blooming cereus, the flowering cactus of legend and poetry whose deeply fragrant bloom makes its mysterious appearance at night and disappears with daylight, making way for dragon fruit – whose romantic name sounds better than it tastes.
The divas of the garden are everywhere. Breunlin has gathered orchids from around the world and cultivated them for years. She advertises more than 1,000 at Phantasea, a claim that is easy to believe. At any given time, scores of them are in eye-catching bloom, dangling their scarlet, mauve, crimson, lavender, maroon, orange, gold or creamy white arrays from the trunks and branches of indigenous trees or from large plants growing in the ground.
A sign beneath one viney, tree-sized plant asks: Do you know what orchid is the only one that produces food used by humans? It's the vanilla orchid, especially vanilla planifolia.
The Aztecs learned about it from the Totonaco Indians, and passed their knowledge to the rest of the world. The plant flourishes in the wild only in parts of Mexico where the Melipona bee makes its home. The Melipona is the only known natural pollinator for the vanilla orchid; its foraging visits incidentally result in transferring pollen from the flower's anther to its stigma, thus ensuring propagation, survival – and the creation of a vanilla bean (more properly called a pod.)
The plant has traveled throughout the tropics, but the bee has not.
So, if like Breunlin, you want to produce vanilla beans from your vanilla orchid, you have to be willing to go through the tedious process of manual pollination. She uses a toothpick to lift a petal, expose the anther and transfer pollen to the stigma.
The whole process is made even trickier by the fact that it is extremely time-sensitive. A flower must be pollinated the day it blooms; in fact, for best results, the morning that it blooms. If it isn't, it dies in a day. A single plant will produce many blossoms – but they tend to appear a day at a time, meaning the pollinator has to return day after day.
While the flowers are in a hurry to be pollinated, they take their sweet time to produce. It takes nine months for the vanilla pod to fully develop. Breunlin watches for them to begin changing color from green to yellow and then picks them. Then it takes another two to three months for a pod to air cure so it can be used in cooking or turned into vanilla extract.
Breunlin's vanilla production is strictly for demonstration only. It gives her one more thing to show visitors who tour the garden. Currently, it has rustic seating areas and restrooms and a gazebo for a rain shelter. She's also planning a stream, a pond, possibly with ducks, and roaming peacocks.
"We are a certified wildlife habitat" by the National Wildlife Foundation, she said. The garden hosts six different species of frogs, an assortment of lizards, iguana, and bats, all of them highly unintrusive.
"Mosquitoes don't have much chance for survival in this garden," she added, given the presence of so many of their predators.
Breunlin's home is next door to the botanical garden. She said she began cultivating the space in the 1990s and obtained her business license in 2000. The area is zoned R-1 (Residential) but a botanical garden is permitted and "Retail is considered an accessory use."
She offers juices, water and snacks as well as a very limited selection of plant-related books. In the near future, she may also sell some plants, but stressed "We're not a nursery."
What she does want to offer are classes and workshops on plants and art and photography. Phantasea is "very much for the local people," she said. She's offering memberships that cover daily admission to the garden, "early admission to select plant sales and events," discounts at the retail gift shop, and discounts and priority registration for classes and workshops.
Safari buses loaded with tourists pass by regularly, on their way to the Mountain Top shops and overlook, and Breunlin has been advertising online, appealing to visitors. But, she said, she has not yet plugged into the cruise ship tour market.
She is set up to handle both individuals and small parties. The Friends of Denmark organization is slated to bring a group of visiting Danes for a tour soon. There have been a few school group tours, including a contingent of home-school students, and some from Montessori School.
Phantasea is located on the short, one-way, cut-through lane between St. Peter Mountain Road and Route 33, by the hairpin curve at the top of the hill on Route 33.
It's open from 9 a.m. to 5 p.m. daily. Adult admission is $10 for visitors, $8 for locals; and children's prices are $5 for visitors, $4 for locals. The V.I. seniors rate is $5.
More information is online at www.StThomasBotanicalGarden.com. Information is available by calling 1-340-774-2916.